Growing up in Seoul, there were two things to look forward to every summer. First was being out of school and enjoying the summer with my friends. Second was all the patbingsu I could eat until I would get a bellyache and inevitably get a "I told you so" from my mom.
Out of Korean delicacies that have become popular to the rest of the world, patbinsu may be the latest contender to become kimchi of the dessert world. (Editor's note: thinking about soupy Kimchi and dessert isn't the greatest idea)
If you are lucky enough, there may be Korean bakeries in your neighborhood that sells these summer defining treats, but dessert shops in Korea take patbingsu to a whole new level. Before checking out the craziest, sweetest looking bowls of patbingsu, let's cover the basics and learn where the dessert came from.
Origin
Patbingsu is a combination of two words: Pat meaning sweet red beans and Bingsu (also spelled Bingsoo) meaning frozen ice. This technically make patbingsu a small subcategory of bingsu as other variations can feature toppings and base sauces. While some modern versions feature finely shaved frozen milk, the origins go as far as as the Joseon dynasty to help the royal family combat the heat during the summer. Stories tell ice farmers hulling ice from remote parts of Korea all the way to Changdeokgung where the king resided. Then, the dessert would be topped with various fruits, red bean paste, and tteok to sweeten the treat.
Then dessert then went through another evolution after the Korean War as American goods such as ice cream got into the mix. The modern version of the dessert took shape in the 1980s as ice became readily available.
Where to Find Patbingsu
While the dessert is commonly thought as a summer treat, you can find patbingsu readily available at coffee shops, bakeries, or any dessert shops. There is even a national dessert chain that only serves bingsus! If you are in the Seoul area though, below are top 5 places to check out to get your sweet tooth fix.
1. Sulbing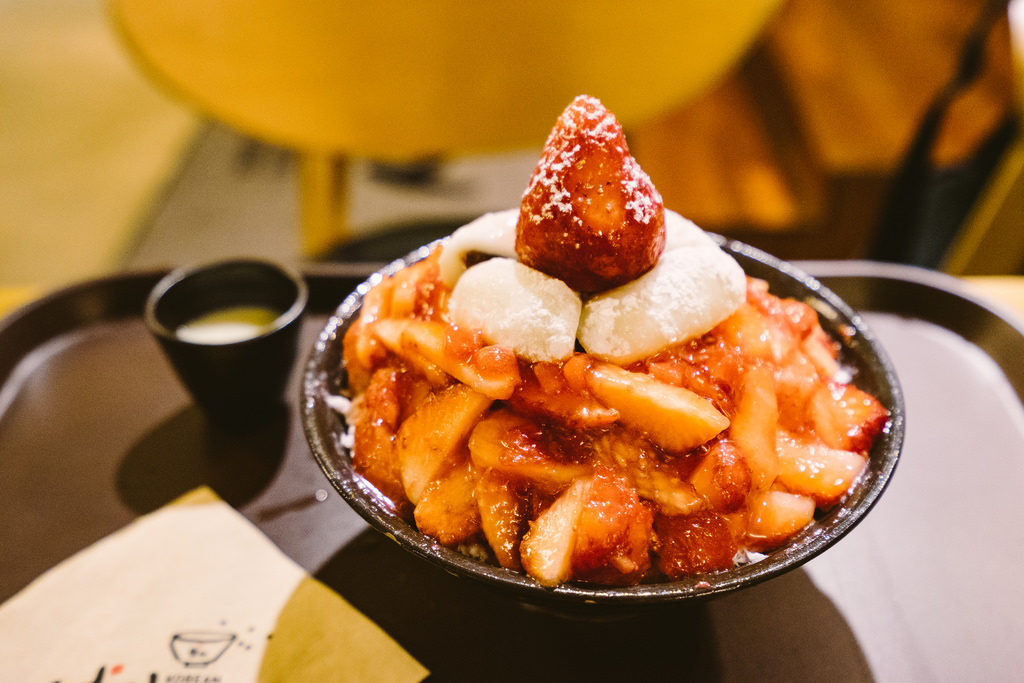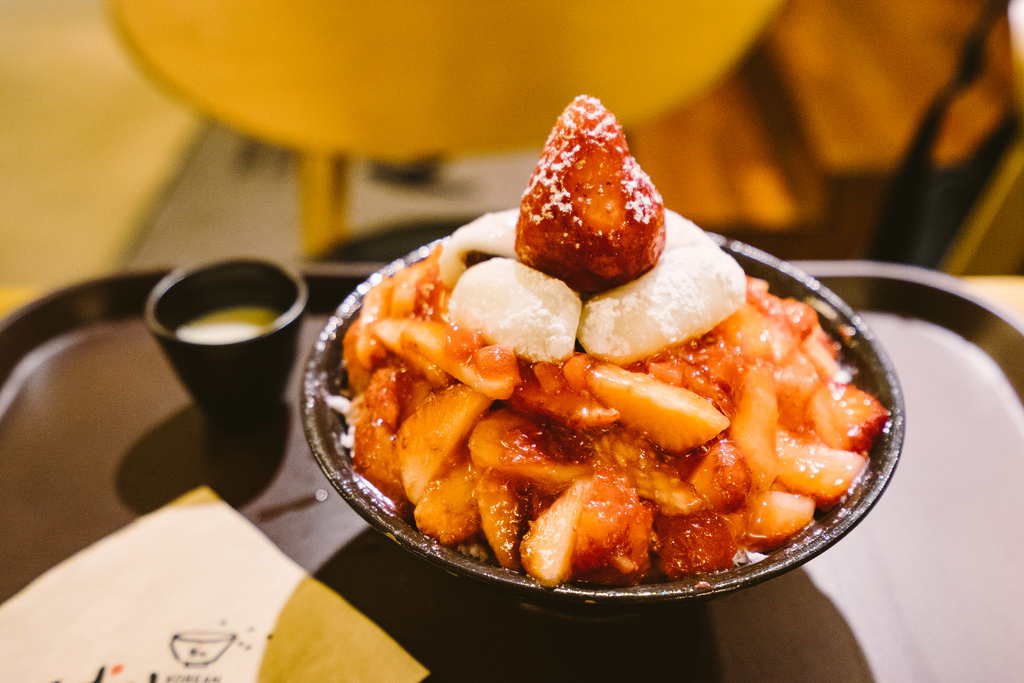 Sulbing is one of the popular chains that exclusively sells bingsus. You can find popular locations in Hongdae, Insadong, Myeongdong. It's perfect when you need a break from shopping or checking out historical parts of Seoul. Below are address for the popular locations.
Sulbing Myeongdong
Address: 22, Myeongdong 4-gil, Jung-gu | 2F, Namgyeong Bldg., Seoul 04536, South Korea
Phone: +82 2-752-2232
Sulbing Insadong
Address: 39, Insa-dong, Jongno-gu, Seoul 110-290, South Korea
Phone: +82 70-4227-2655


Sulbing Hongdae
Address: 15, Hongik-ro 6-gil, Mapo-gu | 2F, Seoul 04050, South Korea
Phone: +82 2-323-3287


2. Meal top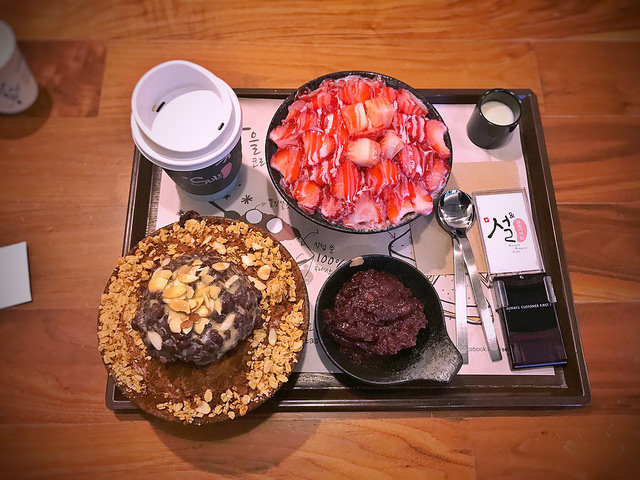 Located in the middle of Gangnam, Meal top is a popular meet up spot for the locals as well as tourists. They also have a menu beyond bingsu in case you crave other foods.
Address: 165, Apgujeong-ro, Gangnam-gu | Hyundai Department Store 5F, Seoul 06001, South Korea
Phone: +82 2-547-6800
3. Tokyo Bingsu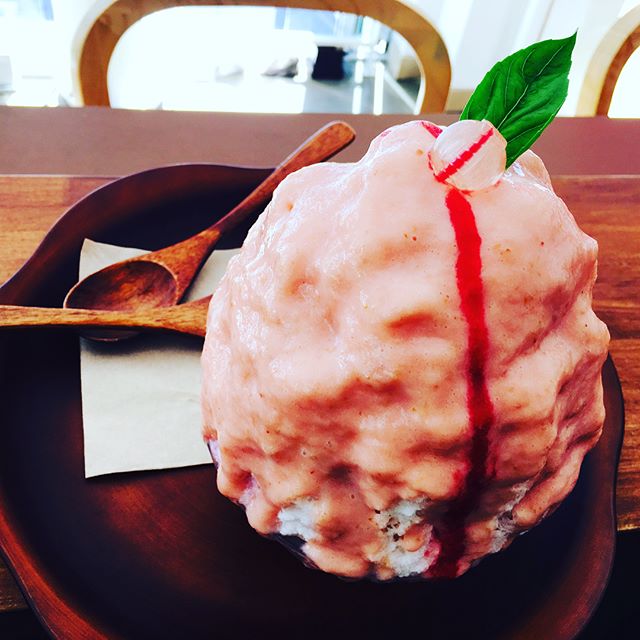 Tokyo Bingsu puts a Japanese twist on a classic Korean dessert. Don't let the redness of their signature bingsu fool you. It's not strawberries. It's cherry tomatoes!
Address: 9, Poeun-ro 8-gil, Mapo-gu, Seoul, South Korea
4. The Library in Seoul Shilla Hotel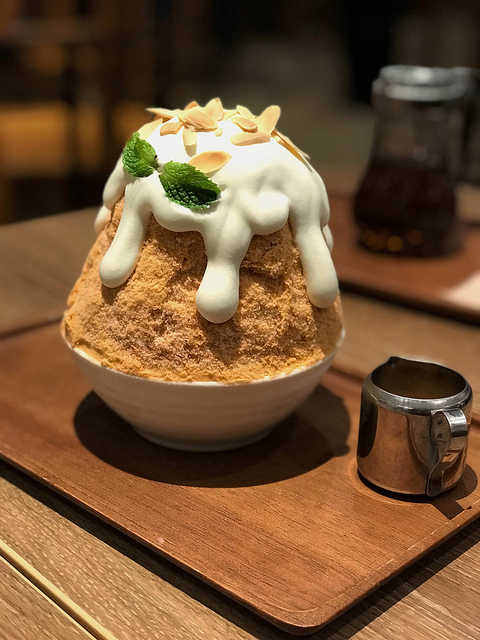 If you want to witness the dessert in its most luxurious form, this is the place to visit. Located inside the famous Shilla hotel, you are bound to see outrageously decorated bingsu that will surely make its way to your Instagram.
Address: 1F, 249, Dongho-ro, Jung-gu, Seoul, South Korea
5. Dong Bing Go
No cherry tomatoes. No outrageous toppings. Dong Bing Go has preserved the dessert in the original form and executed better than everyone else. You will at awe on how a simple dessert with a few ingredients can give you so much pleasure.
Address: Address: 319, Ichon-ro, Yongsan-gu, Seoul, South Korea