To enjoy the ocean in South Korea, where do we head to? Given that Korea is a peninsula, Korea has the fortune of having the east, west, and south side of the country surrounded by water. This also gives travelers a wide array of choices in visiting beaches and luxury hotels. If you are itching to visit the beaches of Korea, we highly recommend you visit the famous town of Busan. Busan is South Korea's second largest city in terms of population and it is known for its friendly culture, variety of seafood, and glorious outdoor activities. As the world's 9th most bustling port city, Busan is rich with commerce and tourism. Here are our picks for must visit beaches in Busan.
Haeundae Beach, Things to Enjoy
If you ask what is the most famous beach in Korea, 9 out of 10 people would choose Haeundae Beach. Most people from other regions come to Busan to see Haeundae. As it is famous all over the country, so many people gather, and the beachfront gets crowded every summer season. If you are the person who would like to make new friends,,Haeundae is the perfect place. I would even argue that this place has more charms than Hawaii's famous Waikiki beach. What are you waiting for? Head straight to Haeundae now.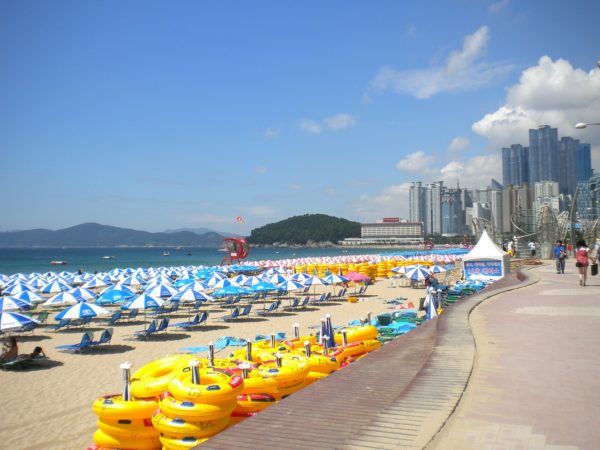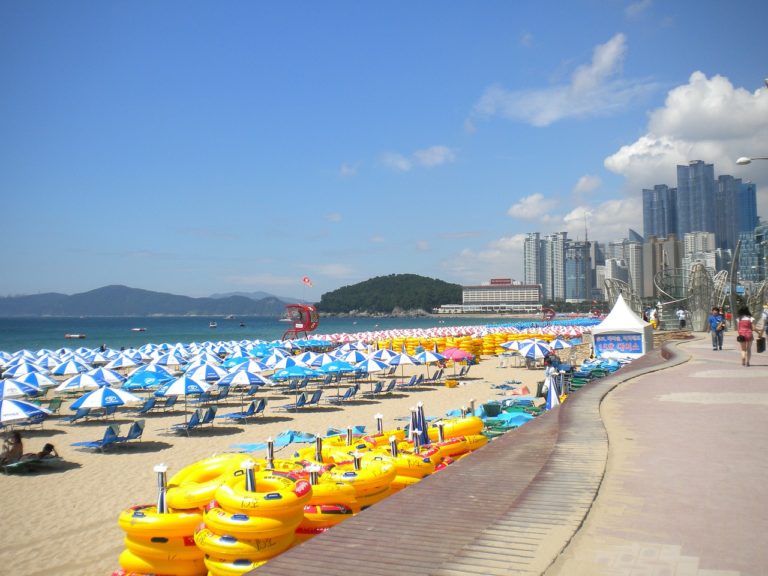 Haeundae Beach has a vast beachfront ranging from Dongbaek Island to Mipo Wharf. Standing in the middle of a sandy beach and looking around will give you a fresh perspective on the vastness of nature. You will also spot numerous sun umbrellas, ladies tanning under the beach umbrella, guys playing in the water. You will be able to instantly feel that you are at the most popular beaches in Korea. You will also notice that there is a decent amount of foreigners given its popularity. Luckily, given the reliance on tourism, most vendors will speak English so don't be afraid to interact with the locals. Busan people are known for their friendliness.
Accommodation and amenities are also well equipped. Luxury hotels, latest style buildings are picturesquely situated along the coast. Thanks to these fine buildings, the night view is another reason to visit. It is good to sit on a sandy beach and watch the waves while drinking beer, but it is also a recommendable idea to look back and appreciate the scenery that the skyscraper created in late night.
Food options are also abundant. A short walk from the white sand beach leads to Haeundae Market. This place has been famous for eel. Have you eaten the salt-roasted eel and same one marinated with spicy seasoning? Then you must try it. You will get to experience why Koreans prefer spicy food. If you don't like eel, there are other snacks popular in Busan city like Tteokbokki and Odeng, so I recommend you to try them all at once.
Gwangalli Beach, Ideal Place to Take a Rest
If you want to relax your body and enjoy the sea view in a quiet cafe, head to Gwangalli Beach. This place is perfect for a cup of coffee while admiring the sea as it has many cafés right behind the white sand. You will appreciate the unique cafes and interior of cute shops. If time permits, please take the time to look around. In some places, the seatings are arranged to face the ocean. Some even have cushions or mattresses on the balcony so that you can lie down and view the sea comfortably.
As for food options, many restaurants offer special brunch menus only in the morning time. If you are tired of hotel breakfast or want to eat something different, take a walk along the beach around and look for must-eating restaurants. However, as there are many popular restaurants, there may be waiting lines, and the price may be more expensive than the average, so you should check in advance.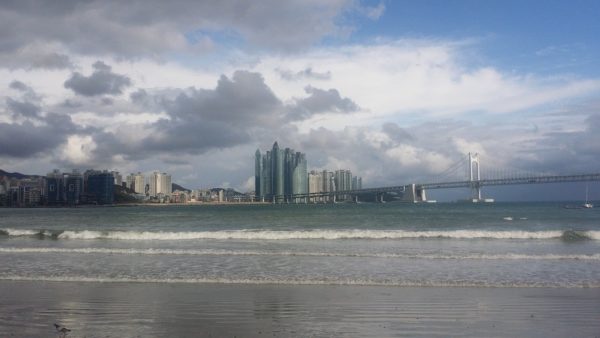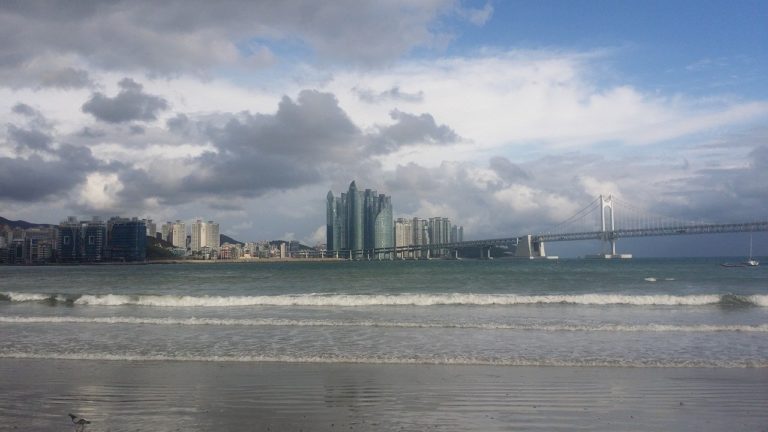 In a twilight shadow of the evening, the true value of Gwangalli is revealed. It is a dynamic night view created by Gwangalli Bridge. The bridge, constructed as if it penetrated the left and right side of the sea, turns itself into a light tower at night. The lights surrounding the entire bridge seem like an art, not just l decorated lights repeating on and off. It also offers a lights show in the early night. It is called "lighting party" which is a well known institution among Korean people.
It is good to admire the night view in the middle of the white sand, but it is better to watch while eating something delicious. I recommend buying fresh seafood from nearby sushi and raw fish restaurants and then move to a decent place to enjoy the scenery for a long time. There is a sashimi center that sells sashimi and raw fish packages at a reasonable price, so please refer to it. With its infrastructures and tourist facilities, you can enjoy both the night view and fresh seafood all in one.
Head to Songjeong Beach for Surfing
If you're worried about not having anything to do during the daytime, head to Songjeong. This is a heaven for those who enjoy leisure and outdoor activities. It's not a matter whether you haven't learned surfing before or not. There are many places to teach surfing, so anyone can learn to surf casually.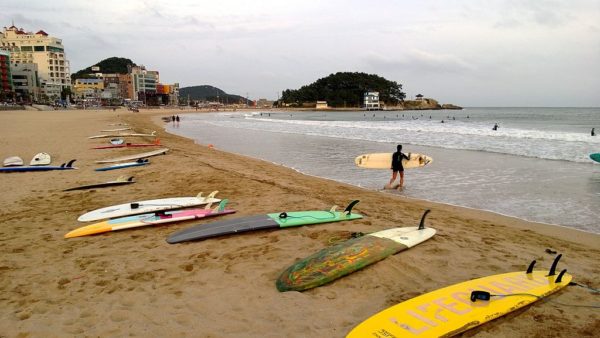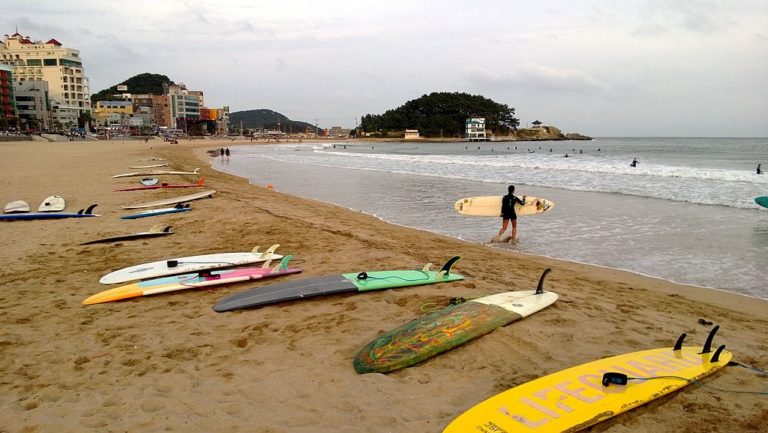 All you need to prepare for surfing is a can of high SPF sunscreen. You can rent both surfing suits and boards at an affordable price. Every surfing rental shop is well equipped with shower booths. While surfing, try to forget about the complicated thoughts in your head for a while, and let's play with all our strength as if we were back in childhood. When playing in the sea, you will not realize how much time has passed. 
How do you deal with hunger? It is natural to be hungry when playing in the sea, right? There is nothing to worry about. As many surfers set their infrastructures around it, you can easily find to appease your hunger even without taking off surfing suits.
As for food options for when you start to get hungry, we highly recommend toast. You may think toast is boring and dry, but toast is a great choice for a quick lunch in Korea. Food trucks selling toasts are everywhere, so easy to find it around the edge of the beach. These toasts are also filled with cheese, eggs, and special sauces. After snack time with a toast and coke, jump back into the sea and spend the rest of the day while enjoying your holiday with fun.