Haeundae Beach in Busan is one of the most beautiful and popular beaches in South Korea. This is due to its expansive white sand and its lively atmosphere. Being part of the city also contributes to its fame since it easily accessible from downtown Busan. In fact, you can take a walk to the beach from various streets of Busan. The beach itself is long and wide enough to accommodate a lot of people and its warm water makes it easy to swim or even practice deep ocean diving. Surfing is another recreational activity you can enjoy when the waves are not too strong. Different cultural activities are held throughout the year and the accommodations, luxurious restaurant, and clubs are all over the Busan making Haeundae beach one of the best destinations for a vacation.
Things to do at Haeundae Beach
Haeundae Beach is well known for its festive and cultural events, a beautiful island, the aquarium and for its spacious, laid back beach. Below are some of the things you should consider doing while at Haeundae Beach!
Water Activities at Haeundae Beach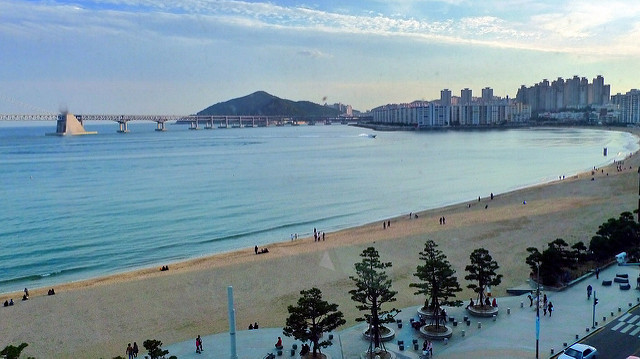 The water at Haeundae Beach is ideal for simming, surfing, and snorkeling. The water is warm during summer months thanks for the depth of the beach which allows the sun to heat up ocean waters more quickly. Surfers also come visit this beach from all over Korea as the waves are moderate and can sometime get you some good rides. Additionally, if you'd like to rent equipment such as diving gear or jet skis, there are local businesses along the beach that can rent them out to you on an hourly or daily basis.
Visit the Aquarium
If you love marine animals, nothing seems more fun than a clear view of the aqua life. Near Haeundae Beach, you can find the aquarium. Though it is not a huge aquarium, it is definitely still an attraction worth visiting. The well-designed walkway tunnel inside the aquarium gives you the opportunity to feel like you are walking underwater while viewing ocean animals like sharks.
As stated earlier, Haeundae Beach is known because of the cultural events and festivals held on the beach. These are the perfect opportunity to observe, learn and even participate in some Korean culture while interacting with the locals. Also around the beach are some restaurants and pubs where you can try their local food and drinks.
When to Visit Haeundae Beach
Like most of Korea, Busan experiences four distinct seasons. If your main objective is to get some tan on and head to Haeundae Beach, avoid going during winter as the water will be too cold to enjoy. Going to a beach and summer go hand in hand but the crowds can get a bit crazy during these months as Korean schools are also out for break. If you're just looking to walk along the beach and take in the salty air, temperatures are still quite moderate during April and May in the spring, and October and November in the fall. However, we still recommend the highest summer months of July and August if you're looking to bumming it out on the Haeundae Beach!