Have you been thinking of going to Korea recently? What's the first thing that comes in your mind when you hear of Gangnam? The Gangnam style, right? The dancing style of this song has made this district that is located in the southern part of Korea's capital to be known worldwide. Tourists who come to Korea and the locals are given a chance to get on stage and record themselves while dancing the Gangnam style with the background music playing. However, there are still so many facts that people don't know about the style, such as it was PSY's 18th single, it has severally been awarded Guinness Records, and the Korean tourism organization has a Gangnam tour program
Your stay in this historically affluent and fast developing neighborhood can never be boring since there are a lot of things to do that can make you feel at home and enjoy your moments.
Gangnam is the wealthiest district in Seoul, South Korea. Korea, in general, is well known for their passionate love of fashion and all things trendy. This neighborhood is the heart of all things luxurious. Every street corner is lined with expansive and pricey shops (like Louis Vuitton and Chanel, just to name a few). Tourists shouldn't let the price tags scare them away. Instead, this city should be recognized as a place of pampering and treating oneself to the very best life has to offer. Anyone who visits will surely be living it up either in the shops or the nightlife, which is equally as extravagant. People here love to party, and there is no shortage of fun.
Introduction to Gangnam
Clubbing lt wouldn't be a wonder to see you partying until the next day morning, the nightlife of Seoul is undoubtedly a no joke. Even though the clubs are not closely spaced, the taxi fares are very low, and you may find yourself visiting more than one club in a single evening. The most played music in these clubs is hip-hop and EDM, and the rooms are well separated to cater to different genres.
Shopping in Gangnam is also known to be among the richest districts in Korea due to its richness in malls, department stores, and underground shopping centers. You will find famous designer stores such as Chanel, Versace, and Louis Vuitton. Among the top neighborhood, you can go shopping is Cheongdam, which even had a television show that was called Cheongdam Alice. You can also visit the great COEX for shopping and aquarium for the latest movies from the big movie theater. The full aquarium gives you an aquatic journey from the Andean mountains to the Amazon rainforest and beyond visiting Bongeunsa. This is a Buddhist temple that is located right at the center of Gangnam. It is a display of traditional Korean past and allows you to move from the busy hustle of the city to the beautiful serenity of the peaceful landscapes and the Buddhist mantras. You can even get a stay in a temple that will allow you to bed down for an overnight there as you learn about the Buddha's teachings.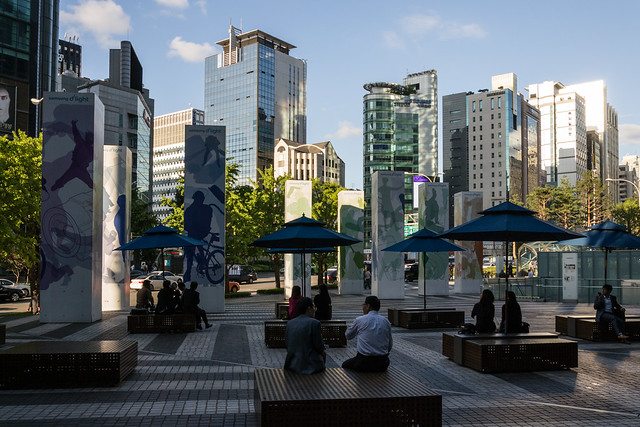 Visiting South Korea is an exciting adventure for any tourist. Most visitors obviously think of their capital, Seoul, when considering their travel plans. Seoul has so much to offer and is jam-packed with many neighborhoods. The most popular of Seoul's neighborhoods is Gangnam. While Gangnam is an international household name due to the extreme popularity of pop star, PSY's 2012 hit, "Gangnam Style," there is much more to this gorgeous city to explore!
K-Pop (Korean Pop) and the Entertainment Industry
Gangnam is the hub for all things entertainment, especially K-Pop. It is home to South Korea's three largest entertainment companies: SM Entertainment, JYP, and CUBE. Locals thrive at these centers with a hopeful heart of catching a glimpse of Korea's many K-Pop stars that frequent these establishments. For the foreign traveler, it is an experience that rings like a concert, but with only the view of the star rather than also their music.
Getting to the Neighborhood
The most direct way to get around the city is by subway. Subway travel is super convenient and interconnects with all the major streets. Two of the most popular subway stations here is the Gangnam station and the Samseong station. Another choice is by taxi. Even though this particular Seoul city is the richest, their taxi service is still extremely affordable. This is an excellent option for a tourist wishing to bar hop. The taxi service also will drive from the airport to the city for an almost nominal fee, as it does depend on the particular company of choice.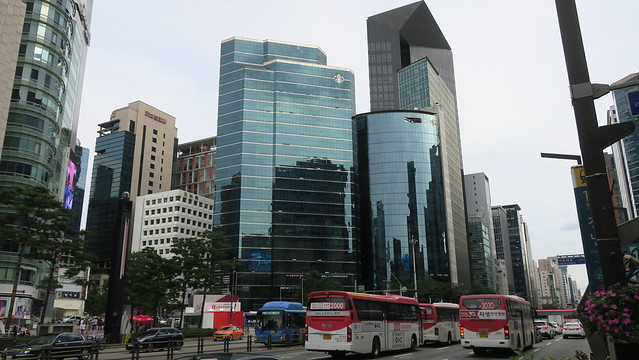 There is also a tour bus (Seoul City Tour Bus) that caters to guests wishing to stop at popular landmarks. This is for tourists who like schedules and are more comfortable being with a guide. While this is an option, exploring the city with friends provides a more in length, look at things and more off the beaten trail experiences. The tour bus option is an attractive price of 15,000 won (or about $13 US dollars).
Major Attractions in the District
Gangnam is super dense in the number of places to explore. The following is just a small taste of this large city with a population reaching well over 500,000!
Bongeunsa Temple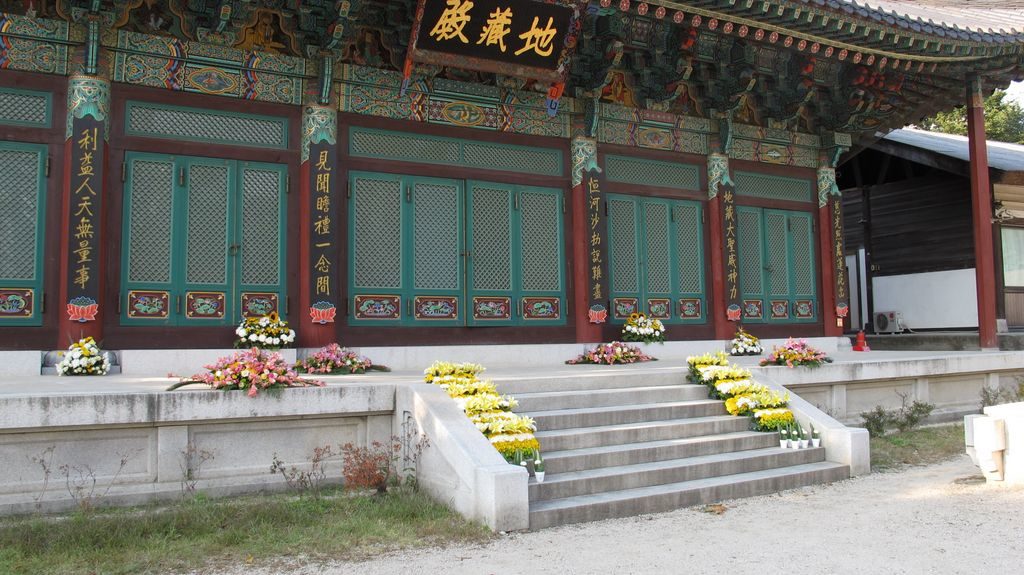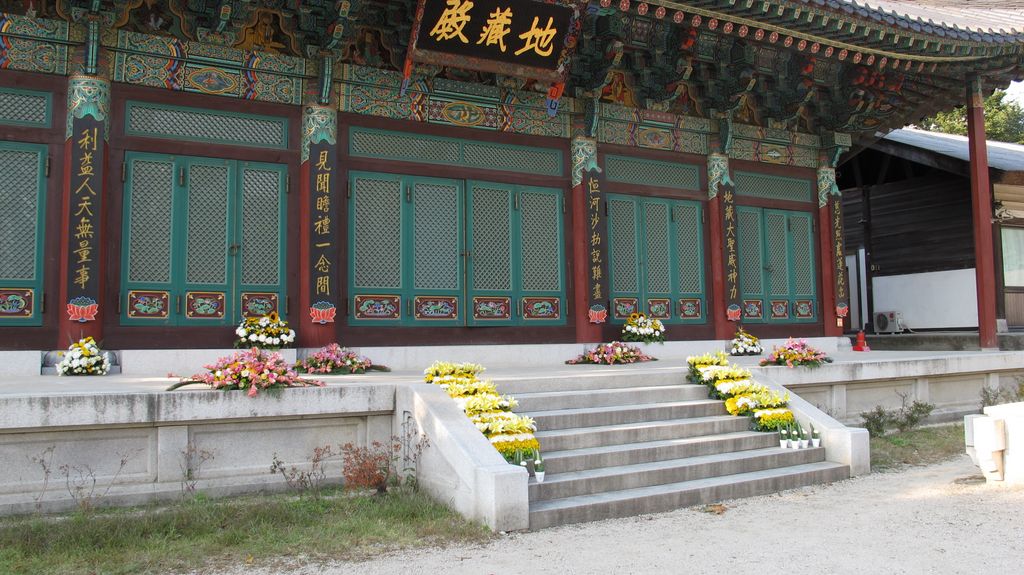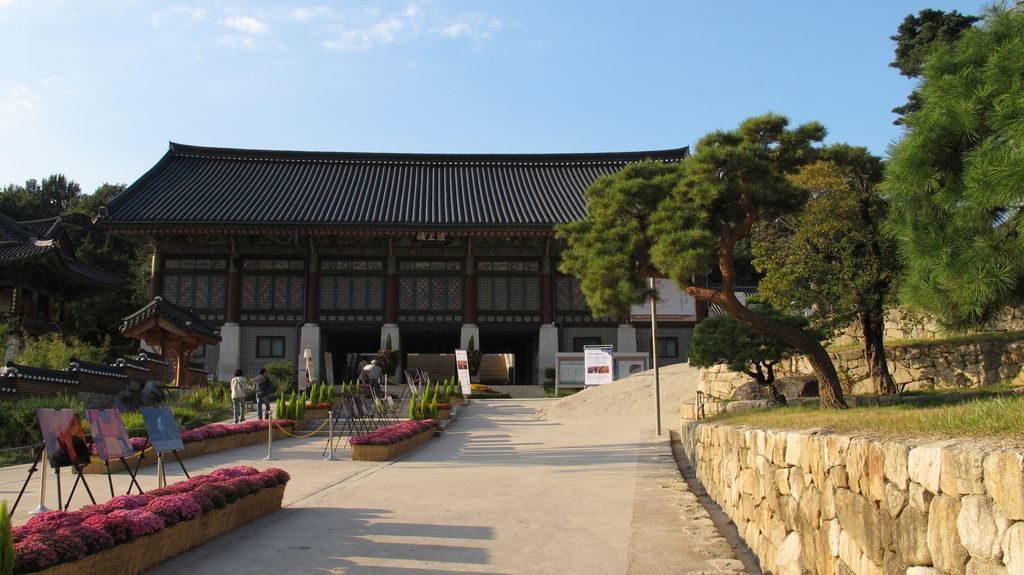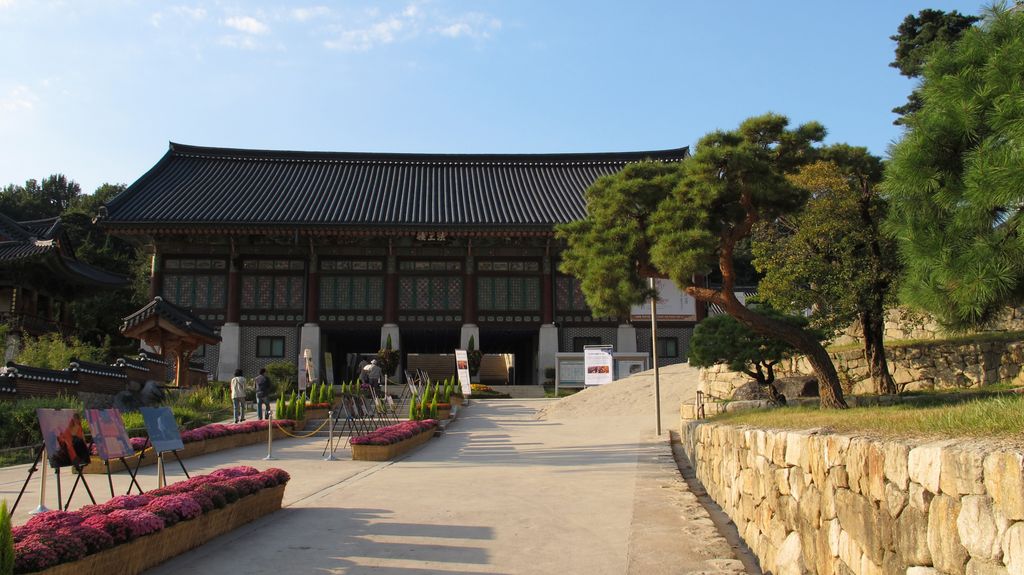 No visit to South Korea, especially Seoul, South Korea, would be complete without a stop at one of the many temples. Bongeunsa Temple was once known as the Gyeonseongsa Temple during the reign of Silla King Weongseong. It received its current namesake from Queen Jeonghyeon in 1498. It has the gorgeous Korean architecture flanking its rooftops. This particular temple also allows overnight stays.
Samneung Park
This is a memorial park open to guests who want a view of dynasty tombs. The Joseon Dynasty are buried here and are surrounded by peaceful, beautiful forestry. The monuments are erected for the queens and king known to the Joseon Dynasty. Here, visitors will see their beauty and learn a bit about the past rulers.
COEX Mall and Aquarium
Sure, there are street corners filled with opulent shops, but the true gem of the shopping experience in Gangnam is right in COEX Mall. The mall is proud to be Asia's largest shopping complex that is uniquely underground. The experience is still with designer brands and trendy shops, but the building itself is the true key. Along with all the shops, it is also home to an aquarium, a library, and even a casino. The aquarium is a spectacular place to view over 600 species. It has pillars of viewing windows for fish and live ocean plants as well as walk-ways that offer an immersive experience.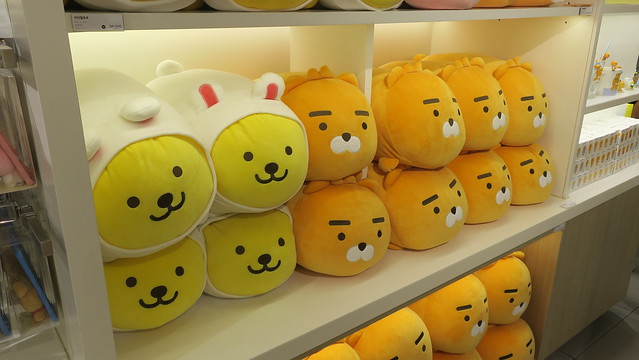 The library in the mall is another key attraction. It is truly a book lover's paradise with three giant columns lined with thousands of books. The library hosts various events and is a great place to relax after shopping and explore some high-class literature.
Fashion Streets
Seoul is the centerpiece for all things fashion in Korea. Gangnam has a street that surpasses all the other various fashion streets. It is called Cheongdam-dong Fashion Street, and it is one of a kind experience. The high-end fashion names all have set up shop on this street. The level of hospitality is superb, and the shop owners will go to great lengths to acquire and keep their fancy clients. Even if a tourist is just window shopping, it is well worth the visit.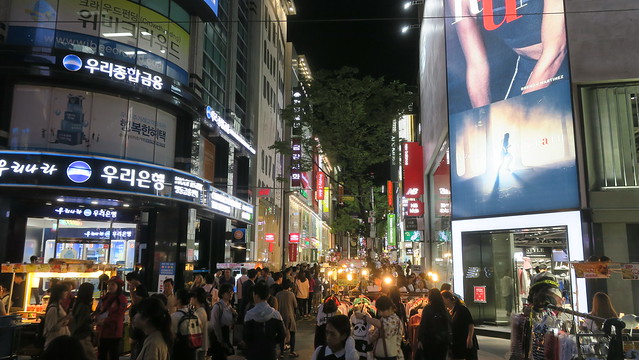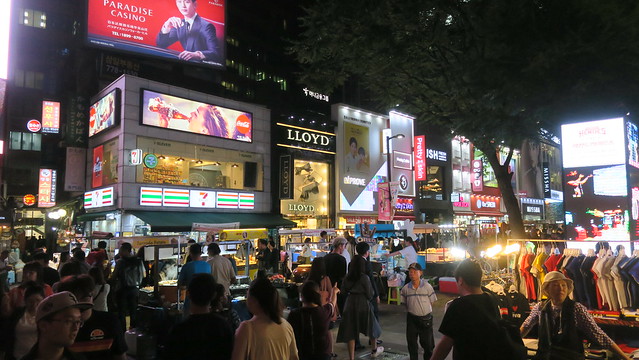 Alongside all the shopping venues are different hair and beauty salons. These salons are frequented by Korean celebrities as well as its residents and tourists. Every possible beauty concept can be found within the walls of these boutiques. They go hand in hand with the fashion craze. It proves that visiting fashion street is an authentic experience rather than just a visit.
Parks
While the Gangnam neighborhood is heavily a city life type of environment, there are some parks tucked away. These bring a slice of nature to a bustling community where some peace and quiet can be found. One of the most popular spots to hit up is Hakdong Park, where there are beautiful gardens, wetlands, and a learning center for kids. Another great option is Cheongdam Park. While this park is more central to the city, it still offers trails of trees and flowering plants as well as flowering plants.
Parks visiting Gangnam is enriched with fantastic parks that are very eye-catching. One of them being the Samneung park. This park is known to hold several tombs including the burial ground of King Jungjong who was the eleventh king of Joseon dynasty. The park is surrounded by forest, making it the right place for relaxing and taking a stroll. You can also visit the Seoul Olympic Park, which is very huge and consist of 3 restaurants, 7 different cafes, fitness centers, museum, stores and basketballs court. Its landscapes are very beautiful, making it a preferred place by many to get away from the city noises and the polluted air of the crowded city. Some people have also made plastic surgery travels to Seoul to seek those services making this part of Korea to be very welcoming to all kinds of people with different needs
K-Star Road
As an homage to its many K-Pop celebrities, Gangnam has a special road just for them. It is line with teddy bear looking statues with colorful designs, each unique to which K-Pop star they represent. Tourists and residents can be found taking pictures with the statues. This quirky spot is perfect for those who enjoy a little novelty.
Food in Gangnam
Seoul's fanciest of districts is home to many different food varieties. There are quite a few American fare places as well as Italian. But if a tourist is coming from the Western world, they aren't traveling all that way for the food they already know! Here are some of the best-rated places to get great Seoul food.
Maple Tree House Gangnam
Rated a solid 4 stars of out 5 on Google with over 250 reviews, this classic spot brings flavorful traditional Korean barbecue dishes. They mostly serve beef and pork but have some seafood as well. Traditional bibimbap (chili paste, veggies, beef or pork, egg) is on the menu alongside conventional Korean stews.
Bonga Nonhyeon Main
Serving classic Korean dishes, this restaurant is a decent place to experience Korean dining. Each item is served in their own dish so that the guest can develop their own layering of flavors. From beef to seafood to veggies and broth, the options are limitless here.
EulMilDae
This cold noodle restaurant is the pillar of excellence in traditional Korean noodle dishes. It is almost a 5-star rating on tripadvisor.com with many compliments to the flavorful options. The cold noodle dish is served as suggested, cold, with delicious broth and veggies.
Kimchi Field Museum
This is a double delight, a museum, and a place to grab a tasty bite to eat. The museum also offers cooking classes. The museum is dedicated to all things kimchi. Kimchi is a household staple food in Korea. It is fermented and salted vegetables. While at the museum, visitors can expect colorful displays and tasty choices to full experience kimchi at its fullest.
Lodging in the Gangnam Neighborhood
Gangnam is saturated with lavish hotels for comfy stays, so choosing can be overwhelming. So many of them are beautifully decorated. Another attractive aspect of the hotels is their modern look. With that said, here are some of the highest rated hotels for the best possible stay.
Imperial Palace
There is no second guessing on their dedication to luxury here. From the lobby to the rooms, everything is of high status. The lobby looks super modern and sleek. The rooms vary from contemporary style to elegant. The elegant rooms make the guests feel like their literally in a palace, with drapes over the bed and chairs fit for royalty. A stay here starts at about $120 a night.
Hotel Cappuccino
This hip spot indulges its guests in a trendy rooftop bar and cafe. They also allow pets and even have a special pet menu. All their rooms have clean, crisps look to them, and many even have pet beds for their animal guests. Overall, this hotel is quite the experience for any guest, but especially animal lovers. The cost to spend a night here will run about $80 to $100 a night.
Le Meridien Seoul
Guests that stay the Le Meridien Seoul can expect quite a grand experience. This lush hotel is top of the line and worth every penny. From gorgeous marble floors and decor to private balconies, this place offers the best. It even has a spa for maximum relaxation. For jazz lovers, they have an exclusive jazz bar.
The Gangnam neighborhood is one of the most unique places in Seoul, South Korea. The experiences are truly endless. It is a city to not only make memories but to live life luxuriously.