When looking at Seoul, South Korea, at a glance, one would see various modernized buildings along the skyline. However, if you take a closer look, there is a gem placed among them all. It is a royal palace known as Deoksugung. With its elegant, classic Korean architecture, it has literally withstood the hands of time. It is a compound palace, with a few halls inside. It has a well-known beautiful stone wall and walkway that encloses the palace. It is one of the "Five Grand Palaces" to have erected in South Korea over time. It is one of the most visited palaces in Seoul, due to its location on a busy street near Seoul's City Hall.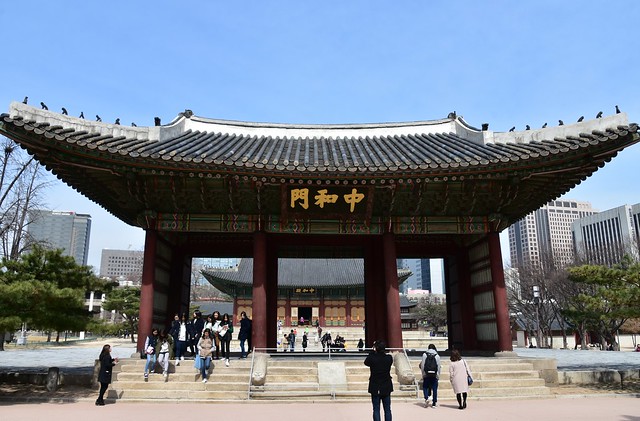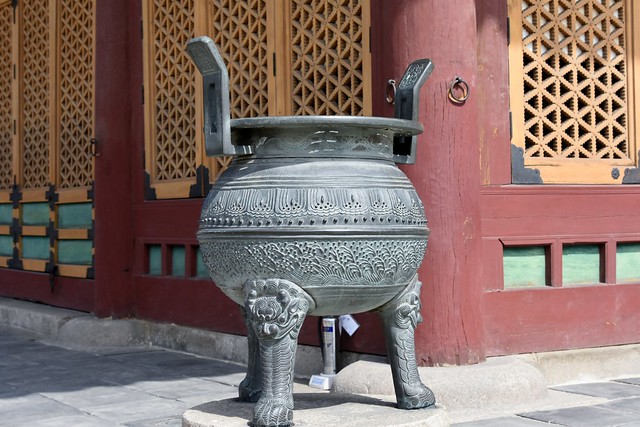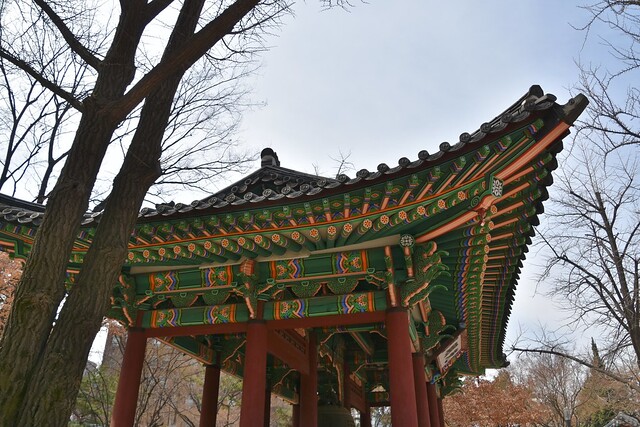 History of Deoksugung
Deoksugung is a historical site, one of 124 sites, that has been a part of Korean history for centuries. Throughout the years, it has had a few kings among its wall but originally belonged to Wolsandaegun, the older brother of King Seongjong. King Seongjong was of the Joseon Dynasty, one of Korean's most royal families. The location was said to be constructed sometime in the 15th century by the Joseon Dynasty, about the late 1300s. It wasn't until 1611 that it became officially designated as a palace. This is said to have come about due to the Imjin War when all other palaces were burned to the ground. At the time, Deoksugung was only known as a residence for the royal family. It didn't have its current namesake and has undergone two different name changes throughout history.
In 1608, when King Gwanghaegun came under the rule, he dubbed the residence as "Gyeongungung." For about 3 years, until 1611, it remained as a home until it was officially a palace. It remained known as Gyeongungung until 1897 when Emperor Gojong came to live here. He expanded the facility and renamed it as its known today, Deoksugung. This was done as a reference to his wish for long life, an honoring so to speak. The expansion of the facility only made it more beautiful and exciting to visit.
The Halls of Deoksugung Palace
The palace itself consists of 3 halls within its walls. These three halls are Junghwajeon, Seokjojeon, and Jeonggwanheon.
Junghwajeon Hall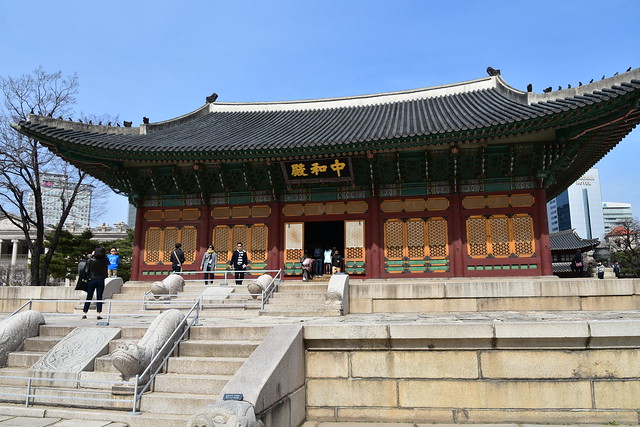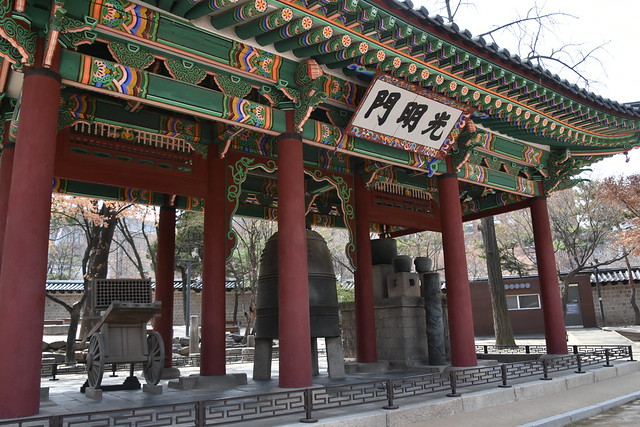 This hall was the central hub for all political meetings throughout history. It became the main throne room in 1902. Before that, Jeukjodang was the throne room but now ceases to exist. Junghwajeon has gorgeous paintings among its walls. These paintings are not only vibrant works of art but serve as the Korean people's way to express their desires for their emperors. Their culture is prominent in its imagery and its meaning. In this case, there is a painting of the sun, moon, and five mountains. To the Korean culture, this represents their desire for their emperor to be prosperous. This hall also features a double dragon painting that oversees everything from a canopy. It is said to stand for the authority of any emperor.
Seokjojeon Hall
This hall has a mixed history among other Deoksugung buildings. It is Western in its look and has been rumored to have been built for the British as a housing unit. But in 1905, Japan acquired its rights, and it was a Japanese art gallery. After the Korean Declaration of Independence, it became a treasured exhibit where it transformed into a modern art center. It consists of permanent art and temporary art as well.
Jeonggwan Heon Hall
This Korean-European hybrid building within the Deoksugung compound was built by Russian architect, Aleksey Seredin-Sabatin. It served as a place for entertainment for Gojong and his guests to the palace. Throughout the years, it continued to be a banquet hall of sorts for all visitors.
The Gardens and Wall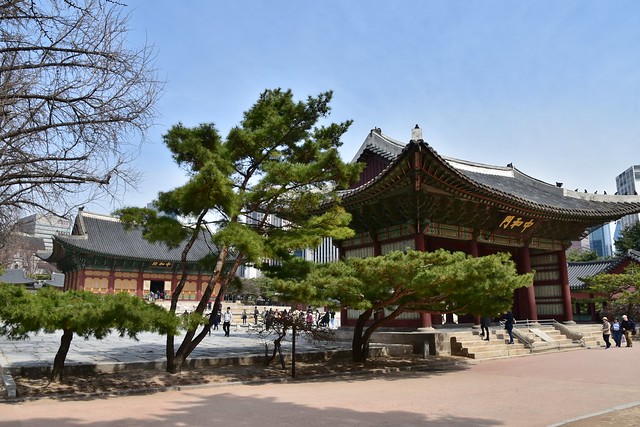 While the buildings are the main focus of Deoksugung palace, it has a lot of decor to marvel at as well. When first entering the palace, there is a stone bridge that visitors cross. This opens up to the buildings on all sides, and the gardens tucked between them all. There are small ponds dotted throughout and a circular fountain too. Overall, the compound is small, but can still take up to an hour to leisurely stroll the grounds.
While the interior of the compound with its buildings and gardens are quite a sight, nothing is as famous as its wall. The surrounding walkway along the stone wall has been notorious for romantic outings and various filming of shows, etc. It is lined with an impressive 130 trees and over 20 benches to sit at and really absorb all the beauty. It is almost a mile-long walk around the compound.
The Changing of the Guard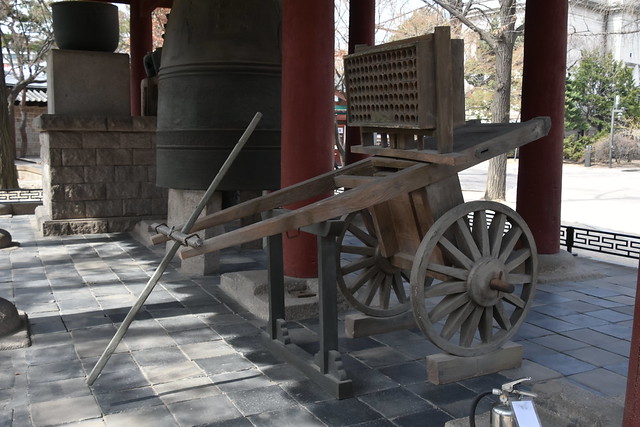 Throughout Deoksugung's long history, the guards have played a significant role in its protection. Without the guards, the palace would be vulnerable, even with its magnificent stone wall surroundings. As a result of the constant need for a watch, the changing of the guard has been a tradition longer than anyone can account for. While it is similar to the British version Buckingham Palace, it is still unique all on its own.
Three times a day, the changing of the guard ceremony takes place. Nowadays, it is a festive event that draws residents and tourists alike. 
At 11 a.m., 1 p.m., and 3:30 p.m., the event gets underway. With two soldiers leading the way, 78 Sumungun (or gatekeepers) follow suit marching at the main gate, Daehanmun Gate. They are colorful garb, and traditional instruments are played.
Deoksugung at Night
Deoksugung is the only palace open to visitors at night. Visiting at night is truly the best time to do so. The fountain really comes alive with vibrant pinkish purple lighting. All the buildings are illuminated to really stand out against the night sky. It adds to the overall beauty of such a significant in Korean history.
Hours of Operation and Admission Pricing
Deoksugung's hours of operation are quite accommodating to the busy lifestyle. It is open from 9 a.m. to 9 p.m. (or 09:00 to 21:00), 6 days a week. The only day it is not open is Monday. The admission is budget-friendly for travelers on a budget. The admission prices are 1,000 won for adults and only 800 won for groups of 10 or more. Teenagers can enter for 500 won and only 400 won for groups of 10 or more. Children are always free.
A fun way to receive free admission to this palace or any of Seoul's palaces is to wear hanbok. Hanbok is a traditional Korean dress that is either formal or semi-formal. They are generally worn for festivals or special events.
How to Get to Deoksugung
The most convenient part of this beautiful palace is so intertwined into society's modernization is that its right outside of a subway line. Anyone can hop on the subway line 1 or 2, and they take any exit 1 through 3 to City Hall Station. City Hall Station is only a 7-minute walk away.
If the subway isn't suitable, there is always the bus. The bus lines that operate to the Deoksugung bus stop or the City Hall bus stop are 
Jongo Bus 9 or 11

Airport Bus No. 6005

Green Bus No. 1711/7016/7022

Blue Bus No. 103/150/401/402/406/604/N16
Although Deoksugung has teetered between being a place of residence and a palace, it is still a royal place to visit. The history alone is notable, but the soaking in of the beauty is the key to a perfect visit. This palace will always withstand the hands of time and be a place of great conversation.