After visiting the most famous places in Korea such as Gyeongbokgung Palace, Jeju, and Namsan Tower; you might begin to wonder about where the locals go on the weekends to rest or to travel.
By making an effort to visit hidden gems or underrated spots, you'll get a unique taste of Korean culture and see places that are clear from massive crowds. While strolling down these underrated locations, you'll get to interact with locals and learn more about the people, neighborhoods, and traditions.
Find some underrated places in South Korea that you need to visit in this article from Korea Trip Guide!
Hanyang Doseong, 한양도성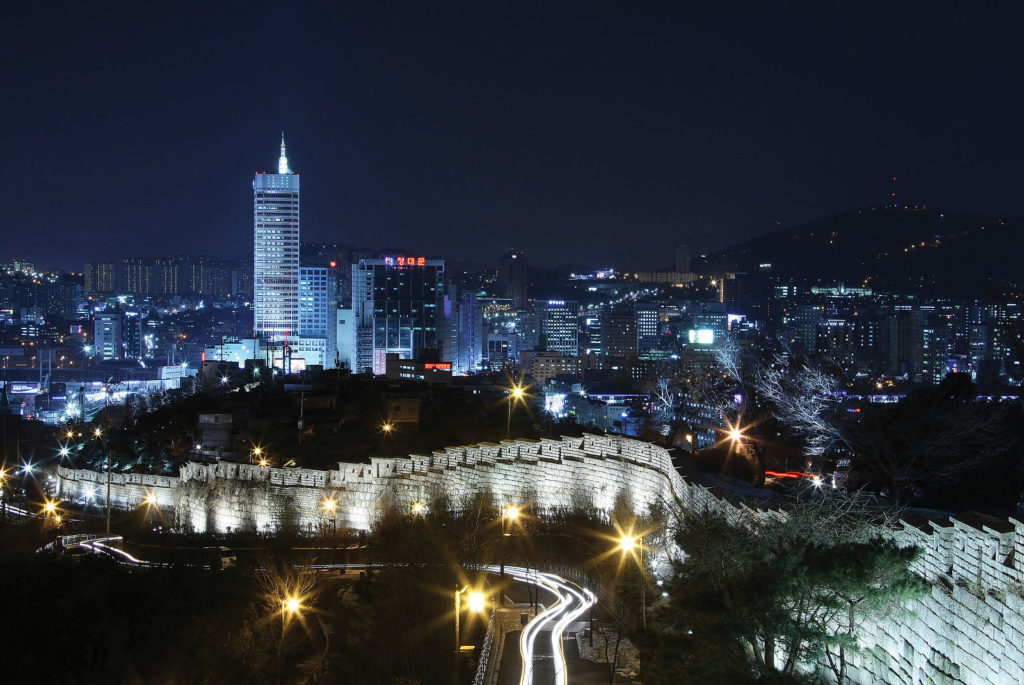 Hayang Doseong, also known as the Seoul city wall, is one of Korea's main historical monuments and was added to UNESCO's Cultural Heritage sites in 2013.
Hanyang Doseong is a fortress that has protected Seoul for more than 600 years. It was built in 1396 during the reign of King Yi Seoung Gye, during the Joseon Dynasty, and was named after the capital city, which at the time was called Hangyang. 
With a length of 18.6 km, the wall was built nearing 4 major mountains: Bukhansan, Naksan, Namsan, and Inwangsan. The wonderful green scenery that surrounds this monument makes the walk through history a relaxing journey.
While walking down Hanyang Doseong, you'll be able to experience a journey back in time as this wall has withstood major events such as the Japanese colonization, a period of time in which a great portion of the wall was destroyed.  Fortunately, the fortress underwent reconstructions in 2012.
At Hanyang Doseong there are yearly cultural festivals where people gather to compete, display art, see traditional music shows, etc. In addition, there are different tours that guide you through exploring the wall, museum, and parks that surround it.
Daehan Dawon, 보성녹차밭 대한다원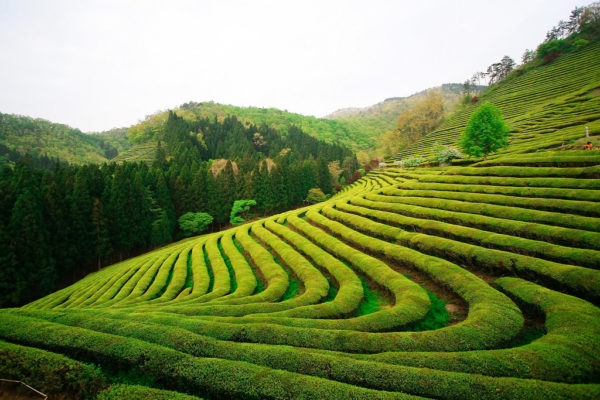 Daehan Dawon is also known as Boseong's Green Tea Plantation. Boseong is a county located in Jeolla's province. The county is known for its high-quality tea production and is home to the only tourist tea plantation in Korea. This underrated tourist attraction gained popularity for its stunning layers of natural scenery that is surrounded by forests. 
Daehan Dawon dates back to 1937, and it was the origin of Boseon's tea industry that now produces around 40% of the country's tea. At Daehan Dawon, you'll find diverse kinds of groves such as cedar, maple, and cypress trees. Exploring this tea plantation is a relaxing experience in which you will be able to detach from the stress of the city, buy high-quality green tea, and breathe fresh air.
At the highest point of the plantation, there's an observatory that overlooks that outstanding natural scenery. Also, at the attraction's lounge, visitors can have a taste of the high-quality green tea incorporated into desserts such as ice cream, bingsu, etc. Not only that but on the second floor of the lounge there's a restaurant where you can try Korean dishes that use the plantation's products. 
After having a filling meal, visit the museum where you'll learn more about the tea harvesting process and the history of the plantation.
Banpo Bridge, 반포대교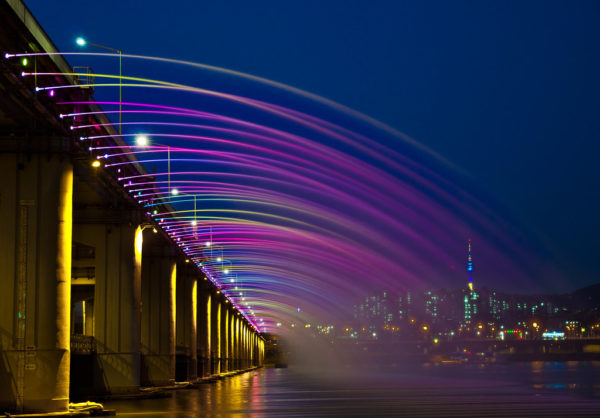 Banpo Bridge is a great attraction to visit during the nighttime. This bridge is one of the 27 bridges built to cross the Han River, uniting the south and north part of Seoul. What makes this bridge special is that it has fountains attached to both edges. 
The city of Seoul runs a light show at Banpo bridge every day from April to October. The water show is accompanied by rainbow-colored LED lights that "dance" to the sound of over 100 different songs.
The water flows horizontally through 570 meters of the fountains on both sides of the bridge. Banpo is the longest bridge fountain in the world.
The spray of water coming out of the fountains reaches 43 meters horizontally before it falls 20 meters back into the Han river in a vertical manner. It's truly a mesmerizing spectacle that is perfect for pictures.
The bridge is within walking distance from Seoul Express Bus Terminal station.
Jeonju Hanok Village, 전주한옥마을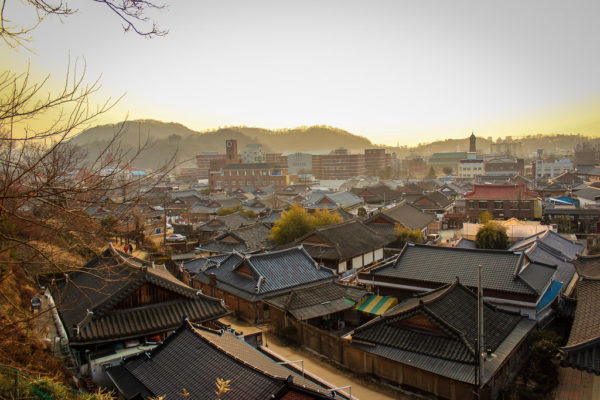 Jeonju Hanok Village is composed of 735 traditional Korean Hanok houses. The village was formed by people who decided to live there as a protest against the Japanese invasion during the 1930s.
These traditional houses have currently been converted into museums, tea houses, galleries, and guesthouses. In fact, some visitors choose to stay in Jeonju for a couple of days to explore other touristic attractions that the city has to offer. Other places to visit include the Jeongdong Cathedral and Nambu traditional market.
Another characteristic of Korean Hanok villages that you will witness is the heating system with ondol. Ondol is a heating system invention of Korea, the heating system warms the floor by installing pipes through which water heated by a boiler flows. Koreans tend to eat, sleep, and sit on the floor, so this heating system naturally developed in ancient Korea.
Also, don't forget to try the famous Jeonju bibimbap while you are in the city. Jeonju is considered the food capital of Korea by many, so while you are visiting, take a chance to try as many traditional Korean dishes as you can.
Ansan Jarak-gil Trail, 안산자락길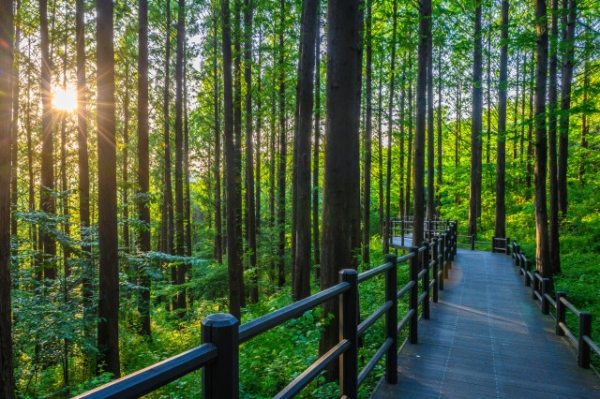 This trekking trail is one of the hidden gems of Seoul. The trail goes through Ansan mountain and has an altitude of 296 meters. Compared to other trails with altitudes higher than 500 meters, the Ansan Jarak-Gil trail is a simple way to get your physique adjusted to trekking before venturing to higher altitudes. 
At the top of the mountain, you'll be able to have an eagle-sight view of the city. To begin the tour, get off at Dongnimmun Station from the subway.
After finalizing your trail, you may choose to exit through Yonsei University, where you can visit Sinchon shopping street that is full of restaurants, pubs, and activities.
Now that you know some of the underrated attractions of Seoul, you'll be able to have a more in-depth travel experience during your time in Korea. Don't forget to bring your translator app, in case that some of these locations don't offer instructions in English.