For those among us who seek a more refined travel experience and prefer not to travel with the pack, we don't just hang around the airport terminal waiting for the next flight. There are First Class Lounges that await us with snacks, refreshments, and fingers-crossed – a nice hot shower. If you're in search of a calming and relaxing place to unwind and decompress during your next flight through Seoul, this article is for you.
Incheon Airport, Terminal 2
Within Incheon's new Terminal 2 near gate 248, there sits one of the more luxurious experiences to be had within an already stunning terminal and airport. The lounge separates the First-Class from the multi-million milers for obvious, VIP reasons. But don't let that put you off. As you ride the escalator up to the lounge, you are greeted by an enormous lobby. This is where the check-in desk (and thus the separation of Million Milers and First-Class fliers happens) is located. With a clean, white display of marble from top to bottom, you know immediately this is a place of elegance and luxury. As you make your way down the corridor towards the lounge, you will pass the magazine stands and storage lockers (for those who don't wish to carry their belongings everywhere) and then at the end, you walk into the main suite of the lounge. This is strictly for First-Class fliers only, so there is only enough seating for around 30 people. With high privacy shields around each chair and the chairs set up for different configurations (solo fliers or those travelling in pairs or groups) this leads to a much more peaceful and comfortable experience while you are here. The glass wall overlooks the terminal's shops and main body, alas there are no outward facing windows so no plane spotting from here.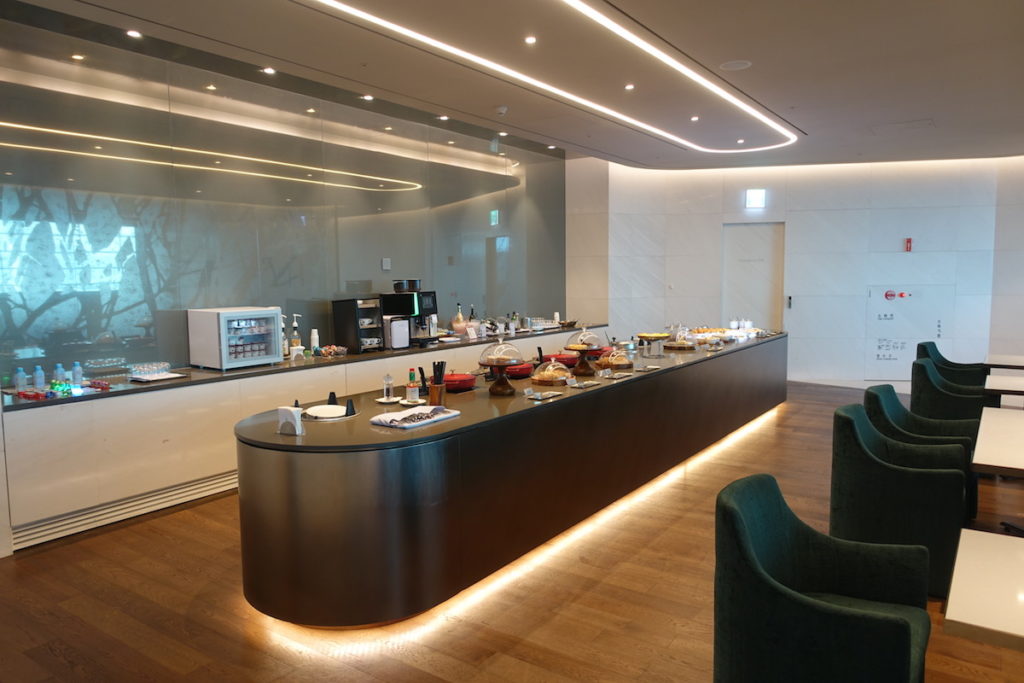 Once you have settled in, there is a selection of foods and beverages for guests in this lounge to choose from ranging from hot dishes, sandwiches, and salads to pastries, ice creams as well as a wide variety of drinks, both alcoholic and non-alcoholic. Just remember not to get drunk, excessive alcohol consumption can lead to passengers being refused entry on board the plane. Moreover, if you time your visit to the First-class lounge right, there is a menu where a chef will cook the food fresh and waiters bring it to your table. This is not available 100% of the time.
There is also a single person was room with a shower with a spacious room to wash up and get ready for the flight ahead. This is a first come first serve basis, but again, it's First-class so even if there is a wait, it won't be in an enormous queue. There is also a Private Room behind frosted opaque glass, here you will find other such luxuries like a massage chair and sound proofed space. People have been known to fall asleep here for an hour or so which should tell you just how relaxing it is.
Depending on where your gate is, you may have a considerable walk but after staying in the First-Class lounge, you won't care either way. Just be sure to stop by the desk on the way out and collect your metal luggage tags complimentary with your stay. The flex on your luggage will leave others jealous.
For those who enjoy a little bit of peace and quiet when they travel and to take away some of the noise and chaos that flying can bring you can spend a little bit more money to experience a part of luxury. This is a definite must for your next flight out of Incheon.