For those who are traveling with children, hard to impress friends, or an unenthusiastic partner can find it tough to find things that keep everyone entertained. Museums and art galleries can get old after the first one if you're not into that type of cultural excursion but one place that most people love is a water park. Especially during Korea's hotter summer months, they can be a really great way to burn off energy, keep cool, and make new friends. As long as the sun is out and the weather permits, almost anyone can have a great time while visiting a water park! Here are a few of the best water parks in South Korea.
Easy Access: Sealala Water Park and Spa
Sealala Water Park and Spa (씨랄라 워터파크) caters to all audiences and is a great time for all ages. With a 140m long lazy river, those looking to chill out and relax in the cooling, flowing water can spend hours going with the current. Other attractions include pools, hot tubs, massage areas, and of course, slides. Although Sealala isn't a huge water park since it is indoors, it's location is in the heart of Seoul, making it very accessible to everyone. Thanks to it being indoors, it can be visited even during the colder winter months. Additionally, if the water park doesn't interest you, they also operate a 24 hour Korean spa. Ticket prices vary from 30,000 to 53,000 won depending on which access you want and time you go.
Address: 164 Mullae-ro, Mullae-dong, Yeongdeungpo-gu, Seoul, South Korea
Phone: +82-1522-9661
Korea's Favorite Water Park: Caribbean Bay
For those who were around during the early days of 2nd generation K-pop, this water park will definitely be familiar from its advertising campaign, where they released a song. A collaborative effort from Girls Generation and 2PM, "Cabi song" was released back in 2010. This made Caribbean bay (캐리비안 배이) one of the biggest attractions in Korea. Opened in 1996, it is one of the biggest water parks, spanning 200 square kilometers. It boasts indoor and outdoor sections including various water slides and water coasters, hotels, restaurants. It also hosts the longest lazy river in the world! Also, Korea's most beloved amusement park 'Ever land (에버랜드)', where you can find Korea's tallest and fastest Wooden roller coaster, is right next to Caribbean bay. So if you are a hard core 'themed park' fan, Caribbean bay is perfect for you.
Address: 199 Everland-ro, Pogog-eup, Cheoin-gu, Yongin-si, Gyeonggi-do, South Korea
Phone: +82-31-320-5000
Ocean World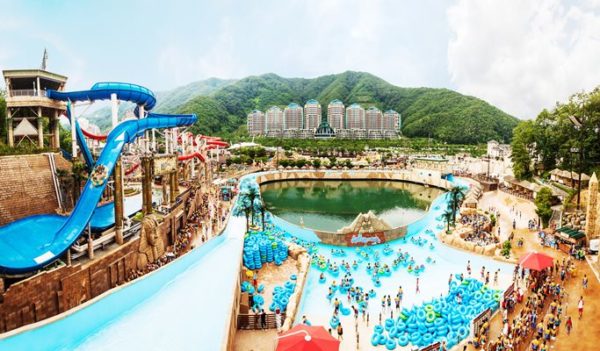 Ocean World is a part of Vivaldi ski resort and it boasts to be the most popular waterpark and 2nd in Asia. This 24 hour waterpark isn't in Seoul and can be found in the gangwon province (강원). It has an assortment of restaurants and hotels for guests to stay in. Gangwon is famous for its freezing cold weather during winter season and ski slopes so if you happen to visit Korea during winter time, you can enjoy skiing and indoor water park without having to visit two separate places. The park has an Egyptian theme running throughout with a large sphinx, a set of pyramids, and a giant pharaoh. The whole park is just less than 100,000 square kilometers.
Address: 262 Hanchigol-gil, Seo-myeon, Hongcheon, Gangwon-do, South Korea
Phone: +82-1588-4888
Lotte World Waterpark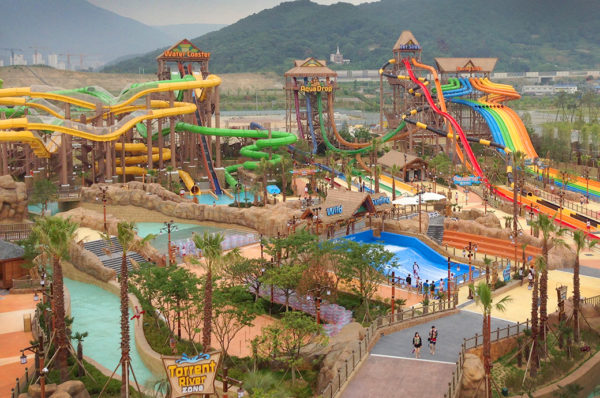 You may know Lotte as a department store or a foods and other consumer products manufacturer but in Korea they do so much more! Lotte water park is an impressive indoor/outdoor spot that has 8 giant water slides, a huge spa, and a series of restaurants. The outdoors section has a wide array of pools and lazy rivers while indoors has saunas, Korean spas, massage areas, and "doctor" fish. You may have seen small fish that nibble at people's feet and some people love it as it gets rid of dead skin and keeps your feet feeling smooth. This Polynesian themed water park is open year round except for March when they do some upkeep and the closest city to its location is Busan.
Address: 555 Jangyu-ro, Jangyu-myeon, Gimhae, Gyeongsangnam-do, South Korea
Phone: +82-1661-2000
While people love water parks for the exciting drops and crazy waves while in safety, Koreans do water parks a bit differently so it's definitely worth a visit if you're looking for an adrenaline rush during your visit. Don't forget to check out the amazing concessions like Korean fried chicken, dukbokki, and other street snacks unique to Korea.