The Ultimate Guide for Noraebangs in Seoul
Who doesn't like a fun night at the karaoke bar? Music is a universal language, and singing is what lets us connect with it! However, for those of us who can't overcome shyness or just have a strange taste in music, it's pretty hard to get up on stage and sing in front of strangers. What would you say if there was a perfect place for people just like you in Korea? You get to belt it out to your favorite songs without needing to break out of your shell completely.
Noraebang(노래방) is essentially a private karaoke-room, where you can flaunt your unique singing skills without having to worry about impressing strangers. It is one of the many fun activities Korea has to offer. Whether you want to go by yourself, with a small group of friends, or after work with all your coworkers, you can pick the size and number of hours you want to book for.
Quick and Easy Norabang: 'Awesome Coin Noraebang' in Mapo, Seoul
If you want to release any stress during your trip to Seoul, the fastest and easiest way is by visiting one of the many "Coin Noraebangs" in Seoul. "Awesome Coin Noraebang (어썸 코인 노래방)" in Hipsters' city Mapo, Seoul only charges 5000 won for 18 songs which is roughly $5 USD.
If you happen to have an account on Kakao Talk, the most popular messaging app in Korea, you can add Awesome Coin Noraebang as your friend and get to sing one song for free.
They also provide a variety of rooms like a room for a person singing solo to a floor heated room, the choice is all yours.
Address: 4, Wausan-ro 21-gil, Mapo-gu, Seoul
Inquiries: 02-336-2548
Open hours: 11:00 – 24:00 Mon-Thur, Sun / 11:00 – 01:00 Fri-Sat
Price: 500won – 1 song / 1000won – 3 songs / 5000won – 18 songs
5 Story Building Noraebang: Soop, soom Gray in Gangnam, Seoul
숲(soop), 숨(soom).. Forest and breath. As the name of this five-story building in the center of Gangnam states, Soop, soom gray(숲숨 그레이) is built and designed to offer a place to "take a break", like a forest where you can take a deep breath in and relax.
Besides Noraebang on the fourth floor, there is a dog café, a bar, a theater, an arcade, massage chairs, and even skin analyzing machines that tell you the perfect K-beauty items for you. So if you want an "all-in-one" course for ultimate Korean leisure tour and save some time visiting multiple places, this place will be your savior.
For night owl guests who visit from 11 pm to 5 am, they add one more hour to any entry tickets.
Address: 45, Gangnam-daero 156-gil, Gangnam-gu, Seoul
Inquiries: 070-7782-0090
Open hours: 00:00 – 24:00 Everyday
Price: 1 hr – 5,000won per person
All You Can PLAY Noraebang: 'Multi Plus' in Hongdae, Seoul
If you are a gamer, a movie lover, a noraebang aficionado or all three, this place is for you.
At 'Multi Plus(멀티 플러스)' Noraebang in the hottest neighborhood of Hongdae, Seoul, you can play anything you want! Whether it's Nintendo Wii and Switch, Movies, TV shows or Noraebang machine, it's all yours for an hour for only 17,000 won.
They also have a variety of ramen, sweets, beverages and, drum-roll please, a chocolate fountain waiting for you to enjoy. This, what they dub, "Total Entertainment Zone" will not disappoint you.
Address: 13, Hongik-ro 5-gil, Mapo-gu, Seoul
Inquiries: 02-333-7799
Open hours: 11:00 – 24:00 Everyday
Price: 1 hr – 17,000won /  2 hr – 28,000won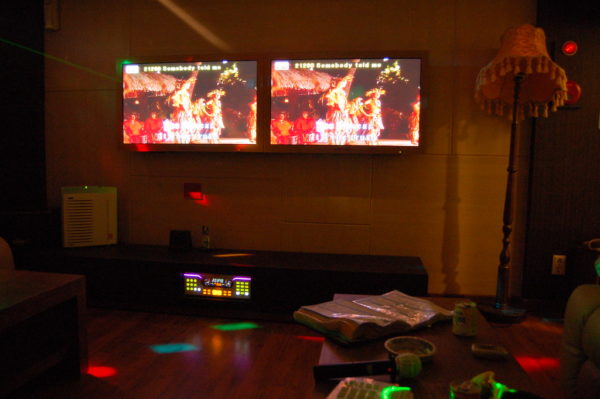 Besides the three options we've written about here, there are plenty of other neighborhood noraebang spots wherever you're staying in Korea. Just keep an eye out for the Korean characters 노래방 or ask someone near you! Typically, noraebang have extended hours of operation so there should be availability at any time. Depending on the place, some karaoke places will have plenty of English songs and even a menu system that is multi-lingual.