As summer rolls around, the desire to travel peaks to the highest point, right? But it's hard to find the right place for your once-a-year sunny vacation. So to help you narrow down your options, we prepared a special series focusing on seas and beaches in South Korea.
We weighed factors like outdoor activities, entertainment, lodging, dining venues, and weather to decide the best summer vacations. First, we cover the East coast, so if you plan a visit to the east side of Korea or have never been to the East Coast of South Korea yet, please make sure to keep this article bookmarked.
A Beach for Surfers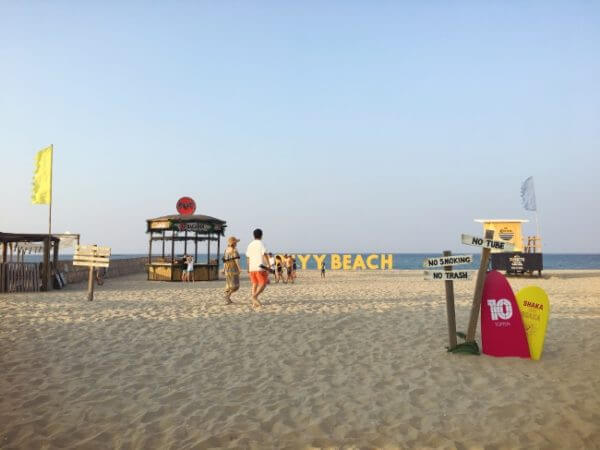 The East Coast is a good place for beginners who are new to surfing because the sea is calm and the waves are stable. Due to these reasons, it is very popular with surfers because it has the perfect terrain to experience outdoor activities. Surfyy Beach, located in Yangyang's Hajodae beach, is the first beach uniquely for surfers.
Among the many beaches on the East Coast, the most popular recommended place is Yangyang. Recently, Yangyang coined a new term of 'Yangnidan-gil' as many people visit famous sites. Beautiful cafes with a good view and stylish, unique guest houses are centered in Yangnidan-gil; it has been a trend that attracts surf lovers and general tourists.
If you plan to visit Yangyang, the beach you must drop by is Yangyang Surfyy Beach. It is also known as 'Korea's Ibiza' among Korean people because it is equipped with the richness of attractions and entertainment like the real Ibiza Island in Spain. However, the local government banned public access until recently because it was designated as a protected military area in the past 40 years. However, now it has successfully transformed its image into a beach for surfing fans.
Similar to Ibiza Island mentioned earlier, this place has various exotic beach sculptures and decorations around its sandy beach. And it will inspire you to feel like you're actually on a foreign shore, not in South Korea. I am sure that anyone who loves to travel will fall in love with the unique feeling and environment of Yangyang.
Various events are often held around the beach. Visitors can enjoy busking performances of different genres such as reggae and acoustics. Isn't it romantic to listen to busking right in front of the ocean? Moreover, from the evening of the weekend to dawn, tourists can expect to see a DJ performance by famous musicians. If you want to play all night on the beach and surf all day, I highly recommend heading to Yangyang Surfyy Beach.
Najeong Beach, Romantic and Secluded Spot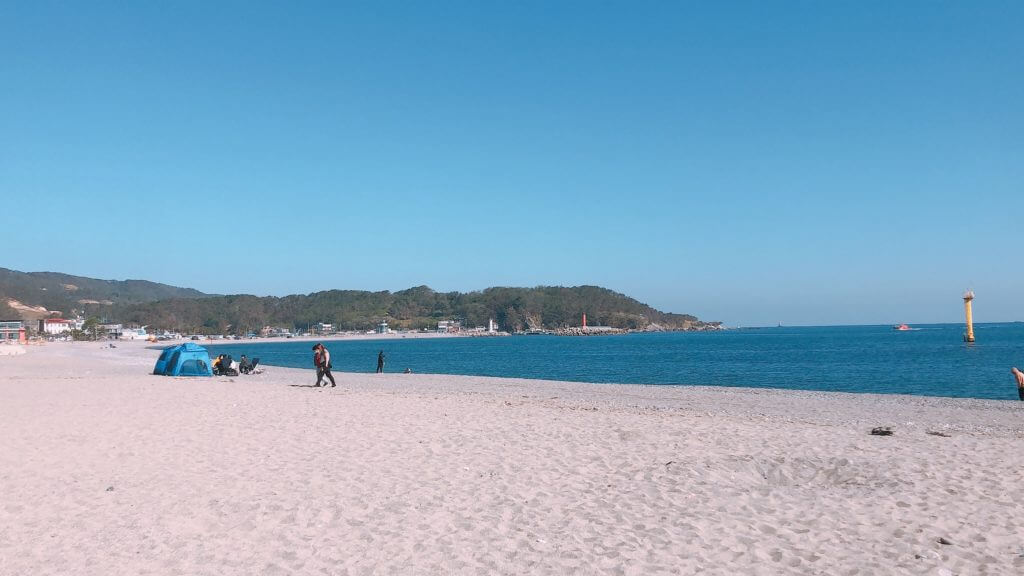 There are many beautiful beaches down the East Coast. While driving along Haeparang-gil from Gangwon-do to Gyeongsang-do, people realize that there are so many beaches in South Korea to choose from. Among them, Najeong Beach is famous for being visited mainly by families with children because it is close to the historical city of Gyeongju.
It has a white sand beach, fine sands, and big parking lots and amenities. There is also a seawater bathhouse in front of Najeong Goeun Sand Beach, where you can enjoy hot springs. In many ways, it is a perfect place for families or friends to enjoy. However, if you want to be more active, you can also enjoy water leisure activities such as motorboats and banana boats with your loved ones.
Camping is also a good option if you are having trouble finding a suitable hotel due to many guests. It has a camping site in the vicinity, making it perfect for spending a night with friends in a recreational vehicle or setting up a tent with family. In particular, many campers love to enjoy camping here because of the geographical charm that comes from the location. Unfortunately, there are very few places where you can camp in front of the beach.
Another attraction point is the soothing beach pebbles. The beach consists of gravel rather than sand, so it is perfect for a walk. Wouldn't it be much better to walk with pebbles rather than sand as it creates a pleasant sound to a footstep rhythm? In addition, walking on clear water and gravel, you may feel the ample stress accumulated from city life alleviated.
Do you like fishing? Many people enjoy fishing here because it has lighthouses, tetrapods, and breakwaters nearby. You can find many families or people fishing solo in the area. If you plan on camping with your family or going on a quiet vacation but also want some beach time, Najeong Beach is the best choice.
Sacheonjin Beach for Peace and Quiet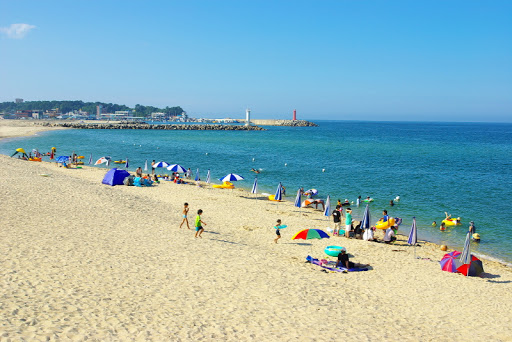 Gangneung, a tourist destination on the East Coast, is traditionally famous for Gyeongpodae and Jeongdongjin. It is also known as an undeniable tourist destination among Koreans because it is crowded with people every time during the vacation season. If you are tired of these apparent spots, I recommend you go to the secluded Sacheonjin beach.
Sacheonjin Beach is an hour away from Gangneung city by public transportation. It is a remote place, but the bus stop is nearby, so transportation accessibility is quite good.
Sacheonjin Beach has widespread sea pine around it. Because of this, it is the best place to feel comfortable while strolling on a beach with few people. In addition, many cafes, such as the cafe streets in Anmok Beach, have opened recently here, so you can enjoy the clear sea view while enjoying your coffee time.
When you feel hungry, just walk toward Sacheonjin Port. You can easily find fresh seafood at the seafood market in it. Cold raw fish soup and raw fish bibimbap are the most popular menu items here. And try the seasonal delicacy of seaweed soup with rockfish. If you like to fish, try it. Don't hesitate as you are in the right spot for fishing. It is also a great place to enjoy sea fishing on the breakwater because of its rich fish species at Sacheonjin Port.