The Korean food delivery industry has been huge and it is still growing at a very high pace. The popularity of getting food delivered has only grown and it has even been reaching offices, parks, and other places outside of the home. To know more about their food delivery culture, let's begin by understanding where it all started.
Korean Food Delivery Culture
One of the most impressive things about Korea is the stellar service provided by the food and restaurant industry. Not only are the cuisines diverse but the delivery is super convenient. Food operations run on a much greater scale and level of quality than other nearby countries. Most restaurants have the same high standard of customer service around delivery that is widespread all over the country. Additionally, in metro areas such as Seoul, countless delivery food options are open 24 hours allowing you to order a snack or meal at any time. Imagine getting to your hotel or apartment after a long flight in the middle of the night. If you were in most other places in the world, you'd be stuck with vending machines or a convenience store if you're lucky. Not in Korea though! You could order a full on meal while you rest and adjust to jet lag!
The rapid growth in food delivery services in Korea is attributed to the changes in family structures. You will find that there are many homes consisting of two inhabitants who are less likely to cook and more prone to order take out. Another reason for the increasing popularity of delivery is due to the convenience it brings about. If you could have lunch delivered to your office or go to a restaurant and the cost is roughly the same, why spend the time waiting in line and going to a crowded place?
What Kind of Food is Delivered?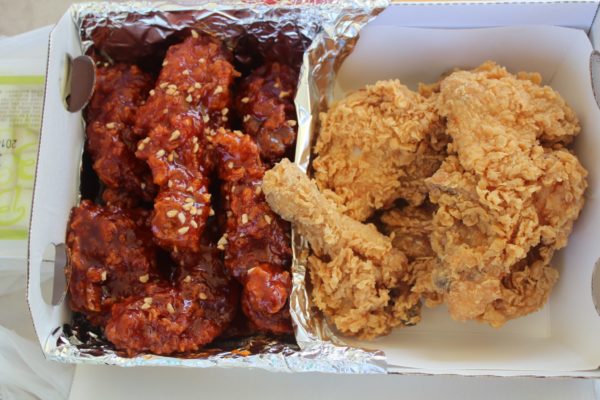 With the vast competition seen in the food industry, no restaurant would want to be left behind when every food option seems to be available for delivery. It's for this reason that you will find any restaurant, whether it's serving fast food or a home cooked type of meal, has delivery open to its customers. The likes of McDonald's and pizza shops such as Pizza Hut are the most associated with delivery globally but so is fried chicken also referred to chimaek or chinunim which a combination of fried chicken and beer. Other common types of delivery food are Chinese-Korean food, sushi, and set lunch boxes.
The market of food delivery has widened up the past years opening opportunities to all types of food vendors. This has led to delivery in any food category including ice cream, groceries, and  beer or alcoholic drinks. You could even order food in bulk. For instance, if you have a gathering or an event but you don't want to bother in cooking yourself, you can request for delivery. You can order bossam which is a popular Korean dish of sliced pork knuckle or even a huge platter of sushi plus all the trimmings.
The modern process of delivery is pretty fast and secure. Unlike the past when you had to spot a flier and get the menu and phone number from there, these days there are apps such as Baedal Minjok or Yogiyo. These apps will allow you to order your meal, set up a delivery location, and pay via a prepaid card or cash on delivery.
Where do Restaurants Deliver?
Most restaurants have their delivery personnel on small motorcycles so that they can reach even the most remote areas quickly. Availability of delivery options depends on where you are staying as most cities have a higher density of restaurants so rural areas may be somewhat limited. However, if you are visiting a major city like Seoul or Busan, there are endless possibilities. You could even order food delivery to a public park or a bus stop! Most restaurants' delivery service can get to you wherever you are in an hour or less.
Culture of Sustainable Food Delivery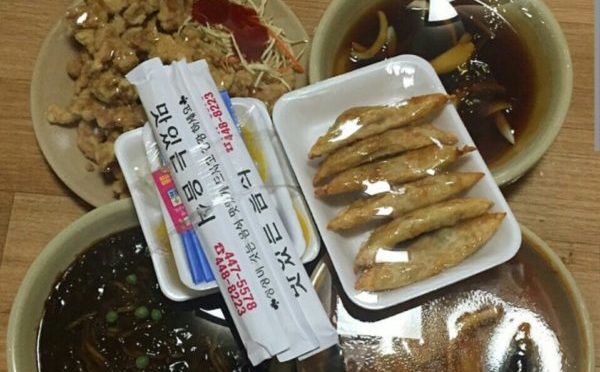 One amazing thing about  the Korean food delivery culture is that when you get your food delivered to your location, you don't have to stress about cleaning it or producing too much trash. When you finish your meal and are done with the utensils, you can store them in a bag and leave them out in your porch. The delivery staff will then come and pick them up again after some time. Typically, your meal will come in bowls and metal cutlery plus a box or blue plastic bag. The blue bag or box is designated as where you should keep the reusable container and utensils that would be picked up in the next hour or two. Most countries give you disposable containers and utensils but Korea cares about sustainability and reducing waste so it is custom to return the metal or plastic containers back to the restaurant for reuse. However, this is not the case for all restaurants as chains like McDonald's and other fast food would still use paper boxes and bags, but most family-owned restaurants would use reusable utensils. This will avoid extra packaging and also save on costs and maintain a strong, guilt-free food culture.