Korea is a fascinating country that has its own unique culture. The country is known to place importance on respecting the elderly and being polite when interacting with strangers. Besides its wonderful mannerisms, Korean culture has expanded to producing entertainment that has captured a global audience, K-pop.
When visiting Korea, it's undeniable that you will encounter K-pop hits playing across shopping streets, but you will also get the chance to see the more traditional side of the Asian country. This is shown in their celebrations such as Chuseok, their traditional clothing (HanBok), ancient architecture, and other elements of their society.
Once your trip to Korea nears its end, you might be wondering about the best souvenirs to take home with you. You'll probably want souvenirs that are special to the country and that you can give to family and friends.
In this article, we recommend some of the best spots to buy affordable souvenirs in South Korea.
Insadong (인사동)
This is one of the best locations to buy traditional souvenirs, crafts, and ceramics at affordable prices.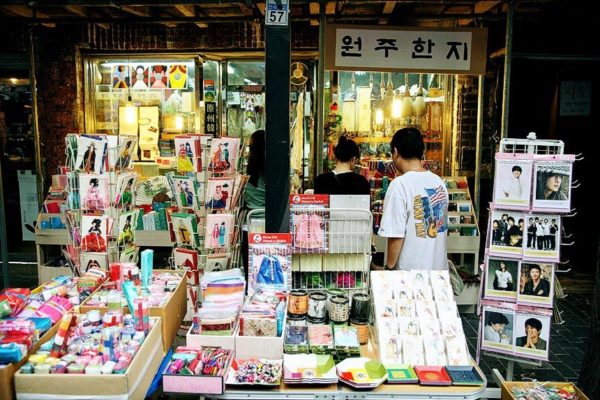 Insadong is a district with alleys full of shops. Walking through Insadong streets, you'll find diverse traditional souvenirs such as:
Handmade stamps
Traditional masks
Korean chopsticks
Scarves
Wooden kitchen utensils
Clocks
Traditional Korean dolls dressed in Hanbok
Magnets
Bookmarks
Keychains
The key characteristic of Insadong is that you will find traditional souvenirs that might be difficult to find somewhere else.
Walking down the streets of Insadong you'll see the traditional style of Korean houses' architecture. In particular, the Bukchon Hanok Village displays houses with a 600-year-old infrastructure.
There are many reasons to visit Insadong, not only is it located in a central area of Seoul, but it's a place where you'll be able to see the history of Korea and find perfect souvenirs that are representative of the country.
Tourism Representatives
At Insadong, you'll find staff that speak English and many money exchange stores. Given its popularity with locals and tourists, Insadong stores offer great convenience for tourists. In addition, the shopping alleys are full of cafe shops and restaurants for you to take a break from a hectic shopping day.
If you are looking for other kinds of gifts that are not that traditional, such as Kpop albums, clothing, or artifacts, continue to the list down below.
Namdaemun Market (남대문 시장)
Perhaps Namdaemun is a well-known place to K-drama fans who might have heard of this market in some shows.
In Korean, Namdaemun means the Great Southern Door, and it was the main entrance to Seoul during the Joseon Dynasty. Namdaemun market is quite old, being established in 1414 and having survived the Korean wars and invasions.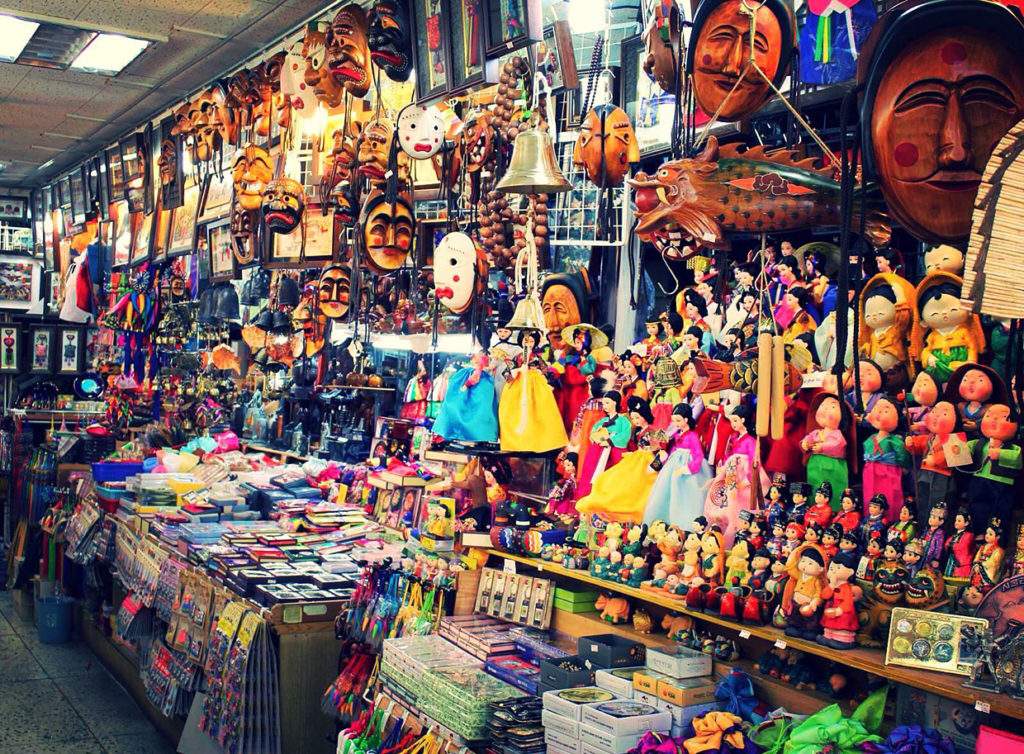 Namdaemun is one of the largest markets in South Korea, with a vast array of offerings from organic foods to clothing. Traditionally, the Namdaemun market sold meat, vegetables, and other lively products, but with the passing of time, it diversified to offer almost anything imaginable.
Navigating a Vast Market
Given the massive size of the market, it's advised to consult with the tourist information staff if you are looking for a particular product; otherwise, it might take you the whole day to navigate through the shopping alleys.
If we had to pick a word to describe Namdaemun market is probably affordable. At this market, you'll be able to bargain and shop away, but consider the time and effort that this process may take. At Namdaemun we recommend buying some clothes and socks that are characteristic of Korea.
Koreans are known for their sock game. It's typical to take your shoes off in Korea when entering restaurants or houses; consequently, people pay more attention to their socks than in Western countries.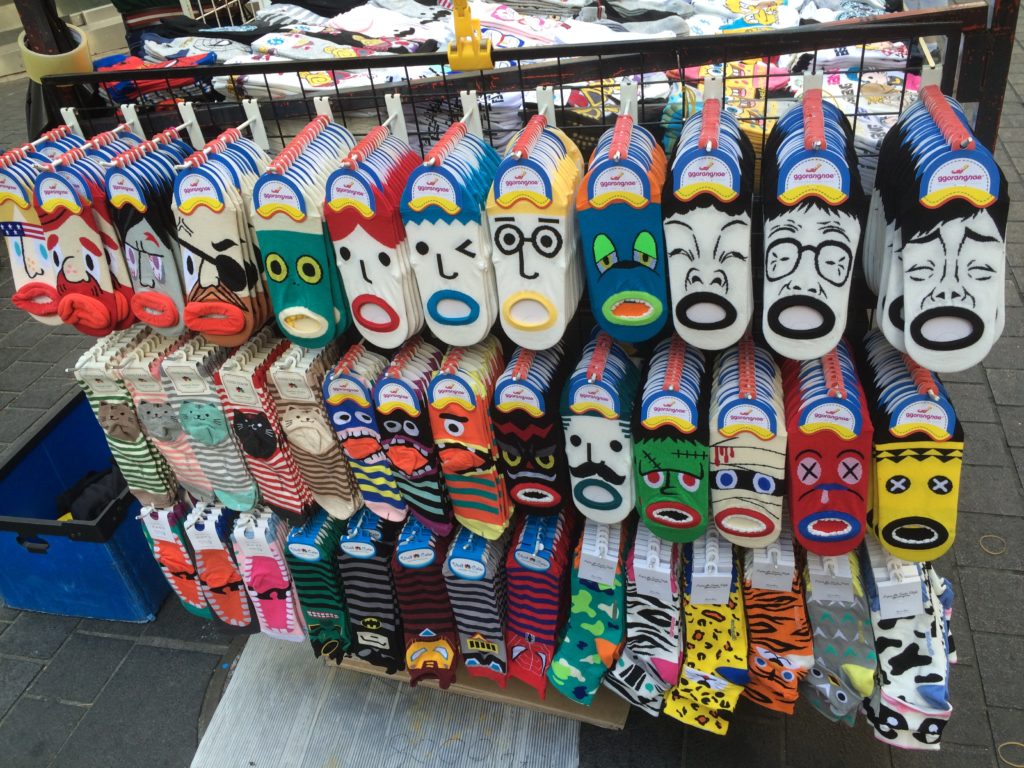 You'll find socks with cute designs and others with outrageous prints and funny phrases. Namdaemun is a great place to buy socks at affordable prices. Your friends will be happily surprised when they place their eyes on the funny Korean-style socks!
Here is a list of alternative things you'll find at Namdaemun market:
Luggage
Jewelry
Wallets
Women's accessories
Stationary
Korean fabric pencil cases
Clothes
Daiso (다이소)
Some people might also be thinking about taking some snacks and sweets back home for friends and family. In fact, there are a couple of Korean snacks that are quite unique such as the Honey Butter Potato Chips – which are quite delicious and crispy.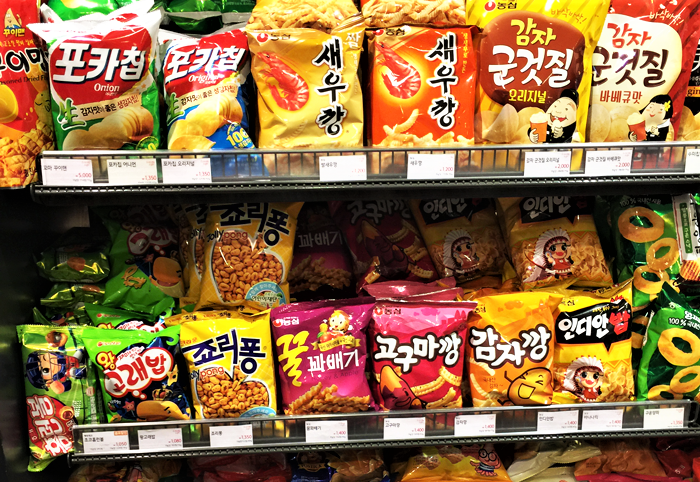 Daiso is one of the best places to buy Korean snacks at cheap prices. The store is known for its affordable prices that range between 1,000 to 5,000 Korean won ( 0.9 to 4.2 US dollars). They have pots, animal toys, china, snacks, stationery, beauty products, etc.
At Daiso, you can easily pick up the famous Korean energy bar, or the more traditional ChocoPie at affordable prices and conveniently. With 1,000 reported stores in Korea during 2016, you'll be able to find a Daiso store near your location and bring delicious snacks and curious, but useful, artifacts back for friends and family.
Myeongdong (명동)
Myeongdong is the paradise of Korean makeup. If you are looking to buy Korean cosmetics as gifts for mom or yourself, you have to visit Myeongdong.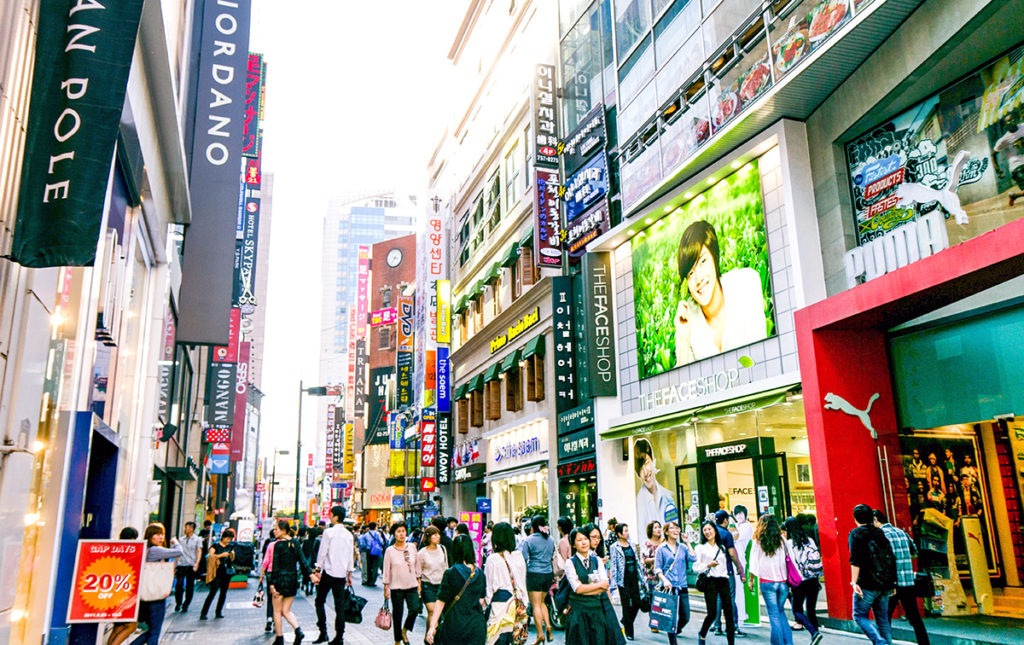 The streets of Myeongdong are full of makeup and clothing stores. You'll find popular Korean brands such as Nature Republic, Aritaum, Etude House, Misha, Tony Moly, Skin Food, among others. Find a skin moisturizer that fits your skin, lipstick, shadow palettes, perfumes, face cream, essential oil, face masks, foundation, whatever you can think of, you will find it at Myeongdong.
Koreans are known for their high-quality face masks. Don't miss the chance to buy face make deals at Myeongdong.
Another great advantage of shopping at Myeongdong is that the staff will likely speak English. If you are struggling with the Korean language, you can enjoy shopping at Myeongdong with more freedom. The English speaking staff will help you identify and understand any product you like, which can be quite important when buying skincare. You don't want to find out later that you bought a product with a component you are allergic to.
Buy Korean beauty products for friends and family with ease at Myeongdong.
Take a Piece of Korea Home With You!
Share a bit of your experience in Asia with your loved ones. They will love the magnets and traditional dolls that will stand out in their living rooms.
With meaningful souvenirs, you will make your family and friends warm, and you will remember your wonderful time in Korea for a long time.