As we have seen the East Sea, now it is time to look at the West Sea in South Korea. After a fierce day of city life, you have no choice but to think of healing yourself. And these thoughts will naturally lead to the desire to meet a clear sky and blue sea.
However, for the people who lived in Seoul and the metropolitan area nearby where most of the population is concentrated, it is a reality to go to quite a distance to appreciate the scenery of open-wide seas. Both the East Sea and the South Sea take an hour or two to reach from metro Seoul.
The West Sea shouldn't be forgotten since South Korea is a peninsula and is surrounded by water on three sides. When you think of the West Sea, the mudflat known as the Yellow Sea comes up first before the ocean's beautiful blue. Unlike the East Sea, there are high tide and low tide. The ebb and flow of the waves are due to the gravitational pull of the moon.
West Sea also has its attractions besides mudflats. Its tour spots can be better than the West and South zones, and Korea Trip Guide thinks it's worth calling them out! As it has many charms, please do not simply think that the West Sea only has the mudflat so that it will be boring. We are confident that you can spend a great summer vacation in the West Sea as well.
Eurwangni Beach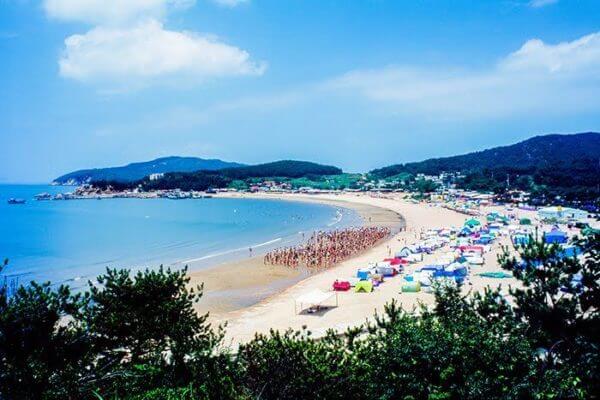 The closest summer resort near Incheon Airport is Eulwang-ri Beach, located in Yongyu-dong, Jung-gu, Incheon. Since it was designated as a national tourist destination in 1986, many tourists visit here every weekend. Some say, "There are too many people around always, so it's hard to enjoy attractions in it." It may seem a complaint, but in another way, it means that it's so much popular with Koreans.
The length of the white sand beach is 700 meters, so it has quite an extensive range of tourist attractions. The structure of the sand beach is also folded a bit into a crescent shape, creating a beautiful appearance. Eulwangni Beach has a significant difference in sea level depending on high tide and low tide. If you are visiting during the low tide of summer, you may have to walk about 200 meters away from the road, so it is recommended to check the tide condition beforehand.
The front side of the sea is widely opened so that you can enjoy the blue and clear sea standing in the middle of the beach. There are pine forests and bizarre rocks on both sides of the white sand, so the scenery is beautiful, too. When you watch the sunset from the north side of the beach, the forest may block your view. This is why we recommend you view the sunset from the south side of the beach with an open view.
We hope all readers will have a chance to blow away the stress by watching the splendid scenery of the sun sink into the sea with the calming sound of waves in Eurwangni Beach. The sunset is not only lovely but also presents a picturesque appearance, so take enough time to spare for it. Remember you already reached Eurwangni Beach for your vacation, so act or behave more like a playboy on the loose. Let's forget about some complicated thoughts and just close your eyes as pretend to do meditation with quietly listening to the sound of the sea.
It's also a good idea to eat delicious and fresh seafood. You know it's a way more delightful evening. However, when seafood near the seas rather than in the city. This place is also famous for its must-eat restaurants. Among many menus, grilled clams are the most popular. You can easily see a grilled clam store by walking around the coast. Freshly caught and sold at the mudflats, so don't worry about the quality of it.
Daecheon Beach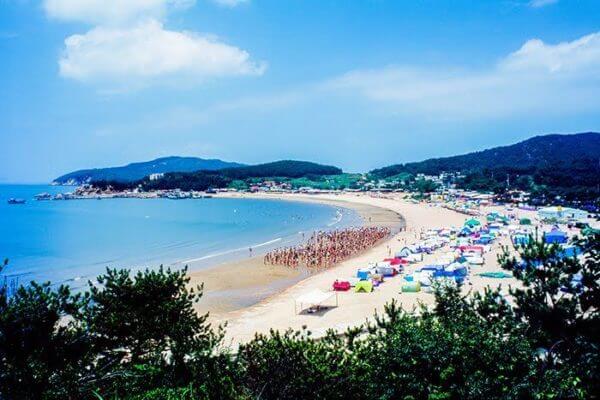 When you descend from Eurwangni Beach along the West Sea, you can reach Daecheon Beach. It is incredibly close to the city of Daejeon and is known as a popular destination for people in the central or southern regions of Koreas. People who lived in Seoul may be unfamiliar, but it is in the front rank among tourist spots, and so many people visit here to rest in summer vacation.
Daecheon Beach is a dune developed with shellfish sand. Its sand has richness in minerals, so very suitable for a sand bath. If you've not yet tried a hot sand bath in South Korea, why don't you try it with this opportunity? Take your time enough and get some rest to give your tired body a chance to be allowed to relax. You are just lying on the fine sand and resting for a while. These simple things will heal your body and soul.
Young people who like events and vigorous activities may hear of this place as a mud festival venue. A global mud festival has been held here every year. Especially if you are planning a trip with foreign friends, I highly recommend participating in it. Due to the unfamiliarity of the mudflat to foreign people, visitors usually have a blast. If I had a chance, I would also like to participate with my foreign friends too.
There is an auto camping site nearby Daecheon Beach. As you know, accommodation costs go up during peak season. Therefore, it is advisable to book hotels in advance. However, if you fail to secure earlier, it is recommended to use the campsite here. Thus, you can also reduce an unnecessary expenditure but also create beautiful memories. We hope you will enjoy a good trip as you feel winds blowing from the forest around the auto camping site.