As a fashion hub of the world and the capital of Korea, Seoul is not the cheapest city to buy things in but there are gems among the high fashion streets to find unique items that feature Korean style. If you're tired of going through department stores with the same designer labels, check out where you can find inexpensive, cute, and fashionable pieces in these popular spots!
Ewha Women's University: Clothes and Makeup Galore!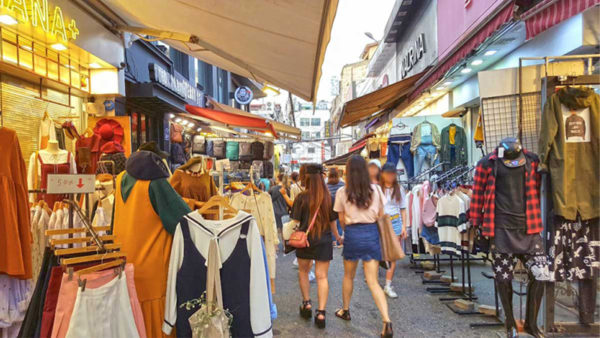 University students are notoriously broke no matter where you are in the world. When you're focused on studying, it's hard to make money on the side so you gotta scrape by with what you've got! Being young also means you care about the hottest styles. If you want to look fashionable on a budget, go where college students shop and it's a sure way to stay up with the latest trends without breaking the bank. Located outside one of Seoul's most beautiful campuses, Ewha Women's University (이화 여자 대학교) Shopping Street is a hub for women's clothing, accessories, and make up. Students and other young ladies come here to restock their wardrobes without burning a hole in their pockets. Most shops sell clothes starting at a price of 5000 KRW which is under $5 USD and hard to beat. 
A lot of the shops only have clothes that are one size fits all so if you're particularly tall or plus-sized, it might be harder to find things that suit you. When shopping in these types of boutiques, bring the item you want to purchase to the cashier counter and they'll give you an unopened, new piece straight from the factory. In addition to clothes, Ewha Women's University is surrounded by cosmetics stores. There are some wholesale priced shops where you can restock on your favorite Korean face masks or serums.
Hongdae Shopping Street: Nothing Too Mainstream
Situated near the Hongik University Campus (홍익 대학교), this street is packed with quaint clothes shops and cafes, which in keeping with Hongdae's reputation, is a lot more on the Indie side for those who aren't overly interested in high fashion. Much like Ewha, the prices are low due to the high student population, making it a great place to build a new wardrobe without making the wallet sweat. There are also specialty stores like very inexpensive jewelry shops, stores that only sell makeup brushes, and adult toy stores.
Once shopping becomes tedious, there are lots of cafes and restaurants as well as a Noraebang (노래방: Korean karaoke bar) to unwind and have some fun with friends. On the subway, get off at the Hongik University station, Line 2, Take exit 5.
Myeongdong: The K- beauty Cosmetic Capital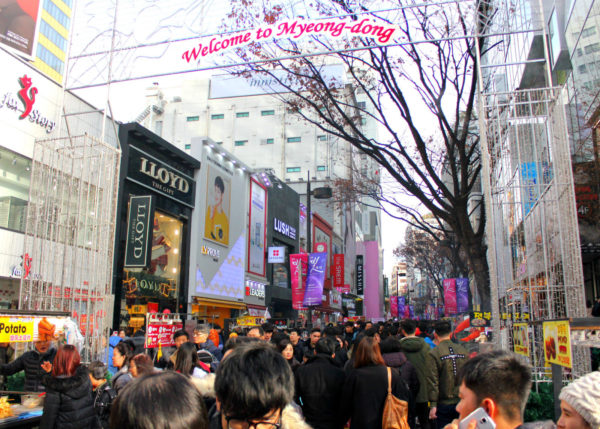 Myeongdong is Korea's most well-known shopping district. Every single cosmetics brand you have ever heard of and a slew of more that you haven't are all here. The best part of this street is that you can get a lot of things for free as most shops will drop in some free samples with your purchase. You might not need to shop for facial masks, lip balms, and moisturisers for months just from the freebies! Even without this, a lot of brands like Etude house (에뛰드 하우스), Innisfree (이니스프리) and The Saem (더샘)and so many more sell their products at a discounted price and still give generous amount of 'samples' if you buy anything. Just think about how expensive good cosmetics are and how good Korean look with their skincare. If you need to refill your makeup or evening routine cabinet, be sure to stop by Myeongdong.