What is Samyupsal?
Samgyupsal is a Korean barbecue favorite. It consists of fatty pork belly slices, usually cut thick like a hefty bacon slice. At Korean grill restaurants where the barbecue is in the center of a table, the samgyupsal comes raw and unmarinated. Once the grill is hot enough, you can pop the thick slices of pork belly on and hear the sizzle!
Samgyupsal, as with many other Korean barbecue dishes, is usually enjoyed with a group or friends, family, or coworkers. Find a group of buddies and head to the nearest Korean barbecue to try it out!
How do you eat Samgyupsal?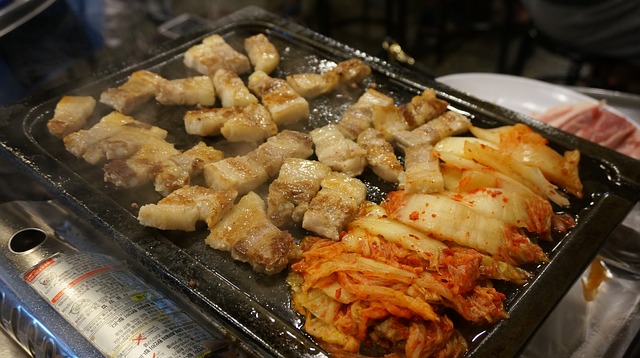 Some people prefer their samgyupsal just cooked enough whereas others might like some char. It's totally up to you how you'd like it but make sure it's cooked thoroughly since undercooked pork can cause serious stomach complications.
Once your pork is ready to be eaten, you can wrap it in red leaf lettuce for some veggies. The lettuce itself is called "ssam".  Some popular condiments to go in your ssam are raw garlic slices, ssamjjang (a paste made with fermented bean paste, minced garlic, and sesame oil), and rice.
It's popular for couples to feed each other mouthfuls of deliciously wrapped samgyupsal as a show of care and affection, This can be done between friends who are feeling silly and loving as well! As your night goes on, soju and other Korean alcohol are popular complimentary drinks to go along with samgyupsal.
Although using ssam is a popular way of eating samgyupsal, don't feel pressured to eat every bite this way. Feel liberated to eat the fatty pork straight off the grill with a dab of salt and pepper, wrapped in ssam with no condiments, or just with nothing else but the juicy goodness of pork belly.
Where can you find Samgyupsal?
If you're not in Korea, you can look up Korean barbecue places in metro areas or areas with a large Korean ethnic population to get a taste of samgyupsal. Or, scroll down further below for Korea Trip Guide's take on making samgyupsal at home.
If your lucky butt is in Korea and you're feeling like you need some fatty pork belly in your stomach, head to a local Korean barbecue restaurant with some buddies and get ready for a good time! You only need to order the meat you want and the sides like condiments and ssam will come along with the meal.
For those who only want to eat samgyupsal, there are even neighborhood restaurants that specialize in only serving pork belly and some side dishes. There are ones that are all you can eat so you pay a one time fee and you can keep ordering slices of samgyupsal until you're stuffed.
How to make Samgyupsal at home
Since samgyupsal is simply grilled and eaten with trimming, you should look for the best cut from the local butcher. It should look something like this: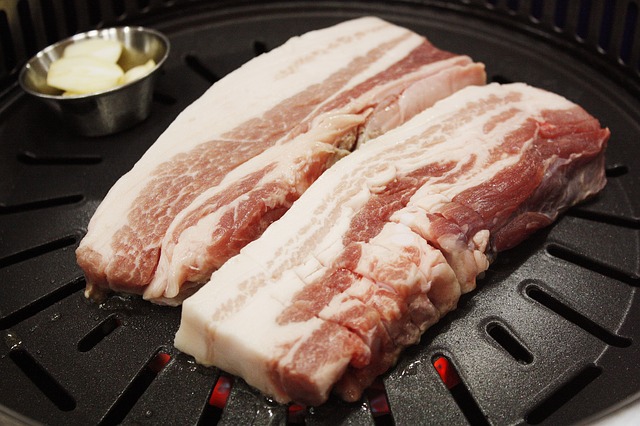 Slice it into ¼ to ½ inch thick cuts lengthwise.
Prepare the Ssamjjang

¼ cup fermented soy bean paste
1 tbs gochujang
1 stalk of green onion, minced
1-3 cloves of garlic, minced
2 tsp honey or brown sugar
2 tsp toasted sesame seeds
2 tsp sesame oil

Wash the red leaf lettuce and portion out.
Slice raw garlic
Make white rice
Enjoy with friends and family!