South Korea has a natural beauty that spans the entire country. Even so, there are certain spots that attract tourists and residents alike. These spots are the pinnacles of nature, giving the most gorgeous sites to behold. One particular spot in South Korea is Taejongdae, located in Busan, South Korea. This location is a nature park with beautiful cliffs. It is located on the southernmost point of the island Yeongdo-gu, overlooking the sea. It has been designated as a monument in Busan.
The cliffs are great spots to see the vast blue ocean, and there is an observatory deck in the park where islands of Japan can be spotted on especially clear days. These fresh air views of the ocean are calming and peaceful to those experiencing it in person.
The park has over 200 varieties of trees, although pine trees make up a lot of the thick forests within. With all the cliffs jutting out from the park, it can be noted that the highest peak is 250 meters! This promises guests the very best of views from any given point in the park.
History of Taejongdae Park
The park is credited to have gained its namesake from King Taejong Muyeol (604 – 661) who was the 29th king of the Silla Kingdom who ruled between 57 B.C. to 935 A.D. Interestingly, Silla kingdom is the reason why there are so many Koreans with Kim as their last name. He enjoyed the outdoors and was partial to practicing archery among the park's cliffs. He was also known to be an avid hiker among the greenery in the park. His love and appreciation for the beauty of nature gave to the park's name in his honor. It was officially considered a Scenic Site, taking the 17th spot on South Korea's list of such places. 
With becoming a scenic site, it is important to note that the park is considered to represent Busan, a city of the beauty of itself. But the park with its rocky beaches and cliffs truly stand tall for the city of Busan.
Among the lush natural beauty of the park, sits the Taejongsa Temple. The temple sits along the mountainside, overlooking the turquoise sea. Travelers who have ventured there, say it is about a 30-minute hike. The outside of the temple is simple concrete with lattice, not too much to see there. 
The real treasure is inside the temple. Sitting center in the main hall, is Seokgamoni-bul, the Historical Buddha. On either side of this golden statue are murals representing Buddha. They are bright and colorful, genuinely giving life to the temple. Throughout the entire temple are other deity statues and brightly colored decor. It is a homage to those deities and is a large part of the Taejongdae park.
Getting to Taejongdae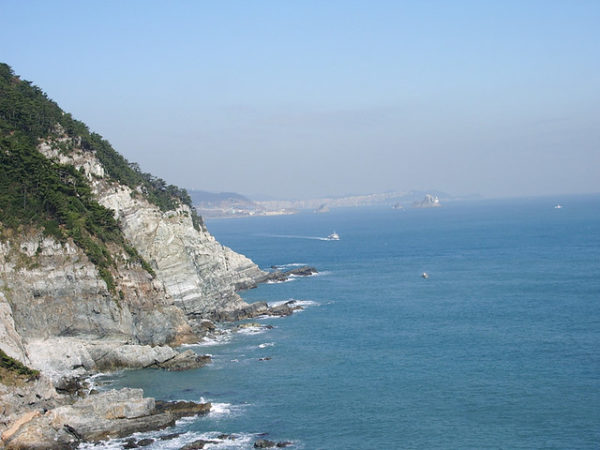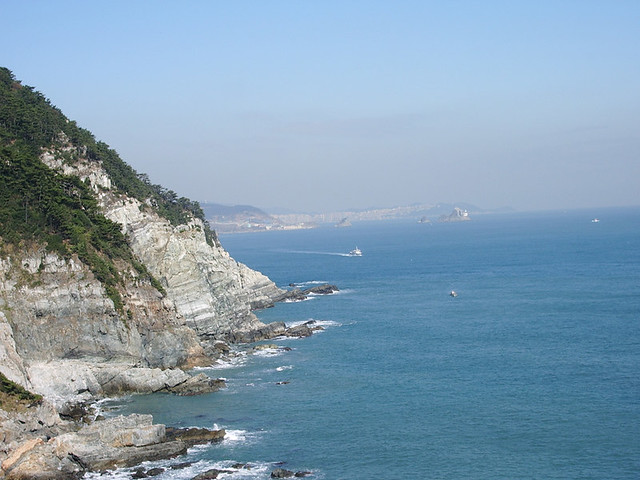 There are buses that travel to the park from Busan Station. They can be taken individually by guests but is only recommended if the proper route is known. The buses that run to the park are Bus 88 and Bus 101. The proper route knowledge comes in if someone is traveling to the other smaller stops such as Buses 8, 13, and 30. For someone out of the area, it is recommended to book a tour that will depart from Busan Station on either 88 or 101. This is a safe route to consider.
Guests can also take taxis or their own vehicle (if they have one). Generally, the buses are the cheaper route to go and are most popular as a means to get to the park.
Once in the park, there are small train rails that operate throughout. They allow visitors to board about every 20 to 30 minutes and costs 3,000 won for adults and 1,500 won for children. These trains make a loop around the park, stopping at notable places like the cliffs, and allow guests to explore before re-boarding. While admission to the park is completely free, this option is available for people who may be elderly, have children, or in the summer months wish to stay at optimal energy levels. The humidity can be obtrusive, and a little train ride is a welcoming gift from the park.
The hours of operation for the train, dubbed Danubi Train, are 9 a.m. to 5:30 p.m.
Key Attractions at Taejongdae
While the magnificent rock cliffs are a key point of interest, Taejongdae offers up a lot more for guests to experience.
Gonpo Cruise Line
This cruise line exclusively sails guests around the park for even more picturesque views. It also visits Achi Island, often called Camellia Island, because it is home to camellia trees. The cruise runs at about 30-minute intervals and operates between 9 a.m. and 6 p.m. It is 10,000 won for adults to ride and 6,000 won for children (or about $4 to $8). 
Yeongdo Lighthouse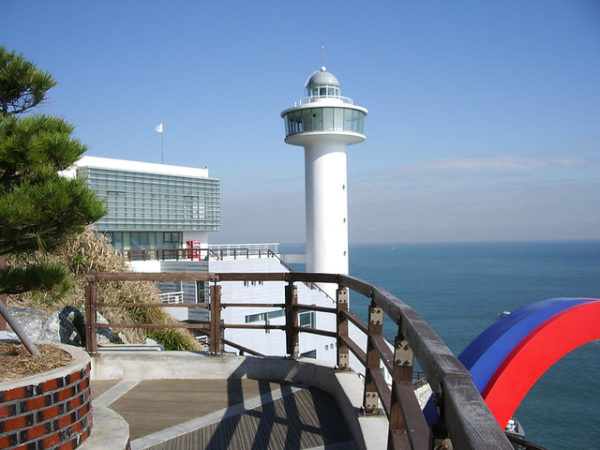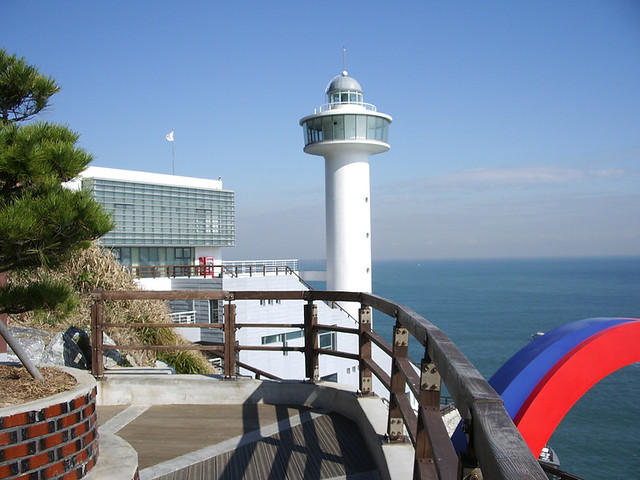 Established in December of 1906, this lighthouse served the ships of the sea for over 100 years. In 2004, it was replaced by an updated and more modern lighthouse. However, it was then that this location was designed for tourist foot traffic and has been the popular spot that it is today. The lighthouse gained a facility containing an art gallery and a gallery to explore Korean history.
National Maritime Museum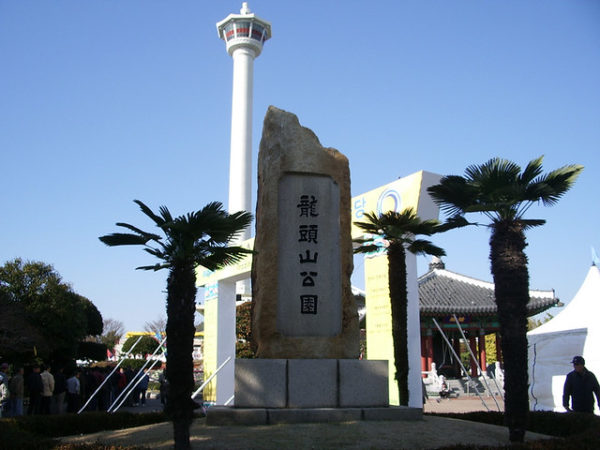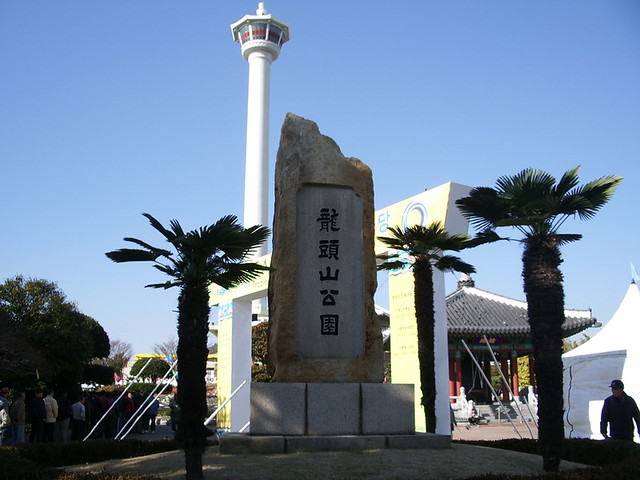 This museum celebrates all of marine life from every aspect. From marine boat practices to ocean life explanation, nothing is left to the imagination for the guest. It is home to over 14,000 ocean relics obtained by various seafaring individuals throughout the years. It is known as Korea's most prized museum on the subject matter. Operating from 9 a.m. to 6 p.m. it gives optimal time for guests to visit while still having time to explore the park itself.
The museum is divided into eight exhibition halls that are permanent exhibits. Along with their exhibits, the museum is also home to an aquarium, a library, an auditorium, and a 4D theater for entertainment purposes. The options are practically limitless when it comes to finding something to do within this museum.
The cost for admission into the museum is free, except for the 4D theater. Even with free admission, they do charge for parking. Parking is about 1,000 won for the first two hours and up to 2,400 won per day as a surcharge of 100 additional won is charged.
Walking Trails Among the Cliffs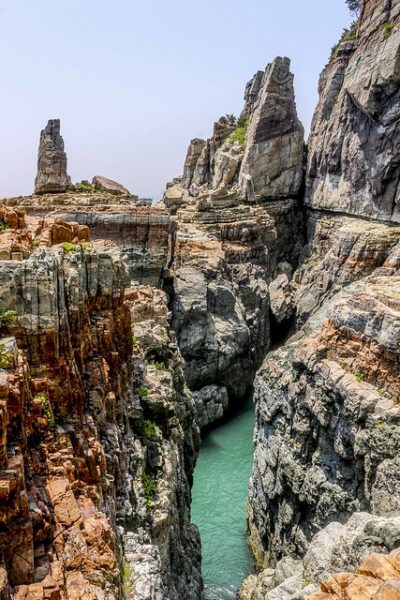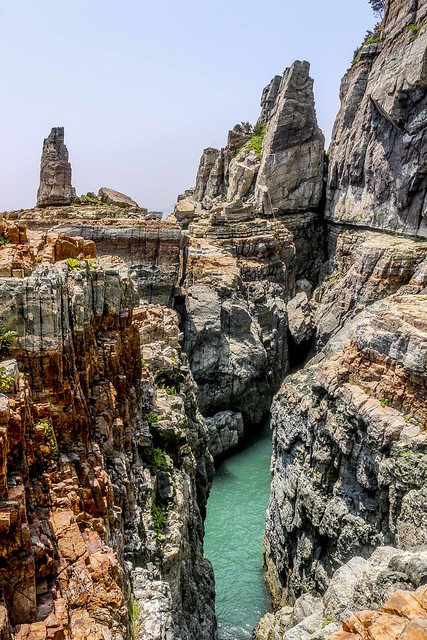 While getting a perfect view from atop the cliffs is highly desired, there are people who appreciate the ground level beauty as well. There are various walking trails among the cliffs that will give visitors distinct views of seascapes and landscapes they otherwise wouldn't see from above.
Historical Myths and Legends
The cliff rock formations at Taejongdae are rich with historical myths throughout the eras. Directly under the lighthouse is a rock called "Sinseon Rock." This rock has been said to be a place of relaxation for gods and goddesses. It also is home to a statue Mangbuseok, a woman who was said to have waited for her husband who was shipped to Japan. These give substance to the rocks and make them more interesting to visit.
Taejongdae is also known as being a place of prayer for people. More specifically, during droughts, the ritual of prayer for rain is performed here. Dubbed "The Taejong Rain," this ritual has been part of the park's history for centuries. This is possibly due to its proximity to the ocean and that it is the primary source of water.
Climate and Dressing to Visit the Park
The climate can get quite warm and humid. However, there are so many thick forests lines throughout, you should dress accordingly to avoid insect bites and scratches. Besides that, some of the neatest things to see require a bit of walking. It is recommended that guests wear comfortable shoes like tennis shoes or even hiking boots. Also, wearing pants over shorts is a good idea, especially if hiking. Lighter colored clothing will reflect sunlight, making for an appropriate outfit in the hotter months.
Restaurants in the Park
There are two restaurants in the Yeongdo-gu region, within or close to the park. These are Taejongdae Jjamppong, and Mokjangwon. Taejongdae Jjamppong serves Chinese style noodles with seafood and veggies. Mokjangwon serves traditional Korean dishes in modern style decorated rooms.
Taejongdae is a park that delivers once in a lifetime views and experiences. Guests can expect to be in complete awe of its beauty and truly gain an appreciation for the ocean after seeing the sites for themselves!