If you are visiting or planning to visit Korea, Jagalchi Market, Busan has to feature in your travel itinerary. A trip to Korea without at least half a day at this amazing market is incomplete as per almost all travel websites including TripAdvisor, Expedia, and other sites. It is a literal heaven for all seafood lovers. It is guaranteed to get you drooling during a visit and you will not want to leave the place.
Things to Do in Jagalchi Market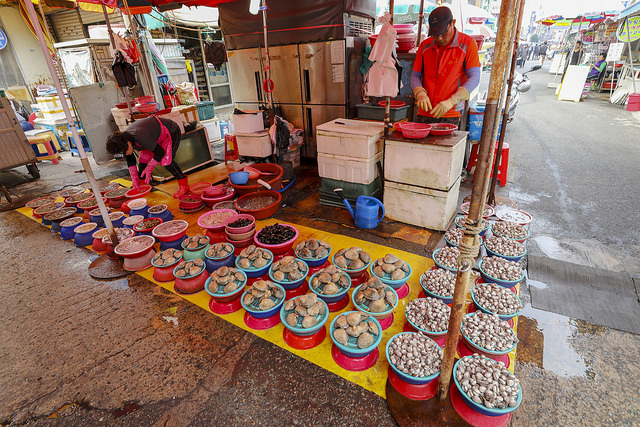 In all of Korea, Jagalchi is by far the largest fish market and this place has all types seafood including shrimps, crabs, lobsters, and oysters just to name a small sample. You name it and you will find it here. Many varieties of fish that you won't recognize are also sold in this market at wholesale prices. Jagalchi Market is a favorite weekly shopping stop for the locals and a hot tourist spot. The market is located on the shores of Nampo-dong port in Jung-gu, Busan and derives its name from "Jagal" meaning gravel, as the place used to be surrounded by gravel.
Most of the vendors are middle-aged women and are referred to as Jagalchi Ajumma. The market is established inside a 7 floor building, with huge expanses of the ground floor entirely dedicated to rows and rows of vendors of fresh, live, and dried seafood. The other floors have eating areas, different varieties of restaurants, an exhibition room, and a picturesque guesthouse from where you can get a beautiful panoramic view of the famous Yongdodaegyo bridge and the Busan port. There are two options of enjoying your mouth-watering treat of seafood at the market.
Getting Your Seafood Cooked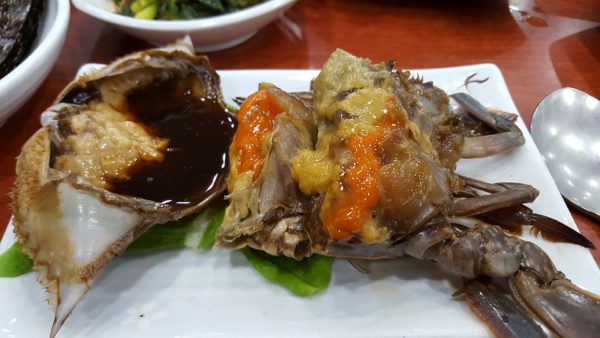 Purchase your choice of squids, prawns, octopus, fish or anything else from the ground floor and get it cooked or grilled to your liking. You will get a dining spot on the first floor at the area slotted for the vendor from whom you bought the seafood. If you wish to have a traditional Korean dining experience, this is the option you should try.
Go to one of the restaurants of your choice on any of the floors and enjoy their menu or buffet. This is a cheaper and a faster option for a quick bite of succulent dishes prepared from the fresh catch at sea.
Korea Trip Guide would recommend you to try lunch with option 1 and dinner with option 2 in order to maximize your visit. The grilled stone-fish, whole tiger prawns, and crabs with soy sauce and seaweed are a must try. You can also taste live octopus or raw abalone if you are a little adventurous. The market's operating hours are from 5 AM till 10 PM. It is closed on the first and third Tuesdays of every month. The market is very easy to reach by the Line 1 of subway, it is just a 5 minutes walk from the Exit 10 of Jagalchi station.
Jagalchi Cultural Festival
If you happen to visit in the month of October, you can also attend the annual Jagalchi Cultural Festival, which is Korea's largest seafood festival featuring cultural events and a real seafood feast. Some of the events include reproduction of traditional dances and customs of the local fishing folk like Yongwangje, which is the ritual for pleasing the sea king. The festival also offers free cruises around Songdo and other islands.
The Jagalchi market is the fame of Busan and has a lot to offer for everyone. You can't afford to miss it if you like seafood. Whether you like your fish cooked in seasonings and gravy or crave grilled lobsters, this is the place you will get the freshest of them all and prepared however you'd like!