Travelling frees our imagination and feeds our insatiable appetite for new experiences. Another experience that helps us build creativity is viewing art. One place in Korea that puts the two together is Ihwa Mural Village. Ihwa Mural Village is located in Seoul and it makes for a great half day trip if you want something laid back and artistic.  It is also known as the Moon Village for its great visibility of the celestial bodies with the best part about it being that it is easily accessible from central Seoul. Here are 3 things to see in Ihwa Mural Village!
Check out the Views
Walking through the Ihwa Mural Village lets you check out many points of interest in Seoul from afar. You can see a panoramic view of Namsan Seoul Tower but also a great citiscape of Seoul. Since this village is on a hillside, you should be prepared to hike but the results will be worth the leg soreness. Hiking is a leisurely and healthy activity so it'll keep your mind off the hills! At night, this view is even better thanks to the lights. You can also see the moon and night sky without any obstructions. Finally, if you're there in the early evening, it's definitely worthwhile to wait for the beautiful sunset sky.
Museum and Quaint Cafes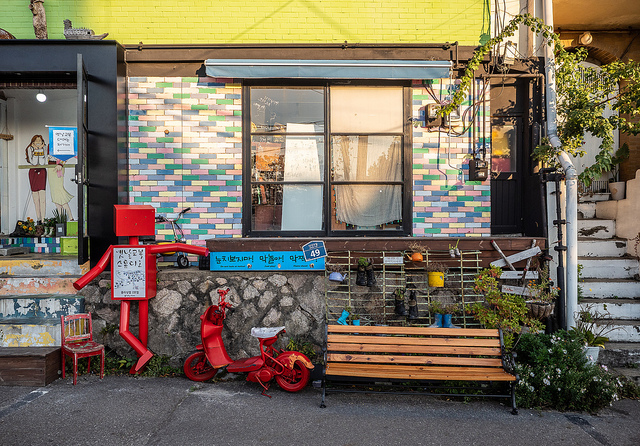 There's just something charming about walking in narrow alleys that lead up to small coffee shops. Irrespective of whether you are new to Ihwa Mural Village or not, walking through the small streets will make the area feel cozy and homey. You might get lost as you try to navigate this village but there are guaranteed to be small coffee shops to discover and take a break. There are also small museums and random boutique shops that make this experience all the more authentic. Visiting the Ihwa Mural Village would be incomplete without navigating the alleys and seeing the small museums and cafes. Besides, the sunset's view from a café as you sip on hot brewed coffee can't be beat and will feel like something from a storybook.
Paints and Murals
One of the reasons Ihwa Mural Village was put on the map was thanks to social media. In this digital era, you have probably seen Instagram pics of a person standing in front of angel wings. You can find this at Ihwa Mural Village. Initially, this village was one of the under-developed neighborhoods and was home to refugees after the Korean War. In a bid to develop it and promote tourism, paintings and murals were painted on walls, staircases, and alleys. The transformation was incredible as these murals made a once quiet village to an outdoor art experience. Be sure to walk through the recommended paths to find great photo spots.
Resident Mindfulness
In recent decades, there has been an unforeseen negative impact of Ihwa Mural Village gaining popularity. With many foreign tourists finding out about the art in the village, there have been complaints of disruptive behavior from the local residents. The local government implemented a campaign called the Silent Campaign to encourage tourists to visit while staying respectful of neighbors. However, there were still issues with trash, noise level, and interruption of the locals' daily lives so some of the most popular murals had to be taken down or painted over. There are still may artworks remaining for people to enjoy but this is an ongoing issue that visitors should be cognizant of.
Address: 49 Naksan 4-gil, Ihwa-dong, Jongno-gu, Seoul, South Korea