Gwangbokdong Food Street in Busan is known for its delicious smells that surround the area. The food street is filled with over 20 restaurants and additional street food vendors all trying to sell their hottest items. This competition has ensured that foods sold are fresh and of good quality. This has not affected their price as they remain affordable thanks to the competition. With low prices (around $1 to $3 USD per item) and delicious local delights, large numbers of people flock the street from tourists to locals alike.
As food lovers have made this food street their favorite spot, tourists and other visitors can now be spotted. There are tons of variety to choose from and many vendors selling similar items but where do you even start?  We all have limited stomach space so here's a breakdown of some of Korea Trip Guide's must-try menu items at Gwangbokdong Food Street.
Things to Eat in Gwangbokdong
Gun Mandoo (Fried dumplings)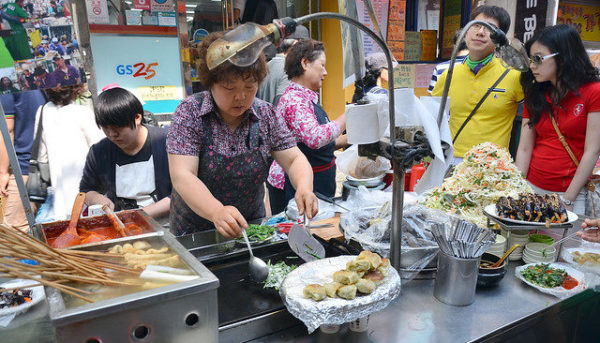 Street food is usually not associated with health consciousness and Gwangbokdong is no different! If you see an auntie flipping thin or round dumplings on a hotplate, you should definitely stop by to try a less healthy version of Korean mandoo. Typically, mandoo is boiled and served on its own or in a soup as a meal. However, in Busan, you can find a fried variant that will be sure to warm you up on a chilly night. You can find it served with spicy dried squid or other side dishes.
Ssiat hotteok (Seed and Brown Sugar Pancakes)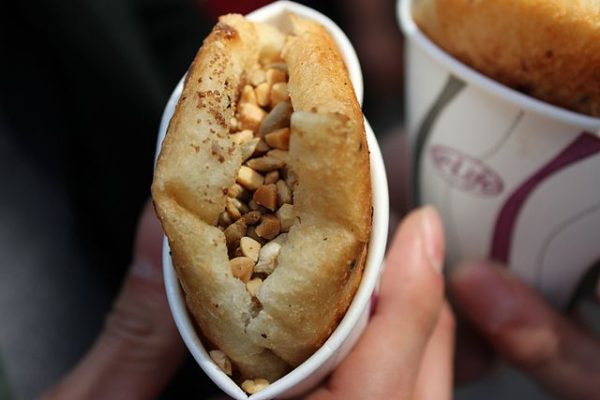 For pancake lovers, ssiat Hotteok is what to order. But this is not the usual fluffy pancake also known as hot cakes.. The uniqueness of how it is made is what makes many tourists and visitors want to have a taste. It's also cheap, giving you no reason not to buy it.
With this pancake, a glutinous rice flour dough is mixed with cinnamon and brown sugar, after which it's shallow fried. It is then cut open and stuffed with sesame seeds, sunflower seeds, honey and nuts then it is shallow fried again. It has a crunchy feeling from outside but chewy inside. The pancake is known to be super sweet and delicious.
Dwaeji gukbap (Pork Rice Soup)
This is a pork rice soup which is the favourite among locals and rarely found outside Busan city. Have a taste of it when in Gwangbokdong to find out why the locals love it. Dwaeji Gukbap is prepared by first boiling the pork bones for several hours. The broth is then added with rice wine, soy and other aromatics to make it tasty.
This mixture results in a milky broth which is served with rice and thinly sliced pork as a watery porridge. If you love the heat, you can request red pepper paste in which you can add fermented garlic, salted shrimp, ssamjang, garlic chives and kimchi. The taste is hearty.
Jokbal (Braised Pig Trotter)
If you want to keep your skin glowing and free from wrinkles, then you need to order jokbal. This is basically a pig trotter cooked with soy sauce and other spices. Usually, jokbal is braised with a combination of garlic, ginger, rice wine and soy sauce. The abundant gelatin content known to make skin wrinkle-free has made this food-famous with both young and old wanting to have a taste.
Chimaek (Fried Chicken and Beer)
Chimaek is another delicious and tasty dish which is a must when you visit Gwangbokdong Food Street or elsewhere in Korea. Chimaek is actually a word made up of the shortened forms of chicken and beer. The fried chicken may come spiced up with some white pickled radish and pepper. If you want it more tricked up, you can request for more hot sauce or find a restaurant that offers levels of spiciness to choose from. To have a finger-licking meal of fried chicken, find a restaurant that double fries the chicken for extra crispiness.
Jjukkumi (Grilled, Stuffed Octopus)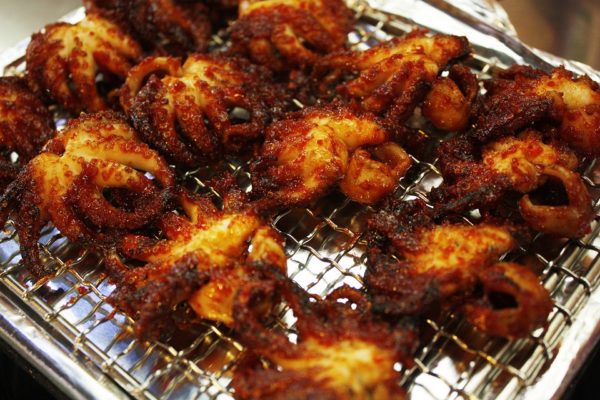 Your trip to Gwangbokdong Food Street should not end without having a taste of jjukkumi (a grilled mini octopus). Although this may seem a bad idea for a first timer, it won't be regrettable. The mini octopus is a street food favorite  and can be easily purchased from several street merchants. The mini octopus is first boiled and then marinated either by a sweet sauce or spicy red pepper depending on your preference. If you want a crispier charred taste, you can let the octopus grill for more time. When it is ready, you can stuff it with other spices of your choice to make it tasty. Although it may sound a bit out of some people's comfort zones, the unique texture and wild flavors from the seafood and spices are worth the try!
Gwangbokdong Food Street offers a perfect combination of market shopping and snacking. If you get tired from browsing the clothes or souvenirs, take a break and stop for a small meal! Get full from all the street food? Take another stroll and walk it off. Although Gwangbokdong Food Street may not be as expansive as some other food markets in Korea, it has some unique dishes local to Busan that are a must try.