One of the most popular and largest markets in Korea is the Gukje Market in Busan. The market was started in 1948 during the Korean War. Compared to other places in Korea, Busan was less affected by the war since it is located on the Southern end of the peninsula so people from all over Korea came to Busan to survive and make a living. These refugees set up stalls for selling a large variety of products from all over the world. Hence it was called Gukje which is the Korean word for international. Many decades later, it continues to stock a wide range of products from different countries and is one of the main tourist attractions in Busan.
How Do You Get to Gukje Market?
The market can be reached using the subway system in Busan. It is close to the Jagalchi station and the Nampo-Dong station. The market itself is divided into sections which are numbered from one to six. There are also other sections of the market like Lighting street, Manmul Street, Arirang street, Youth Street, and Art street which are named after the items which they are selling or their target market. Most of the stalls are located in the alleyways. It is close to the other markets in Busan like the Bupyeong market, Namdaemun market, the shopping district at Nampo and the Kkatong market and is connected to them.
What Can You Buy at Gukje Market?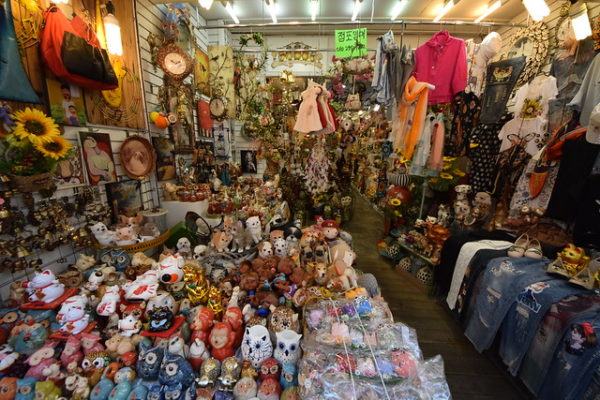 The market attracts visitors from all over Korea and international tourists also. It is popular because it is stocking a very wide range of products at a reasonable price. The prices of the products in the market are usually twenty to thirty percent lower than retail prices at other stores. There are a large number of things to buy in Gukje Market, ranging from fresh fruits and vegetables to gifts, souvenirs, and appliances. Each section of the market usually specializes in a particular type of item so based on what you are interested in purchasing, you should visit that specific section.
Many visitors would like to find out what can you find in Gukje. However the list is very long, and you can find almost anything you can think of buying and more. The market is well organized so that visitors can easily find what they are looking for. For example, section one of the market is the initial section of the market. It has shops which stock different types of bags and are useful for those who wish to shop a lot. It also stocks a wide range of stationery and craft items for craft lovers. The other five sections of the street have home appliances, souvenirs, gift items, clothing, and electronics.
Gukje Youth Street
One of the most popular sections of the market among young people is the Youth Street. It stocks a wide range of items which young people are interested in purchasing like clothes for men and women including shirts, dresses, shoes, accessories, and sportswear. It mainly stocks non branded products which are inexpensive. There is a separate section for household goods, like plastic products, The market has a lighting street, which offers a wide range of lighting like lamps, bulbs, and other items. The market also has an art street, where a number of art shows, exhibitions, cultural performances, and art contests are held.
Gukje Market remains extremely popular especially among tourists from outside Korea for the food stalls and restaurants which offer a wide range of Korean food. The market is the ideal place to sample the street food of Korea at a reasonable price. Most of the stalls offer similar food which includes noodles, fishcake, sundae and mandu. Visitors can sit on the low stools and watch the meals being cooked by the aunties who sell the food. In addition to lunch and dinner, snacks, fresh fruits, vegetables, fish, dairy, and other items are also available for visitors. Other produce are also available for people to purchase and bring home for cooking.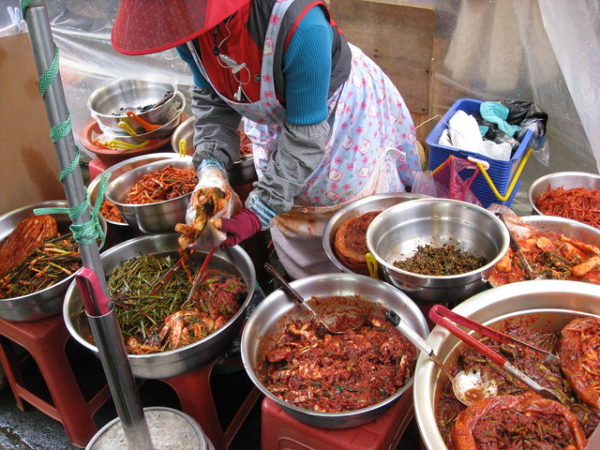 In addition to the wide range of inexpensive household goods and other items, visitors can also purchase used goods at a low price. The stalls also have excellent souvenirs which the visitors can take home. Bulk buyers can purchase various items at wholesale prices. It also has the local fish market, selling fresh fish. Some shops even sell low cost imitations of famous brands but be careful of your home country's laws around fake luxury brands! Almost all shops accept payment in local currency and some shops also accept credit card payment. Most of the shops in Gukje Market are closed on the first and third Sunday of the month, so tourists should plan their visit accordingly.