Nami (남이섬) is a small island located in the city of Chuncheon, approximately 63 km away from Seoul.
This small island is home to magical sceneries, seasonal colors, and thousands of artwork. The island was named in honor of General Nami, who defeated the rebels in the Korean ancient dynasty of Joseon. General Nami's tomb is located on the island as well. Visiting Nami is a great opportunity to gain insight into Korean history while enjoying touristic activities and relaxing surrounded by nature.
Nami island gained popularity after many Korean dramas were filmed there, bringing recognition to its breathtaking natural views, and contributing to the development of touristic activities. In this article, we talk about what to see on Nami island and how to easily get there.
What to Do and See on Nami Island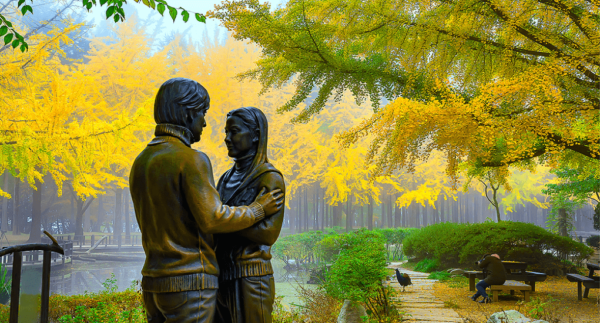 The island originated artificially when the country constructed a dam around the area. The blocked waters, caused by the dam, generated a lake that isolated the now famous, half-moon shaped island.
Touring the entirety of the island by foot takes approximately 4 hours. Enjoy art galleries, performances, breath-taking views, and other activities as you relax walking by the natural scenery.
Galleries
While touring the island, you'll find a gallery of Korean dramas with pictures and memorable moments of scenes that took place there. You'll also find a traditional instruments gallery named Ryu Hongjun World Hall, and a park full of giant symbolic sculptures, being a good spot for great, funny pictures. There is a sculpture of a giant mother feeding her baby.
Korean Drama Shooting Locations
The Korean dramas Winterreise (겨울나그네) and Riverside Song Festival (강변가요제) were filmed at Nami Island, but perhaps the most famous drama that took place there is Winter Sonata ( 겨울 연가).
Winter Sonata is one of those old school classics, starring Bae Yong Joon and Chi Ji Woo. The drama is so popular that there is a sculpture of the main characters holding each other's arms at the spot where they shared their first kiss in the K-drama.
Other memorable scenes from Winter Sonata are hot spots for pictures at Nami island. For example, you can take a picture at the exact, same bench where Winter Sonata's main characters built a snowman and at the entrance of the famous perfectly lined trees.
Rent a Bike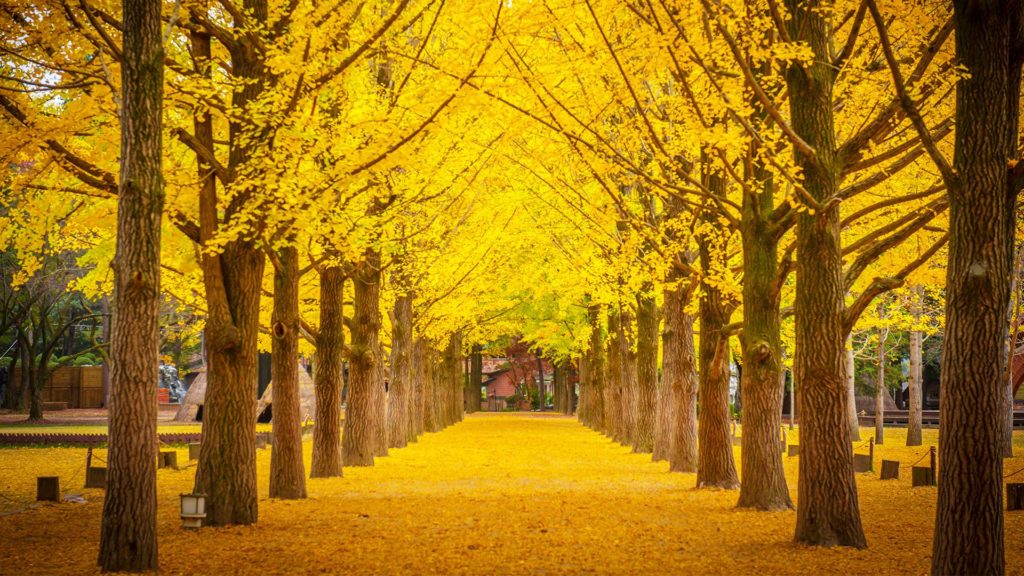 Rent a bike with a friend or family member to have a unique experience touring Nami. While riding a bike, you'll get to explore the island feeling the breeze of fresh air. This can be a quite relaxing activity.
Admission Fee
The entry fee to Nami island is 10,000 korean won, around 8.4 US dollars.
The ticket includes the ferry round trip from and to the island. For those who like extreme experiences you may choose to access the island via ziplining, instead of taking the ferry.  The ziplining transportation fee is around 44,000 Korean won, around 37 US dollars, and it includes the return ticket via ferry. 

Visit Petite France
Petite France is a cultural village located not far from Nami island, being the reason why many tourists stop by at this attraction as well. This attraction has made its appearance in popular Korean dramas such as Secret Garden.
With European style constructions and sceneries inspired on Saint-Exupery's The Little Prince, this location is full of art galleries, a museum with intrinsic descriptions of the book, performances, puppet shows, gardens, and great spots for pictures. It's definitely a place to visit after exploring Nami island.
Tourists visiting on their own can get to the island by taking the city tourist bus that stops at other tourist attractions, including Nami Island, and brings you back to the subway station as well. We'll explain the easiest transportation for each particular case in the next section.
Petite France Admission Fee: 10,000 Korean won, approximately 8.4 US dollars.
How to Get There – Nami Island and Petite France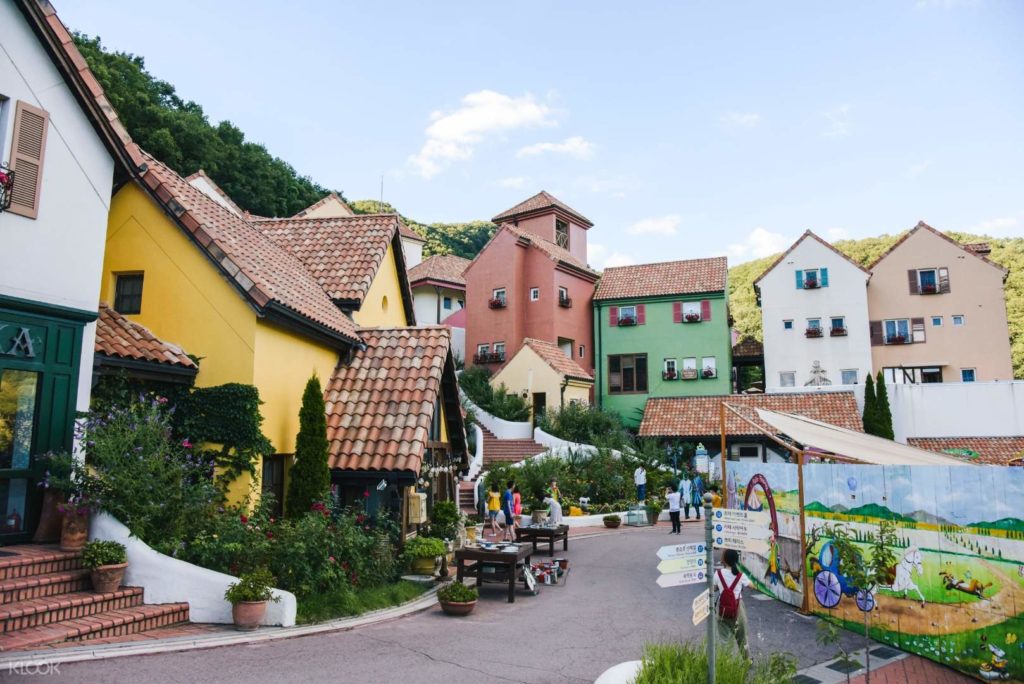 Located in Chuncheon city, province of Gyeonggi-do, Nami island isn't far from Seoul. It's easy to get to the island by subway, bus, or private transportation. We'll focus on public transportation.
Subway
Your final destination is the Gapyeong station. You can get there through the Gyeongchun Line, which is identified by a turquoise color in the subway map. To have detailed directions from your closest station to Gapyeong station, download the subway application, it will show you where to transfer and where to get off in the subway.
You can also choose to take the ITX-Cheongchun train from Yongsan station. For this option, you'll need to buy a train ticket at Yongsan station terminal, and it will take around 60 minutes to arrive at Gapyeong. Don't worry about finding the right exit at Gapyeong station, there is only one exit, Exit 1.
Once in Gapyeong station, you have three options to get to the entrance of the Nami island:
Walk: This takes around 20 minutes, but be mindful of the weather as it may be a hard walk during freezing winter or hot summer days.
City bus: Bus number 33-5 and 33-36 stop at Nami island entrance, they pass by the station every 20 to 30 minutes.
Gapyeong tourist bus: We recommend this option to people who are seeking to explore diverse touristy locations at Chuncheon; for instance, this is a great option for those who want to visit Petite France as well.
The bus fare is 6,000 Korean won, around 5 US dollars, for a ticket valid all day, so you can take the bus as much as you prefer and drop off at any point that you want to visit. Not only that, but you can also take the bus to go back to the Gapyeong station and go back home once you are finished touring.
2. Bus from Seoul
You can also get to Nami island by taking the shuttle bus from Seoul. This is a more direct way to get to the island. You can buy shuttle bus tickets at Insadong, Namdaemun, or Myeongdong.
Now that you've been to Nami Island, share your memories on social media!