Gamcheon Culture village is an artsy and unique village located in Busan, South Korea. This area of Busan is known as the "Machu Picchu of South Korea" thanks to its levels of houses that sits against a hill. The city has undergone several transformations since the 1950's to the current times. After the Korean War, the rest of Busan changed from a simple village to a city with many high-rise buildings. Initially, Busan was considered to be an underdeveloped area. However, this perception has changed considerably over the years. It has developed into a colorful tourist city. From dilapidated neighborhoods which housed refugees, this area has transformed into a creative community. The city has some of the most stunning street art in the country. Some of the best tourist activities can be done in the Gamcheon Culture Village and Korea Trip Guide has the inside scoop!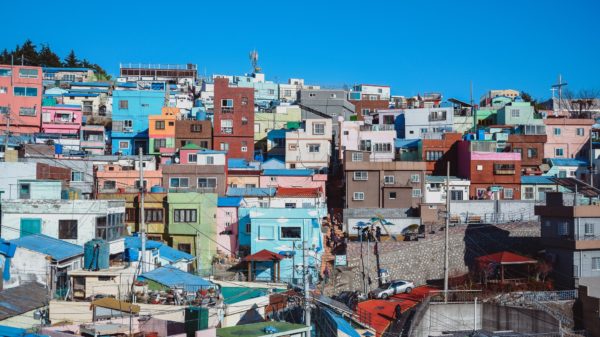 Getting to Gamcheon Culture Village
To enter Gamcheon Culture Village by public transportation, visitors must take the subway to Toseong station. From Exit 6, you can walk straight down the street then take a right. There will be a bus station boarding area which is in front of the Busan National University Hospital building. Take the bus marked with Market Village and it will stop at Gamcheon Culture Village. On the bus, there are English announcements to let passengers know when they have arrived at the culture village. You'll know once you arrive as there are colorful and eye-catching sights.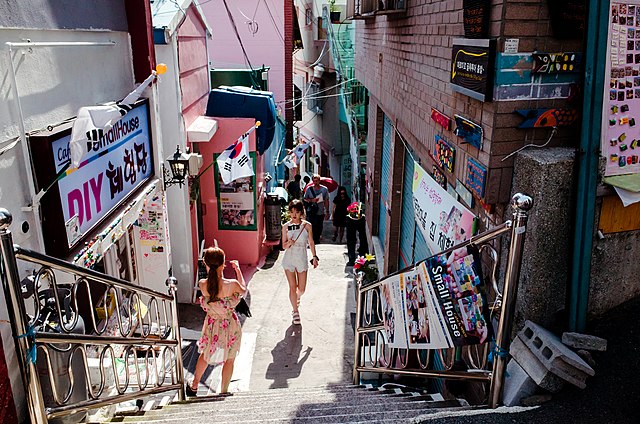 There is no fee for strolling through the village so soak in the art and local culture of Busan. Many tourists recommend walking as the best way to get around Gamcheon Culture Village as you might find some hidden gens in the many small streets. You'll find local businesses, street art, and tasty restaurants along the way. Get your fill on an authentic Korean experience! If you do get lost, there are Tourism Information Centers that can help you out.
Food to try at Gamcheon Culture Village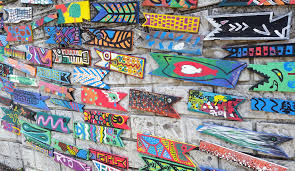 The city's most famous street food is known as ssiat hotteok. Ssiat hotteok is the local take on a national favorite. Typically, hotteok is a pancake filled with brown sugar, but the Busan version has ground seeds inside. Additionally, there are other street foods being served throughout Gamcheon Culture Village. This offers an eclectic experience which also encompasses some of the most unique food blends. Nibble on some dukkbeokki and view the colorful streets and vibrant alleyways. If you want somewhat of a guided route, there is an interesting sign that says "follow the fish" which can be seen throughout the city as a kind of route marker.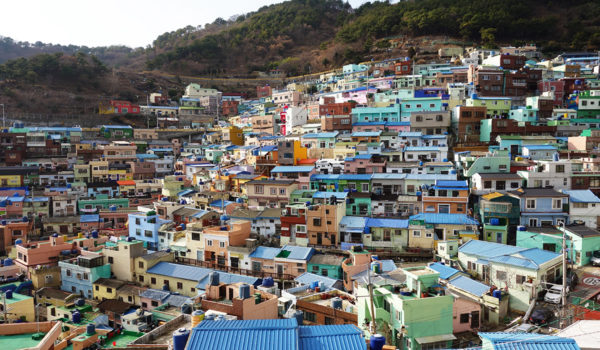 Gamcheon Cultural Village has the Open Art Museum which is called the Santorini area of South Korea. This museum encompasses 70 old fashioned items that were donated by local residents. These pieces illustrate the vibrant past of the neighborhood. Visitors are able to view the old shanties and learn about the artistic transformation of Gamcheon which was done with the cooperation of residents, local authorities and artists. Near this place are a number of small vendors and shops who sell souvenirs and street art. It is also recommended to visit the Jagalchi Seafood market to experience authentic Korean seafood. If you do decide to stop by Gamcheon Culture Village on your trip to Busan, please respect the privacy of locals and people are living their daily lives!