South Korean film culture has come a long way. The industry has developed into a phenomenon throughout South Korea, but especially in the city of Busan. With this continual growth of interest and creative outlets, the birth of the BIFF Square (Busan International Film Festival). This central area for all things film has exponentially grown into a hub for shops, food vendors, etc. Residents and tourists can gather here to experience an ambiance of excitement unmatched anywhere else. Every October, for 9 days, 3rd to 12th, the festival lights up the square.
History of BIFF Square
The relief of the Japanese rule (over a century ago) for Korea sparked the building of two theaters that laid the foundation of what is now known as BIFF Square. Since there, the filming industry has grown into an industry that Koreans embrace and engage in regularly. In 1996, BIFF Square was officially open. At almost a half-mile long, the district showcases all things relating to Korean film. Throughout the years, it continually grows into a bigger celebration of Korean films.
During the first festival, first held in September, there were a whopping 173 films that were introduced to the world from 31 different countries. While that number is astonishing for a first-ever festival, the numbers quickly ascended throughout the years. More countries and more Asian participants came out of the woodwork to showcase their pride and joy. As of last year, in 2018, there were over 300 films introduced with over 70 countries in attendance on the screens. The popularity of giving the Asian world the very best of new and upcoming films has been astounding. Each year, the growth is more substantial and more fascinating.
In conjunction with the rise of Korean film and Korean movie stars, the square has served as a gathering place for various Korean celebrities. To amp up the atmosphere of the entertaining square, they adapted the American Hollywood Boulevard of Stars by imprinting celebrity names along the sidewalk.
It was made a tradition that on the eve of the festival, there was a ceremony to be held. The ceremony is dubbed as the "BIFF Square Ground Opening." During this ceremony, there are various events that place, but most notably famous celebrities are hand-printed, and snow flowers are lit. This tradition gathers many as is well respected among Korean culture and tourists alike.
BIFF Square: Busan Cinema Center
Considering that Korean film is the hub of BIFF, it should have the start of the art theater accommodations. Constructed in 2011, the Busan Cinema Center is the central location for the film festival. This center has a notably famous roof, which holds a Guinness World Record for being the longest in the world. Its unique design gives it an attractive look.
Among BIFF Square, the center is the largest building, occupying over 30,000 square feet. With all this space, it is the hub of entertainment on the square grounds. There are three distinct buildings within the cinema center, including, Biff Hill, Double Cone, and Cine Mountain. Along with those three buildings, there is the Biff Theater, which is an outdoor theater. These spaces give superb theater viewing options.
BIFF Square Theaters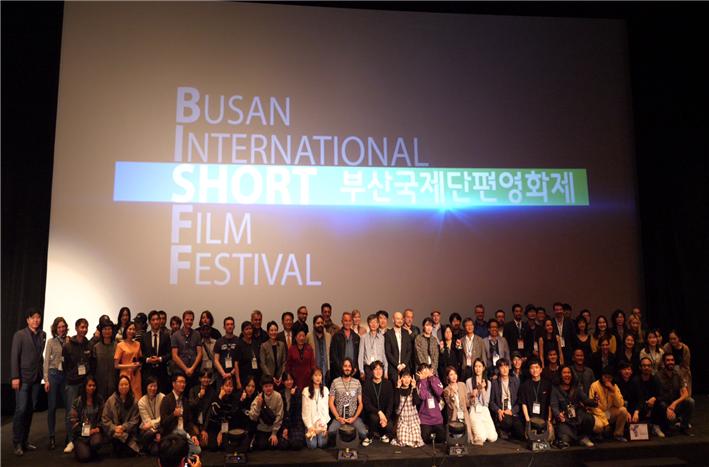 Two of the most popular theaters in BIFF Square is the Megabox Theater and Daeyeong Theater. Both of these spots hold various events during the film festival. During the rest of the year, they show various movies, both Korean and international movies as well. With comfortable seating and state of the art screens, these viewing options are prime spots for experiencing films.
The theaters host international films during the festival for guests to experience first hand. There is literally no shortage of excitement during the festival or on the offseason. These films are not just Korean based, but Asian inspired films as well. The festival serves as a high promotion time to raise awareness and interest in the Asian world of film.
The food at BIFF Square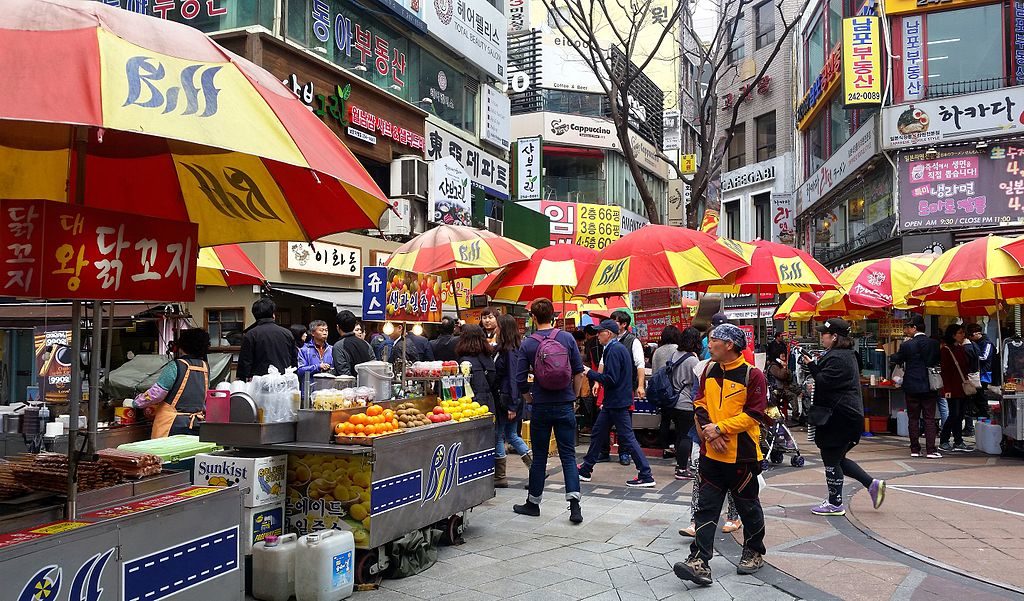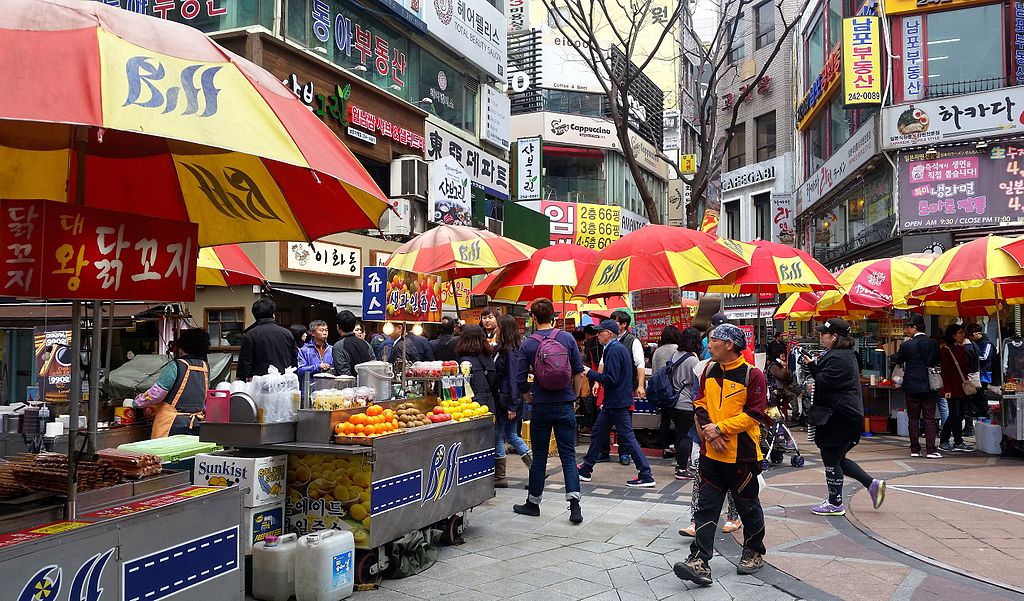 BIFF Square is notoriously known for having fantastic street food vendors. The greatest part of having delicious street food is it keeps guests on the move. They can grab a tasty bite to eat and keep exploring the area. Below are some of the most popular food items that can be found among the many food stalls along the square.
Hotteok
While most Asian dishes are focused on being more savory than sweet, this little gem is a great find. Koreans love pancake type foods, like their savory green onion pancake. This delicious dessert hand food is a sweet pancake that is filled with a mixture of chopped up peanuts, honey, brown sugar, and cinnamon. It is a pocket of gooey and crunchy deliciousness!
Dakkochi
Dakkochi is a pretty regular dish over in South Korea. It is a skewer of chicken covered in sweet sauce and grilled to perfection. Most skewers include a veggie, but this is standalone chicken, and it holds up all its own.
Spoon Cakes
A parfait type dessert with layered yogurts and fruits and sponge cakes, this is a hit for any guest. This handheld cup delivers fresh berries and a refreshing, smooth yogurt. The yogurt makes the cakes moist and delectable.
Dumplings
There are many stands with many selections of different dumplings. Traditionally, dumplings are steamed, however in some stands along BIFF Square, they are pan-fried. This gives them a crispy outer edge and a flavor all their own.
Rice Cakes
There are stands that offer up a delicious rice cake that is wrapped in different ingredients. One location, the Hatba- Hot Bar, offers them wrapped in fishcakes and sausage for a unique, tasty blend.
Seafood
Busan is well known for its many kinds of seafood dishes. This is no exception to the street vendors, and they come up with delicious seafood handheld dishes. Fish cakes are the most popular since they are the perfect hand held meal. They can be served along with side dumplings or rice cakes, but also get served with cups of broths and stuck on a skewer. The proper way to eat this is to sip the broth between bites to soak up the cake in the mouth. This melds a delicious and special taste.
While street vendors are the main attraction to BIFF Square, there are restaurants as well for those who wish to take a seat from all the bustle. Below are some of the most popular restaurants close to BIFF Square.
Nampo Samgyetang
For decades, this restaurant has served the community exquisite chicken-based soups. They pride themselves on homegrown ingredients in every bite. Their broths and stocks are made fresh and are power-packed with flavor with over 24 hour steeping time.
Dolsotbapjip
Another long-time staple around Busan, Dolsotbapjip has been serving flavor in every bite for over 30 years. What makes this restaurant so special is that they only have three menu items. They have stuck with what they know for decades, providing a familiar taste to those who frequent them. Their specialty is hot pot rice, soybean paste stew, and soft tofu stew. Each bowl is bound to please, and it is a must-see for those who want true traditional Korean fare.
Shopping Around BIFF Square
Movies may be the main attraction, next to the food, of course, but shopping is also a pleasurable experience. There are many boutiques lining the areas around the square. But most notably, there are two shopping streets right by the square, Gwangbok-ro Manmul Street and Gukje Market Lighting Street. These are considered traditional shopping markets, and they attract lots of visitors coming from BIFF Square.
Gwangbok-ro Manmul Street
Since the 1950's this shopping street has been a pleasure for all to visit. Located right next to Lighting Street Market, it holds its own with what it has to offer. It has everything anyone could imagine from electronics and audio equipment to handbags and clothing there is a little something for everyone. It is open 9 am to 8 pm daily and closed the first and third Sunday of every month.
Gukje Market Lighting Street
This specialized shopping street caters to those who are heavily into home decor and DIY projects. It also opened in the 1950s and has been providing customers with various lighting options to spruce up any space. From machine tools to specialty lighting, each store offers something a little quirky. During the night, the whole street is lit up with beautiful arched street lights, creating an ambiance not to be missed.
How to Get to BIFF Square
While there are tons to do at BIFF Square throughout the year and especially during the festival season, the most important aspect needs to be addressed. How does one get to the BIFF Square? The simple answer is the Subway station. Guests should take the Jagalchi Station (which is Busan Subway Line 1) and take Exit 7. After exiting, BIFF Square is a 5-minute walk from the Subway station. Guests should walk straight and then turn left into BIFF Square. There are no admission fees associated with visiting the location. Guests are free to roam around the various vendors, shops and theaters at their leisure.
Performances at BIFF Square
In 2014, there was an addition of a stage in the center of the square. This became the heart of the area, as it is used during the festival for guests to meet movie actors and directors. It is known to be used for musical performances. This stage serves a central attraction from all the shops as it gives a proper gathering place of the guests to BIFF Square.
During the festival, there are various events that take place. One of the highly anticipated events is the "Platform Busan." This is a panel where aspiring filmmakers and experienced filmmakers can discuss their experiences. From this, they learn about the other various styles and seek to collaborate together.
BIFF Square certainly proves to be Busan's most attractive spot for visitors. With so many different things to do throughout the year and especially during the festival, guests should visit at any time. Experiencing the world-class food vendors and seeing new and upcoming films from those pursuing their dreams is excitement worth exploring!