비발디 파크 (Vivaldi Park) in 강원도 (Kang-won Province)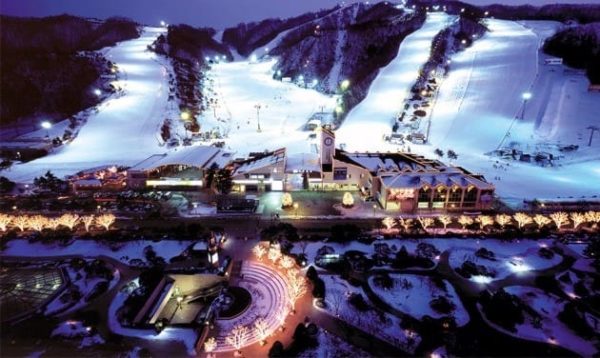 Vivaldi Park is located in Hong-cheon, Kang-won province. This twenty-six-year-old ski resort offers three big attractions, one of the best water parks; 'Ocean world', the hub of delicious foods 'Food world', and 'Ski world' for all the winter sports lovers.
There are total 12 slopes you can choose from such as blues, ballads, jazz, reggae, classic, hip hop, techno, or rock as the slopes are named after music genre. The slopes for beginners like ballads and blues have two lifts for a less hectic experience for the customers. A Night ski experience is also available, just on limited slope options.
If your children are tired of skiing and want something else to do, or you simply want to take a little break from non-stop skiing activity, Vivaldi Park has the perfect solution for you. There is an amusement park area within the ski resort, where various rides are waiting for you. There is also bowling alley, table pool place, karaoke, and arcade.
Vivaldi Park offers one of the best resorts. Their priciest rooms are in a whole different building called Sono Felice, where you can also enjoy horse riding, as well as golf on its residents' private golf club. Every room is built for parties over 6, with a private Jacuzzi. There are themed rooms for people who want a more unique experience, such as the gamers room' where game consoles, as well as amazing tower PC built for gaming purpose are provided within the room, the list of themed rooms goes on.
Address: 262, Hanchigol-gil, Seo-myeon, Hongcheon-gun, Gangwon-do, Republic of Korea
Contact: 1588-4888
Price: https://www.daemyungresort.com/daemyung.vp.skiworld.04_04_01.ds/dmparse.dm
휘닉스 평창 (Phoenix Pyeongchang) Home of 2018 Pyeongchang Olympics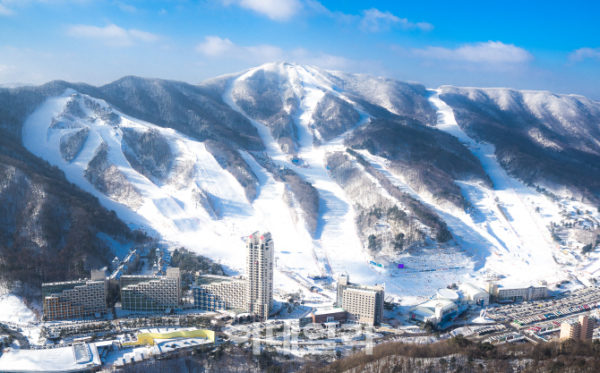 If you love winter Olympics, this ski park might look familiar for you. Back in 2018, 휘닉스 평창 (Phoenix PyeongChang) was used for snowboard and ski competitions. If you want to enjoy your winter activity on the same slopes where Olympians got their medals, this is the place you must visit.
This ski park has a total of 22 slopes for various levels of skiers and snow boarders to choose from. One of the courses is known as the very first and only slope in Korea where you can ride from the top of the mountain to the very bottom. This total 3,450km (2,143 miles) long slope is the longest this ski park offers. Although the slope is not too steep, and targeting beginners to intermediates, this slope is charming enough for every level of winter sports lovers to experience. There is also a little cabin where you can get steaming hot ramen, hot chocolate and so much more that will warm you up in a winter wonderland.
Phoenix PyeongChang is very proud of their snow quality. They use Italian brand ZOTTLE's famous snowplow for the fluffiest snow to make the perfect snowy slopes. Also, PyeongChang where the ski park is located, is a naturally very snowy area, so there is a bigger chance for you to experience amazingly smooth snow which would be perfect for your ski trip.
Address: 174, Taegi-ro, Bongpyeong-myeon, Pyeongchang-gun, Gangwon-do, Republic of Korea
Contact: 1577-0069
Price: https://phoenixhnr.co.kr/static/pyeongchang/guide/price/snowpark