Throughout South Korea, there are various temples that are the main foundations for the culture. However, one of the most magnificent temples is in Busan, among the great mountain of Geumjeongsan. This temple, the Beomeosa, is one of three major Korean temples that are highly respected. The other two are Haeinsa and Tongdosa.
History of Beomeosa
The Beomeosa temple was constructed by a monk, Ui Sang, in 678 during the 18th year King Munmu's rule. However, during the Japanese invasions, the temple suffered significant damage. An extensive effort was made to restore the grand temple, and today it stands as a powerful symbol of Korean culture. The restoration occurred in 1613 and with it came the creation of the Main Buddha Hall and the One Pillar Gate structures.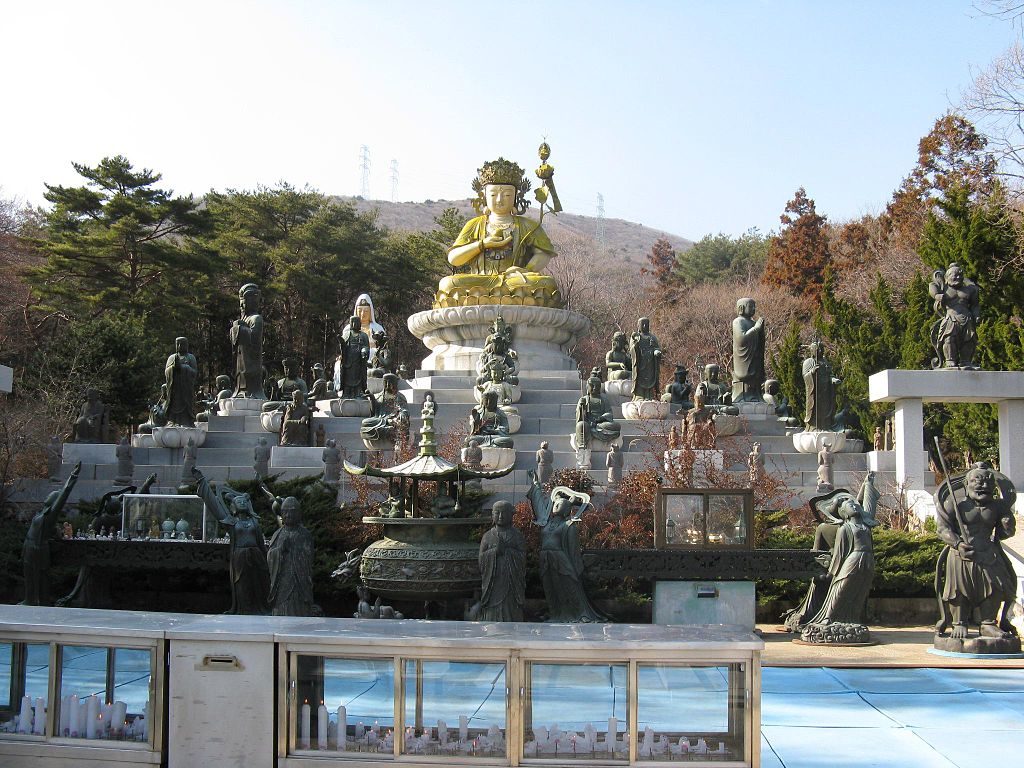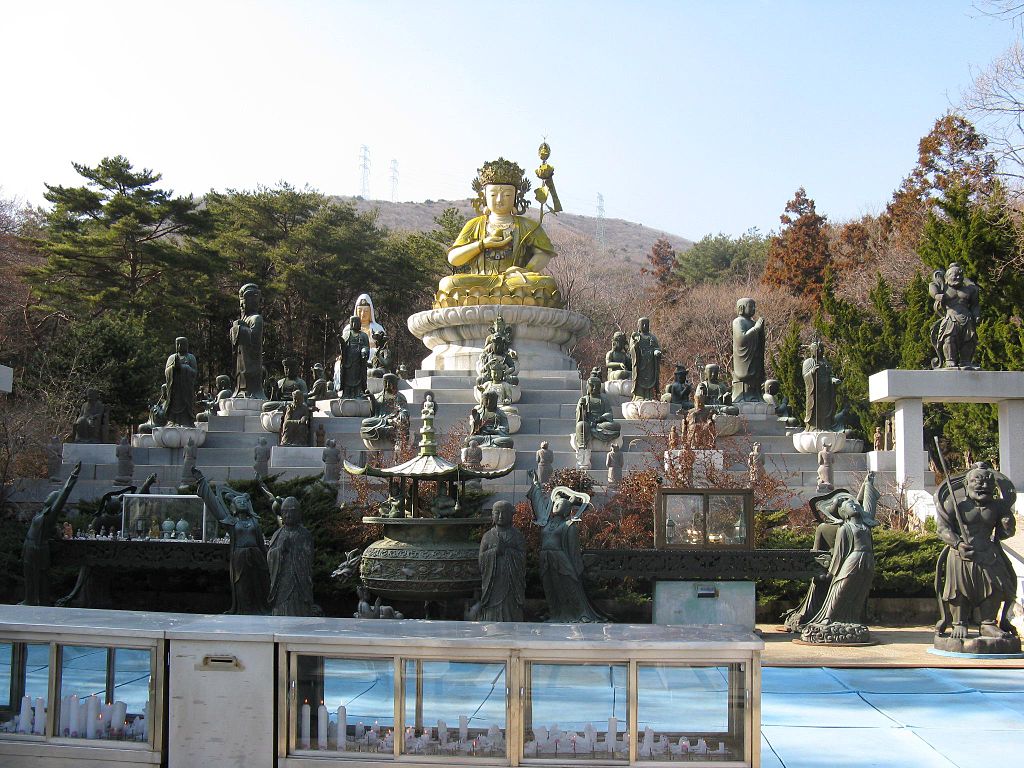 Because of its strong roots among the Seon Buddhist culture and spirit, it has been dubbed with the name of "Great Headquarters Temple of Seon Buddhism." With this honorable title, the temple has been home for many famous monks, including Gyeongheo, Ui Sang, Pyo Hun. It was established as a monastic training facility for the Jogye Order of Korean Buddhism. This made it the eighth of its kind in South Korea.
While its serious dedication to Buddhism is one of its many great points, Beomeosa's history goes beyond the religion. For its location alone is one of the many reasons it is a popular tourist spot as well as being one of the greatest temples in Busan, South Korea. Geumjeongsan mountain is a landscape that surpasses much else in beauty. The mountain alone has three particular spots of interest and also eight scenic wonders to explore.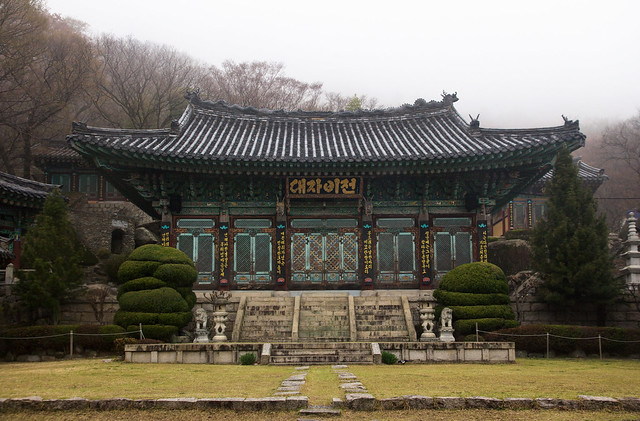 Beomeosa falls under the three particular spots. The temple's location also bears the reasoning behind its name, which translates to "nirvana fish, heavenly fish, or spiritual fish." There is a golden well that is legendary in Busan that is right behind Beomeosa. It is said in old Korean history that a golden fish descended from the heavens to live in the well. It has been believed that ever since it holds a magical sensation, unlike anything else to experience. It has also been speculated that its namesake came from Buddhism tradition of Nirvana, which is their state of non-suffering. Either way, its location is gorgeous and a sight to be seen.
Key Features of the Temple Grounds
The temple itself is a beautiful treasure. However, there is more to the temple's land than that. From gates to pagodas to beautiful floral gardens, the eyes will bestow upon many great sights among the temple grounds.
Three Story and Seven Story Pagodas
There are two pagodas on the temple grounds that are tiered into two heights; three and seven stories. While the seven-story pagoda is relatively new, it is still an amazement to admire. On the flip side, the three-story pagoda is actually part of the original building. However, during the temple fires that unfortunately were a part of Korean history, it suffered some structural damage. Since then, the three-story pagoda has been remodeled with the addition of fences.
The seven-story pagoda is beautifully carved from stone and is surrounded by the "Four Heavenly Kings" in the form of statues. The heavenly kings are a large part of Korean mythology and are thought to symbols of guardianship pertaining to the temple.
Three Main Gates
There are three gates around the temple, each with their own story and beauty to behold.
First Gate
This gate is famous for its optical illusion construction. While not done intentionally, the illusion is great, nonetheless. In fact, the way that it was not made intentionally adds to its quirkiness. If guests view the gate from the side, it appears as though it only stands one pillar. Therefore, it is often called the "One Pillar Gate."
Second Gate
Constructed in 1699, this gate follows suit with the seven-story pagoda and is thought to be the gate of the "Four Heavenly Kings." The gate's official name is the Cheonwangmun.
Third Gate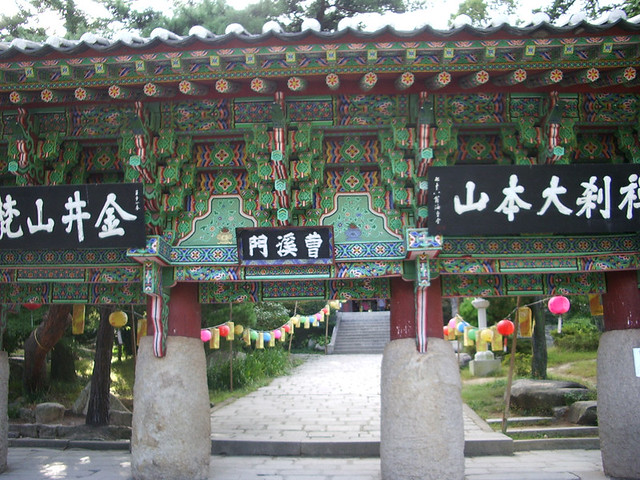 Built alongside the second gate, the third of the group is extra special. It is the final gate guests walk through before entering the temple. This gate was given the namesake of "Non-Duality" and closely relates to Buddhist belief that Buddhism and this world are the same. This is a powerful message even to those who are not of the religious plane. This gate is an authentic tribute to the strong and powerful belief system that is Buddhism.
Vivid Artwork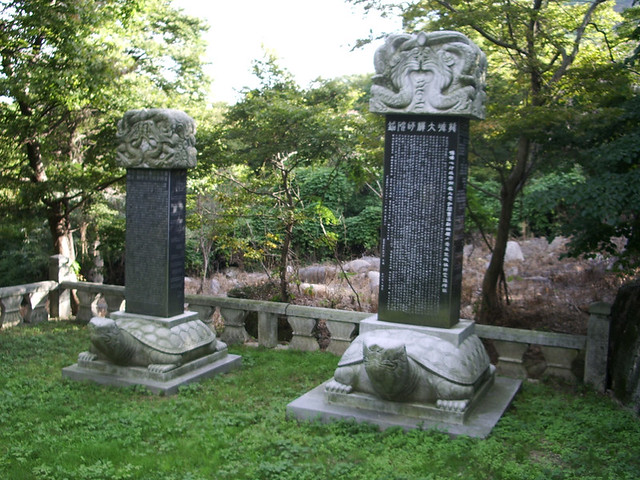 One of the most impressive things about this temple and its grounds is the artwork. Each building has its own look with vibrant colors and delicate woodworking. This mastery of art can be admired and respected. The main hall, Daeungjeon is an excellent example of this fantastical handiwork.
Beomeosa Temple Stay Program
Beomeosa offers a genuinely unique temple experience to guests who wish to be a bit more immersive. The temple stay program provides not only a detailed historical point of view but also an experience that goes above and beyond. Guests will be required to follow the dress code of a monk upon entering the temple grounds. The said dress code is traditional grey robes that give guests a blended monastic feel. They become part of their surroundings and it makes the experience all that more special.
The temple stay program also gives visitors a look at "temple food", which is various vegetables (usually no meat) that are meant to help monks during meditation. These foods are delicious and unique compared to other foods found in South Korea. While there are some restaurants that offer temple food, nothing beats eating it straight from the temple.
The program is an overnight event, so guests do stay in sleeping quarters. Throughout their twenty four hour stay, guests will learn all the ways of the monk and their day to day life. This gives guests a very up close and exciting view of their daily lives as well as the temple itself.
How to Get to Beomeosa Temple
In order to get to Beomeosa, the subway and bus must be utilized. First, getting on the Busan Subway line #1 will get guests to exit 5 or 7. Upon taking either exit, it is a short 5-minute walk to the Samsin Transportation Bus Stop. From there, Bus 90 will take guests to the Beomeosa ticket office outside of the temple. The entry is free, but the ticket office serves a place for taking the bus. The temple is open all year round.
Nearby Restaurants
Food in Korea is also something to be excited about! There are so many different places to try new things. Nearby the Beomeosa Temple there are a few options for some tasty meals. The best part about these two restaurants is that they are genuinely unique in what they serve.
Sanseongjip
This restaurant is a must-see for guests and residents alike. Their menu is very unique and offers up some dishes that are for those who want to try something new. Some of the dishes they offer are a black goat, duck, green onion pancakes. They pride themselves on using homegrown vegetables and wild edible greens.
Dongnaebyeljang
This eatery has a deep history with South Korea, spanning over a century. They are known for their vast garden and pagoda style building. They serve royal food and are a specialty to visit. Some food they serve consist of full course dinners of wild vegetables, rice porridge. fit for royalty. Guests here will feel like their eating richly with the divine meals being served.
Nearby Attractions
Although there is plenty to soak in at the temple, there are nearby attractions guests should check out as well. Below are some of the most exciting spots near Beomeosa to visit.
Geumjeongsan Mountain
While visiting the temple, guests should check out the mountain itself as well. There are panoramic views from various peaks along many walking trails. Altogether, there are 7 hiking trails to explore, 4 of them home to the main 4 peaks of the mountain range. These wooded trails are peaceful and tranquil to all who walk them.
This mountain is also considered, historically, to be a protector of Busan. With the temple serving as spiritual protection, it also has the nation's largest fortress, Geumjeongsanseong.
Geumjeongsanseong Fortress:
Spanning over 17,000 meters long (that is over 50,000 feet!) and standing at about 3 meters high (9 feet), this fortress has held on the peak of Geumjeongsan Mountain since 1703. However, it has not withstood the ages, and only about 4 kilometers (2.5 miles) remains from the original fortress walls. During the Japanese invasion, the wall took some significant blows to its gates. However, in 1970, reconstruction took place to revive parts of this historical landmark.
Sanseong Village
This traditional village lies among the fortress on the mountain. One of the neatest places to visit next to the temple is this little village. Here, guests can pay approximately 20,000 won (about $17), to take on an old tradition; making makgeolli. Makgeolli is a Korean alcoholic beverage. It is mildly sweet and milky white in color and texture. Sanseong Village creates theirs with a 500-year-old recipe that delights residents and guests alike. Guests can indulge in this fun activity and have some of their makgeolli to take home.
Visitors to Beomeosa Temple will find themselves in immersive history like no other place in South Korea. Given its rich historical past and wondrous surroundings, Beomeosa will be an excellent place for guests for generations to come.