Overview
Myeongdong is a shopper's paradise. Maze-like streets line this district with rows upon rows of shops, restaurants, and other cool spots. It has become such a hub of tourism commerce that many shops now employ bilingual or trilingual attendants. Although stores are open all day long, this is a popular night-time area as that is when street food vendors start operating.
Shops
South Korea has done a great job in encouraging tourists to shop while they visit the country. They advertise heavily that tourists can submit their purchase receipts for tax back in key destinations. Myeongdong is filled with shops that feature clothes, skincare, and other cool trinkets and it is slightly skewed towards women's products.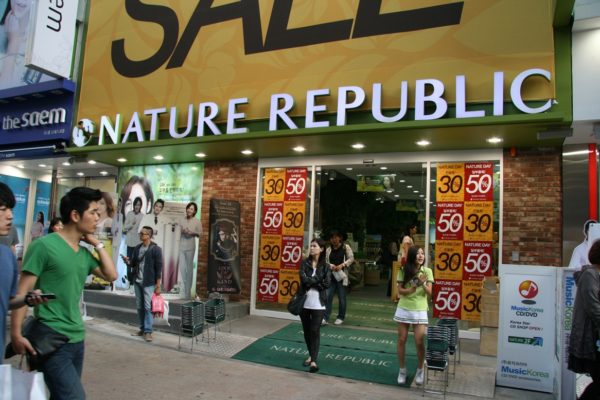 Korean beauty is a major export and it is heavily represented in shopping areas. The gender skew is also apparent within each korean beauty shop as men's categories usually only take up 10% of a store's floor space if it is even represented at all. In Myeongdong, it's common to see the same branded store have over 5 locations in the area. Myeongdong attracts such a high density of shoppers that it makes it worth it for these cosmetics companies to have an abundance of locations in order to try and entice shoppers into at least one of them! Inside of these stores, the lighting is usually bright and there are samples for makeup and moisturizers. Salespeople can be a bit pushy with explaining what products are good for you or what current promotions are going on. However, if you do make a purchase, they will fill your bag with plenty of free samples that are perfect for travelling!
There's a unique style that local Koreans convey. Visitors can get a taste of it from Korean brands such as 8 Seconds and StyleNanda. There are also global brands such as Forever21 and Uniqlo that are present in the area. Since Myeongdong is a shopping destination, many of these stores are multiple levels as they are flagship locations.
Remember to save your receipts after you shop! Some stores will hand you pamphlets with instructions on how to get your tax returns from the airport before your trip home or to your next destination!
Street Food
A lot of iconic street foods that are shared on social media come from Myeongdong and for foodies this may be enough to warrant a visit. Here are some street food highlights below: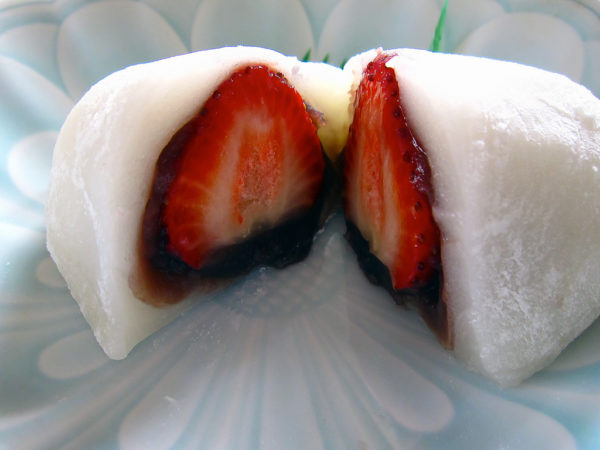 Super tall ice cream cone

Crazy corn dogs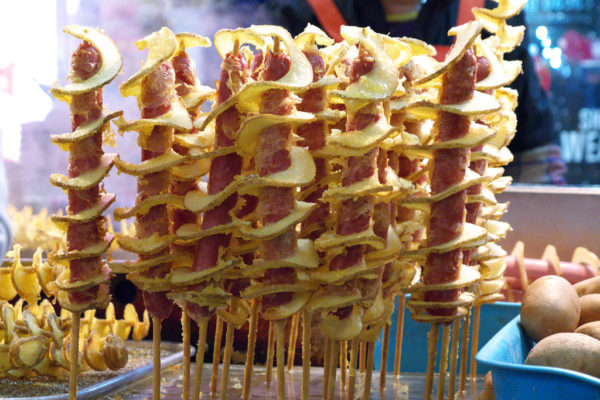 Other Korean street foods
Foreigners Destination
Although there's plenty to see and do in Myeongdong, it has become increasingly a tourist destination or some may even call it a tourist trap. Food prices in this area may be higher than other neighborhoods in Seoul and many restaurants are clearly catered towards foreigners with multilingual menus. It is also apparent in how shops are staffed. In recent years, Chinese tourists have made a huge impact in terms of spending in South Korea and Korean companies have decided to hire ethnically Chinese people who live in Korea to help them with sales. With salespeople who speak their language and can clearly explain what products are, it helps companies appeal more towards the Chinese market.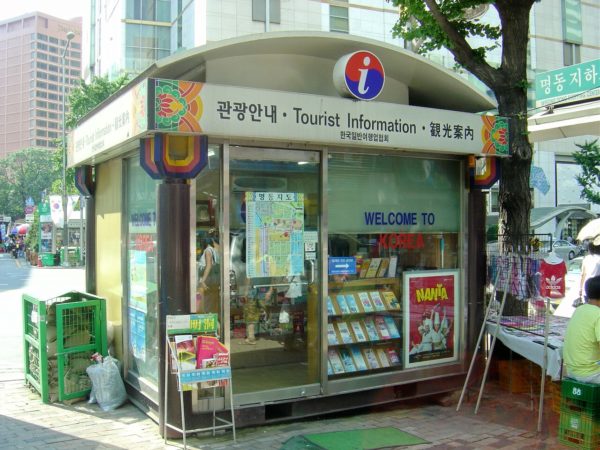 Some positives of the area being tourist friendly are the information boxes. You can find temporary buildings with a large "i" for information while wandering around tourist destinations where multilingual agents can help with directions, emergencies, or any other questions. Also, Myeongdong has plenty of currency exchange centers that are denoted by various currency markers usually in flashing lights. If you get lost or need help in Myeongdong, it is likely you'll be able to find someone who speaks your language who can lend a hand.
Must-Sees and Must-Dos
SM Entertainment Store

The enormous entertainment agency has a pop-up store in Myeongdong that features their pop idols on collectibles.

Nanta Theatre

Foreigners can enjoy a performance that is in the universal language of music. Nanta Theatre has a variety of shows that utilize unconventional instruments to make music for fans from all over the world.

Myeongdong Cathedral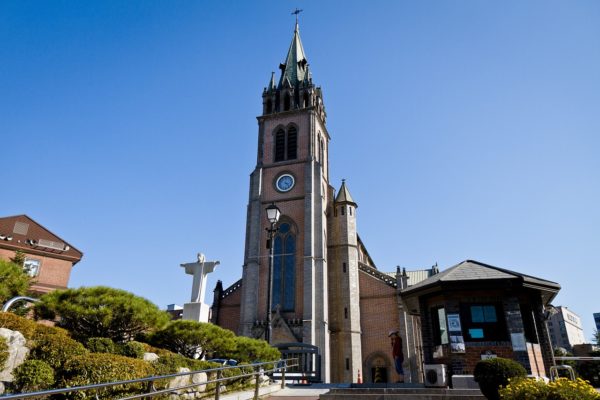 Location
Subway
Euljiro 1(il)-ga Station (Seoul Subway Line 2), Exits 5, 6 & 7.
Myeong-dong Station (Seoul Subway Line 4), Exits 5, 6, 7 & 8.
Bus
Euljiro1(il)-ga Station and Lotte Department Bus Stop
– Green Bus No. 7017, 7021, 7022
– Blue Bus No. 100, 143, 151, 152, 202, 261, 405, 701, 702A, 702B
– Express Bus No. 1005-1, 1150, 5000, 5005, 7900, 8800, 9000, 9001, 9003, 9007
– Red Bus No. 2500, 9401, 9701, M4101, M4102, M4108, 5115
– Airport Bus No. 6001, 6015
Myeong-dong Station Bus Stop
– Green Bus: No. 7011
– Blue Bus: No. 104, 105, 421, 463, 507, 604
– Express Bus: No. 1005-1, 1150, 5000, 5005, 5007, 5500, 5500-1, 5500-2, 8800, 9000, 9001, 9003, 9007
– Red Bus: No. M4101, M4102, M4108
– Airport Bus: No. 6001, 6015